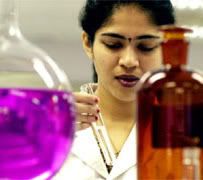 India's Department of Biotechnology (DBT) at the Ministry of Science & Technology has
funded
[*.doc] the establishment of the country's first Centre of Energy Biosciences (CEB). The CEB, which is funded at Rs24 crore (€4.1/$6.1 million) and aims to raise an additional Rs16 crore (€2.7/$4 million), has received the specific task of developing cutting-edge biofuels, bioenergy and biohydrogen technologies capable of converting lignocellulosic biomass into transportation fuels. The centre will aim to develop bio-based renewables in order to reduce India's rising dependence on petroleum fuels and to cut down emissions of greenhouse gases.
The Centre of Energy Biosciences will establish advanced pilot biofuel plants and create research partnerships with leading biotechnology, industry and academic organisations from India, the United States and other countries. Plant biotechnology, enzyme technology, metabolic engineering, and life cycle and technology assessments are focus areas. The CEB is to be established at the
University Institute of Chemical Technology
(UICT), the University of Mumbai's leading scientific institution.
The problem

Liquid petroleum fuel demand makes up more than 30% of India's total energy consumption of which petrol and diesel consumption together add up to about 65 million tons per year.
According to the UICT, a good part of this demand can be met through biomass resources. Primarily an agricultural economy, India produces about 200 million tons of waste biomass per year unfit for animal and human consumption. This lignocellulosic waste biomass, coupled with specially developed high yield energy crops that can be grown on India's 30 million hectares of waste but marginally cultivable land, can together yield enough alcohol to meet country's liquid fuel demand.
However, technologies that can be used to make the required alcohol fuels from waste biomass in an economically and ecologically sustainable manner are still under development. The DBT-UICT Centre of Energy Biosciences has therefor been given the specific responsibility of developing new cutting edge technologies and to integrating technology components developed elsewhere in the country under various research schemes, all with the aim of providing liquid biofuel for the country.
Lignocellulosic waste biomass can become the truly renewable source of bioethanol intended to be next generation liquid fuel. But the technology available today is only in pieces. We will set up a pilot scale plant incorporating all components of the technology to bring down cost capital as well cost of production.

- Professor G D Yadav, co-director Centre of Energy Biosciences

Research partnerships

The technical program of the CEB is to be coordinated by Dr. Arvind Lali and will involve active scientific collaboration with industrial and academic partners. While the UICT will be involved in design, scale-up and in bringing all technologies together, India's MAHYCO Research Centre will assist in the development of new biomass and crop varieties; Novozymes South Asia Pvt. Ltd. India will help in enzyme development; the School of Chemical Engineering, Purdue University, USA and the Department of Chemical and Biomolecular Engineering, Centre for Resilience, Ohio State University, USA, will assist with bioconversion of sugars into fuels and is to provide mathematical modelling tools for it. Another bioconversion partner is Bhabha Atomic Research Centre, India:
energy :: sustainability :: biomass :: bioenergy :: biofuels :: ethanol :: biodiesel :: biobutanol :: biohydrogen :: cellulose :: science and technology :: energy security :: oil :: bioeconomy :: India ::

These collaborations will be in the specific areas of plant biotechnology, enzyme technology, metabolic engineering, and life cycle and technology assessment. Focus of the research and technology development program at the CEB will be on creating a vibrant bioscience and bioengineering platform for developing and demonstrating viable technologies for bio-alcohols, biodiesel, biohydrogen and other biofuels production.

The UICT has a proven track record of productive association with chemical and biotech industry and with many novel concepts currently under development it is confident of making significant contributions in the area of biofuel technologies in a short time. As a result of the Centre being established and valuable IPR being generated, UICT also expects to garner increasing participation from both private and public investors in its biofuel technology development program in the near future.

Part of the Centre's task is to support the development of India's own bio-based knowledge economy by keeping local science, research and development inside the country:

Unless technology and knowledge is generated by a particular country, the industry and wealth generated is not economical for that country. Our students should take up our own problems. This is what is meant by knowledge economy.

- Professor J. B. Joshi, UICT Director

The CEB emerged as a result of the vision and efforts of Dr. M.K. Bhan, Secretary DBT and Dr. Renu Swarup, Advisor DBT, will function under the leadership of Dr. J.B. Joshi, Director of the UICT and Dr. G.D. Yadav.



References:


UICT: DBT funds India's first Center of Energy Biosciences at UICT [*.doc] - s.d. [January] 2008.