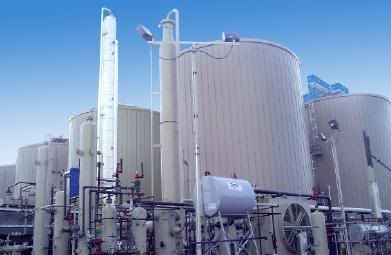 Bioenergy company Environmental Power Corporation today
announced
that its Huckabay Ridge facility in Stephenville, Texas, has achieved full-capacity production levels of pipeline-quality biomethane and has now moved into full-scale commercial operation. In Europe, upgraded biogas is already being fed into the natural gas grid routinely and on a growing scale (
previous post
and
here
), but for the U.S. this is a first.
The facility in Texas generates methane-rich biogas from the anaerobic digestion of manure from 10,000 cows, and other agricultural waste, conditions the biogas to natural gas standards and distributes what it calls 'Renewable Natural Gas' via a commercial pipeline. Huckabay Ridge is expected to produce approximately 635,000 MMBtus (625,000Gj) of RNG per year - the equivalent of over 4.6 million gallons (17.4 million liters) of heating oil.
The
Huckabay Ridge biogas complex
[*.pdf] consists of eight anaerobic digesters that extract methane-rich biogas from waste to produce energy that is cost-effective, clean, reliable and domestic — and it also helps farms and businesses responsibly manage the wastes they generate. Biogas is produced by bacteria in manure that consume organic material in the absence of oxygen. By adding substrate—such as waste grease or food processing by-products bacteria become more active and Environmental Power substantially boosts gas production.
The captured biogas is a versatile energy source that can be used to produce heat, power generators, or produce RNG. Anaerobic digestion changes the composition of manure, creating fertilizer and other useful products (schematic,
click to enlarge
). This processed manure helps farmers comply with nutrient management plans and reduces odor and water quality issues.
In order to generate RNG, the biogas must be purified. This is done by Environmental Power's subsidiary,
Microgy
, and is a branded, renewable, pipeline quality methane product. The purified gas produced by Huckabay will be shipped via the Enterprise natural gas pipeline to the Lower Colorado River Authority, which has agreed to purchase the RNG output of up to 2,000 mmbtu per day through September 2008, pursuant to a purchase agreement. Beginning October 2008, the plant output will be sold to Pacific Gas & Electric under a 10 year agreement:
energy :: sustainability :: biomass :: bioenergy :: biofuels :: biogas :: biomethane :: renewable natural gas :: anaerobic digestion ::
Reaching targeted output-levels and commercial operation is an important milestone for the project and the company. Not only have we validated our technology, we have developed many innovative best practices and have gained valuable operating experience. We are applying this enhanced operating knowledge to the other large-scale biogas and RNG projects we have under development. We are highly confident that this knowledge and experience will dramatically reduce the lead-time between completion of construction and reaching commercial-operation levels on future projects.

- Rich Kessel, President and Chief Executive Officer of Environmental Power
The Company has announced RNG and biogas projects in permitting or late stage development with anticipated annual production of approximately 4.9 million MMBtus, in addition to Huckabay production.

Environmental Power Corporation is a developer, owner and operator of renewable energy production facilities. Its principal operating subsidiary, Microgy, Inc., holds an exclusive license in North America for the development and deployment of a proprietary anaerobic digestion technology for the extraction of methane gas from animal wastes for its use to generate energy.




Picture

: the anaerobic digestors at the Huckabay Ridge facility in Stephenville, Texas.

Credit

: Environmental Power Corporation.

References:
Environmental Power Corporation: Huckabay Ridge Fact Sheet [*.pdf].

Microgy Technology.

Biopact: Report: biogas can replace all EU natural gas imports - January 04, 2008

Biopact: EU research project looks at feeding biogas into the main natural gas grid - April 08, 2007