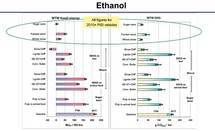 The European Bioethanol Fuels Association (eBIO) would like to see a 'coherent' European import policy in 2008 to close what it calls 'existing loopholes' and thus to pave the way for a well protected domestic industry. That is what Robert Vierhout, Secretary-General of eBIO, said in his organisation's first
market commentary
over at Ethanol Statistics. Instead of calling for an abandonment of Europe's protectionist measures, Vierhout calls for the introduction of a single tariff, which would be imposed on poor countries that are currently not subjected to the existing, steep duty. Wealthy, lavishly subsidised and inefficient European biofuel producers who push up food prices would thus be favored over unsubsidised, far more efficient and competitive producers in poor developing countries that could actually use some money and jobs.
Biopact thinks eBIO's position is highly problematic. Compared with European ethanol (from grains), the same fuel produced in the South (from sugarcane) is
much
more energy efficient, reduces GHGs
far more
substantially (graph,
click to enlarge
), requires considerably less land to produce a given amount of fuel, is largely sustainable (
earlier post
) and is
far
more competitive. In short, there is no rational argument in favor of the protection of European biofuels over these better fuels from the South. Consumers in the EU, developing country farmers, the environment and the climate would benefit from free trade in biofuels. Even without tariffs to protect rich European farmers and biofuel producers, there are enough opportunities in the emerging bioeconomy for all of them to benefit. What is more, even though they cannot compete today, oil prices are likely to reach levels that would make even European producers profitable without subsidies and import duties on foreign biofuels.
Protectionism
In 2007 the EU will have imported roughly 800 million litres of ethanol for the fuel stream from Brazil only, which equals more than one third of total EU-production. According to Mr. Vierhout, "the number shows that Europe is already today the continent, which is very open to biofuel imports if not the most open one in the world".
He mentions that the EU allows duty free ethanol access from the least developed countries (LDC), countries belonging to the African, Caribbean and Pacific group of states (ACP) and states falling under the Generalised System of Preferences (GSP+) and that this proves there's no need for an abandonment of tariffs.
A total suppression of import duties is thus not only unnecessary, but would even harm the development of those regions as well as the European agricultural and industrial sector. Replacing all our fuel ethanol needs by imports would undermine the security of supply goal as well as sustainability objectives. Unrestrained expansion from production in Third countries could after all result in unwanted environmental effects. eBIO therefore would like to see a coherent European import policy in 2008.

- Robert Vierhout, Secretary-General of eBIO
eBIO's logic is questionable. Its use of the fact that the EU allows poor countries with
no
existing ethanol capacity to enter the market unhindered as proof of its commitment to free and efficient trade, is an empty gesture. The truth is that the producers who
really
matter today, Europe's real competitors - such as Brazil - feel the full weight of the world's heaviest biofuel tariff: ethanol with an alcohol content of 80 percent is subject to a tariff of €19.20 per 100 litres. This level is higher than the more often criticized $0.54/gallon tariff imposed by the U.S.
Ethanol, primarily from Brazil, is thus seriously disadvantaged although it is vastly superior from an environmental and efficiency perspective since it gives lower indirect carbon dioxide emissions in production and requires much less land to generate a given amount of fuel.
What is more, Vierhout actually calls for:
the introduction of a single tariff line for all ethanol imported for fuel use.
Depending on the level of such a general tariff, this could be a major step backwards. If it implies a lowered tariff on ethanol from Brazil and other producers that matter, it could be legitimized as a very temporary measure. Temporary, because when APC countries, who have a large technical biofuel potential and who used to escape the duty, become large scale exporters, they would be facing the new single tariff - which is completely unacceptable from a social, environmental, historical and economic perspective. Now that African countries understand that they have a unique opportunity to escape poverty by tapping into their comparative advantages to make efficient fuels, we should allow them to do so, instead of denying them yet another chance to develop. By subsidizing EU agriculture and by dumping food on their markets, we have already been denying millions of African farmers the opportunity to make a living and have pushed entire countries into poverty. A repeat of this unfair and shameful situation would simply be immoral.
Numerous social, environmental, development and energy think tanks have therefor called for the complete abandonment of all EU and US tariffs and trade barriers on biofuels: from the
IEA
and the
World Bank
, to the
IMF
, the
IISD
, the
OECD
and the
FAO
- all have warned that these measures deny poorer countries market access, limit the availability of the most efficient biofuels, and could have detrimental effects on the environment. Just yesterday, the OECD repeated that the tariffs are
'wasteful' and 'distorting'
. And according to the IMF, these
protectionist measures are to blame for increased food prices, not biofuels per se
- the fund called for their abolishment.
In any case, sooner or later, all biofuel duties will have to go, especially when Brazil succeeds in reclassifying ethanol from its current status of an agricultural commodity into that of a fuel commodity (
earlier post
), or when it wins its recently initiated WTO case against the US tariff (more
here
), which would set a precedent that would force the EU to drop its import duties.
eBIO further forgets to mention another important fact: the enormous subsidies its sector and European farmers receive from the EU each year. Calling these subsidies 'lavish' would be an understatement. European farmers receive up to €40 billion in subsidies annually, and according to the Global Subsidies Initiative, subsidies dedicated solely to biofuels amounted to a whopping €3.7 billion ($5.2 billion) in 2006 alone (
previous post
). Without these subsidies, not many European biofuel producers would survive. Brazilian ethanol on the contrary is unsubsidized and competes very well with gasoline.
Finally, Vierhout talks about the need for social and environmental sustainability criteria, without mentioning the fact that such rules - if too stringent - could constitute a non-tariff barrier to trade - that is, yet another veiled measure to protect the world's wealthiest farmers against competition from their more efficient collegues in developing countries. The call for such criteria is also based on a lack of historical insight into the key drivers of modernity (
previous post
):
energy :: sustainability :: ethanol ::biomass :: bioenergy :: biofuels :: subsidies :: tariffs :: import duty :: non-tariff barriers to trade :: WTO :: developing countries :: EU ::

In his outlook for the European fuel ethanol market in 2008, eBIO's chief further discusses the most pressing issues that can be found in other countries too: a need for better legislation, the development of fair sustainability criteria, and an improved grip on feedstock supplies.

Legislation
To start with, legislation plays an important role in the development of the EU bioethanol fuel market. 2008 awaits the industry with two major pieces of legislation: Firstly, the Commission is to publish its proposal on a Renewable Energies Directive that will replace the existing Biofuels Directive on January 23. Key element is the (likely) introduction of a binding biofuels target of 10% by energy content by 2020. Such a decision would mark a strong signal to bioethanol producers, car manufactures and road fuel distributors to prepare for a partly bio-fueled transport sector in the near future.

Secondly, the Fuel Quality Directive is under scrutiny by the European Parliament and the Council. This Directive sets technical standards for transport fuels and needs to be amended in order to allow for higher biofuel blends. The EU decisionmaking bodies Council of Ministers and European Parliament have expressed the will to agree on a common text before mid 2008. However, this could proof difficult as the responsible Parliamentary Committee has proposed a complex and far reaching system on sustainability for road transport fuels. It seems that sustainability is so popular that we might have 2 sets of criteria in 2 different Directives.

Sustainability
After all, sustainability is also linked to the introduction of a binding 10% biofuels target. The requirement of sustainable production of biomass for biofuels will be enforced by a certification scheme. The up-coming Renewable Energies Directive will define the criteria, which will most likely include land use change, preservation of biodiversity and thresholds on greenhouse gas (GHG) emissions savings to be achieved. Europe's ethanol industry fully supports this move provided sustainability criteria will apply to all biomass production regardless its origine and end-use.

However, one needs to bear in mind that European farmers already today comply with the most rigorous standards on sustainable farming globally. eBIO is confident that this will be acknowledged by applying cross-compliance rules to verify the fulfillment of the land use change and biodiversity criteria. When it comes to the GHG saving calculation tool we will keep a sharp eye on whether it will be workable and fair. Furthermore, eBIO will underline strongly the contribution home-grown biofuels can deliver in raising energy independence and security. Biofuels should not be just a tool to deliver GHG savings.

Feedstock availability
The year 2007 was marked by high grain prices caused by strong increased demand in Asia, very poor weather conditions in many grain exporting countries and a strong increase in speculation with soft commodities. These higher prices also triggered an emotional debate on the impact of biofuel product and food availability and prices. Ironically, the first that fell victim of these high grain prices was the biofuel industry itself as it squeezed profitability margins in the bioethanol sector substantially. As a reaction on this price development the European Union decided to abolish for at least one year the set aside obligation, which until the early Nineties subsidized non-production. The expected extra yield of certainly more than 10 mio tonnes will have a positive effect on the overheated cereals market in 2008 and is going to ease the situation of many European ethanol producers. Furthermore, eBIO expects that the promotion of bioethanol will give a new incentive to European farmers to adapt their production to the new market realities. Increased yields, rationalized production processes and a market-based agricultural business will secure food and fuel supply for the decades to come.

References:
Ethanol Statistics: eBIO market commentary: An ethanol outlook for 2008 - January 14, 2007.

Biopact: IISD report challenges EU biofuel subsidies, calls for end to tariff - October 04, 2007

Biopact: IMF chief economist: biofuels could help cut farm subsidies, protectionism main cause of high food prices - December 06, 2007

Biopact: OECD calls biofuel tariffs "wasteful" and "destorting"; calls for open markets - January 14, 2008

Biopact: Paper warns against subsidies for inefficient biofuels in the North, calls for liberalisation of market - major boost to idea of 'Biopact' - September 11, 2007

Biopact: FAO chief calls for a 'Biopact' between the North and the South - August 15, 2007