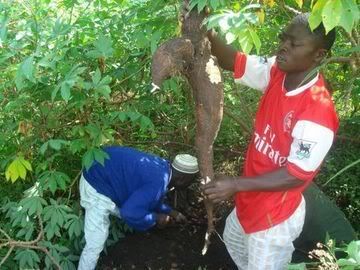 Africa's largest oil producer and OPEC member Nigeria is becoming increasingly interested in biofuels to meet its growing demand for fuels and to provide employment to its largely rural population. Contrary to the oil sector, which has caused civil conflict, perpetuates poverty, corruption, and deep social inequalities, thrives on foreign capital and has destroyed entire ecosystems in the country, the development of a local biofuels industry presents an opportunity for a brighter development path. Nigeria has an abundance of natural resources to produce green fuels efficiently, sustainably and in a cost-effective way. Especially the starch-rich tuber crop cassava, of which Nigeria grows more than any other country, is seen as having a major potential for the production of first-generation ethanol, cellulosic biofuels and bioproducts like renewable plastics.
According to the secretary of the Nigeria Cassava Growers Association (NCGA), Isaac Sunday Ojonugwa, cassava-based ethanol could
save
Nigeria up to $6.1 billion by 2012 by replacing imports of kerosene and gasoline. He added that the development of a cassava-driven bioeconomy would be a significant bonus for the nation, as the vast majority of its rural population can participate in the industry. Earlier estimates and announcements on the different industrial cassava plans that exist for the country put the number of new potential jobs at one to three million (
previous post
).
About 70 per cent of Nigeria's population are farmers, with 60 per cent of people in this most populous of African countries living below the poverty line. Declining farm commodity prices over the past years have kept these millions of people into poverty. The bioeconomy, high oil prices and the competitiveness of ethanol now offer them a unique opportunnity for development. Biofuels can fight misery like no other industrial sector.
According to the International Center for Tropical Agriculture (CIAT), one of the CGIAR institutions, a cassava-based ethanol industry could, with a combined effort from the science and policy community, launch a rural renaissance that would benefit the poorest people across Asia and Sub-Saharan Africa (
previous post
). Likewise, the UN's FAO and the International Fund for Agricultural Development (IFAD) think Nigeria could be ripe for a 'cassava industrial revolution' yielding vast new market and employment opportunities (see the FAO's study titled
'A cassava industrial revolution in Nigeria - The potential for a new industrial crop'
).
Even though Nigeria is a major crude oil producer, the country imports over half of its refined oil products because its own refinery capacity can't meet domestic demand. Producing biofuels in a decentralised way, can relieve this stress. Ultra-high oil prices have made cassava-based ethanol highly competitive. Thai researchers have shown the biofuel can be produced cost competitively when oil is over $60 per barrel. For this reason, the members of the Nigeria Cassava Growers Association think they are holding the future in their hands:
Nigeria-made renewable cassava based ethanol will directly displace the amount of petrol and kerosene we need to import offering our country critically the needed independence and security from foreign sources of energy.

- Isaac Sunday Ojonugwa, NCGA secretary
Cassava is a tropical root crop that yields a large amount of easily extractible starch. It grows well with relatively low amounts of inputs and withstands stresses like drought. For this reason, it has become a basic food staple for most people in West-Africa. Traditionally, communities grew excess cassava on marginal soils as a tactic to prevent famine. The crop can stay in the ground for several years - in case of a food crisis were to emerge, farmers would rely on these 'reserves'.
In modern times, cassava has become a major industrial starch crop. Nigeria used to export the crop to the EU for use as an animal feed. But a new policy there, which boosted subsidies for European grain farmers, caused the sector in Nigeria to collapse. The emerging bioeconomy is now offering hopes for a revival in the sector.
The many potential social, environmental and economic benefits of cassava bioproducts are based on the efficiency of the way in which the crop generates energy-rich starch. Scientists recently produced the first comprehensive energy balance study of cassava based ethanol and found that it is very strong - the crop requires a limited amount of energy inputs for it to be grown, harvested and converted into fuel, for a high energy yield (more
here
).
The NCGA secretary pointed to the fact that cassava can be used not only for its starch, but that the crop also yields a large amount of above-ground ligno-cellulosic biomass: stalks and leaves. The residue-to-product ratio for cassava can be as high as 1, meaning that for each tonne of tuber produced, a tonne of residual biomass becomes available (
previous post
). This resource could be used as a feedstock for the production of next-generation biofuels in the biorefineries of the future:
energy :: sustainability :: biomass :: bioenergy :: biofuels :: ethanol :: bioplastic :: ligno-cellulose :: cassava :: rural development :: poverty alleviation :: energy security :: Nigeria ::

Speaking about the economics of a cassava biofuel industry, Ojonugwa added that global ethanol production is estimated at 41 million tonnes per annum, valued at over $16 billion with a growth rate of 3 per cent per year. According to the secretary, only about 10 percent of global ethanol production is currently traded, but the statistics show that not enough ethanol is becoming available to meet rapidly growing international demand. The current supply deficit is estimated at 6 billion litres and is expected to grow by 5 per cent annually. Nigeria could become a player on this market, besides producing for domestic consumption.

The secretary further disclosed that SJH and Company, a US consultant, studied the economics of cassava ethanol and found that at an approximate cost of $60 million for a cassava ethanol plant, the value of a given local economy would expand by $110 million each year, generating an additional $19.6 million in income annually for small farmers.

He continued by saying that farmers who invest $20,000 in smaller local ethanol plants would achieve return on investment of 13.3 per cent per year over ten years, saying that in such a scenario the local price of cassava increases by an average of 5-10 per cent tonne, adding significantly to farm income in the general area surrounding the plant.

Nigeria has been interested in reviving its industrial cassava sector for a while now. Under the presidency of Olusegun Obasanjo, a 'Presidential Cassava Initiative' was launched, which aimed at providing incentives to cassava processors. Several Nigerian states have initiated their own programmes, often in collaboration with the country's state-owned petroleum company (previous post). and the country as a whole has been creating South-South partnerships on cassava fuels and products. One fo these is with the Cuban government, which is willing to share its expertise in cassava-to-ethanol technologies (previous post).

Meanwhile, some of the world's leading scientists are working on improving cassava. Amongst them Norman Borlaugh, father of the Green Revolution, who is sequencing the crop's genome in order to breed varieties for energy. His work is part of the bioenergy research at the U.S. Department of Energy's Joint Genome Institute (earlier post).

Earlier, we also pointed to research being undertaken by researchers from the International Atomic Energy Agency, who are using the latest plant breeding techniques to make cassava an even more interesting energy crop. The tools: nuclear techniques to induce mutagenesis and obtain mutant varieties, and space-breeding, which is based on a similar process but then relying on radiation from space that affects and transforms seeds into interesting varieties.

Finally, a major international effort is underway to sequence the genome of cassava, which might yield the genetic keys to unlocking new traits for improved yield, more protein and even novel industrial applications like the production of ethanol. The U.S. Department of Energy's Joint Genome Institute is providing funding and technical assistance for the program.



References:


Leadership (Abuja, via AllAfrica): Ethanol Fuel to Save Country $6.1bn By 2012 - January 10, 2008.

EIA: Nigeria oil production and consumption fact-sheet.

FAO/IFAD: A cassava industrial revolution in Nigeria - The potential for a new industrial crop, Rome, 2004.

Biopact: CIAT: cassava ethanol could benefit small farmers in South East Asia - September 24, 2007

Biopact: First comprehensive energy balance study reveals cassava is a highly efficient biofuel feedstock - April 18, 2007

Biopact: Cuba to assist Nigeria with ethanol production, agriculture - June 26, 2007

Biopact: Nigeria's cassava ethanol program to yield 3 million jobs - September 05, 2006

Biopact: Nigeria's Ondo state and NNPC sign agreement on cassava ethanol production, release funds - January 19, 2007

Biopact: Crop residues: how much biomass energy is out there? - July 14, 2006

Biopact: Space-breeding and nuclear techniques to improve cassava as an energy crop - March 23, 2007

USDA ARS: Scientists Gear Up To Decode Cassava Genome - August 30, 2006.