Persistent high oil prices and rapidly growing dependence on imported oil prompt China to further invest in biofuels that yield environmental benefits besides fuel. Forestry administrators
told
state media they will be planting nearly 7,000 hectares of oilseed bearing trees in the northern province of Hebei this year, part of a much larger national
campaign
to fuel the fast growing economy in a greener way. The 7000ha demonstration project will grow Chinese pistachio trees. They kickstart Hebei's program aimed at planting a total of 870,000ha of multi-purpose bioenergy trees in uninhabited mountainous areas over the coming decades.
In no more than five years, the
Pistacia chinensis Bunge
(see
entry
at the Plants for the Future database, and illustration,
click to enlarge
), whose seeds have an oil content of up to 40 percent, will yield five tons of fruit and contribute about two tons of high-quality biodiesel, according to the provincial forestry administration. The tree tolerates poor, dry soils and has relatively low water needs.
Hebei is among seven regions designated by the State Forestry Administration (SFA) in 2006 to develop biofuel demonstration forests.
Hebei, Anhui, Hunan, Sichuan, Yunnan and Shanxi provinces and Inner Mongolia Autonomous Region will grow a total of 400,000 hectares of demonstration forest. All plants will be oil-bearing shrubs and trees, many of who will contribute to fighting erosion and desertification. The trees include Pistacia chinensis, Jatropha curcas,
Cornus wilsoniana
and Xanthoceras sorbifolia. All of these are perennial shrubs and trees that can be established relatively easily. The seeds will be used for oil, and the wood they yield might serve as a biomass feedstock for bio-electricity or second-generation fuel production after the useful life of the plant.
Cornus wilsoniana
's fruit is a source of oil (up to 30% oil content), the leaves are used for livestock feed, and the dense wood has a high energy value.
Xanthoceras sorbifolia
(yellow horn) is a hardy, self fertile, nut producing shrub native to Northern China. Belonging to the Sapindaceae, its oil-rich nuts and pods resemble those of chesnuts.
But the provincial government of Hebei that borders Beijing, has made a much bolder decision still. It will plant an impressive 870,000 hectares of saplings of various kinds of biodiesel trees in its vast mountain areas, where few other commercial crops grow well. Raising biofuel forests in mountain areas will save farmland, make full use of the uninhabited mountains, and increase local people's family income if they are employed to take care of the trees, the SFA says. By 2050 harvests should yield as much as 5.5 million tons of seeds for extraction and refining into biofuels.
China, which has realized consecutive years of GDP growth of about 10 percent, is promoting the development of biofuels with financial support as it sees them as environmentally-friendly sources to ease the growing thirst for energy.
The country has been raising oil-bearing trees on some 4 million ha of land in different regions so far with an expected fruit output of 4 million tons. More could be planted on 57 million hectares of what is now called 'underdeveloped wilderness', SFA chief, Jia Zhibang, said:
energy :: sustainability :: biomass :: bioenergy :: biofuels :: ethanol :: biodiesel :: cellulose :: trees :: desertification :: erosion :: energy security :: Hebei :: China ::

On part of these lands, the central government plans to cultivate a total of 13 million ha of high-grade bioenergy forests by 2020. This will yield 6 million tons of diesel that would be enough to fuel power plants with a combined capacity of 11 GW each year, according to a forestation plan compiled by the SFA.

Chinese officials said the country would increase biodiesel output for transport to 200,000 tons by 2010 and 2 million tons by 2020.

The People's Republic has been investing heavily in afforestation campaigns in an effort to fight desertification. This program has met with considerable success and is now being rethought within the context of bioenergy. So far, several projects in Northern-Western China and in Inner Mongolia have shown that trees for energy can help in the fight against erosion and desertification, besides producing renewable, low carbon fuels, and jobs to local people.

Scientists just recently wrote that carefully planned bioenergy projects can indeed yield many environmental benefits ranging from phytoremediation to reforestation, from the eradication of invasive species to restoring biodiversity, from conserving ecosystems under threat from industrial pollution to restoring soil health (previous post). China's energy tree projects could become large scale examples of such beneficial energy systems.



Big plans with renewables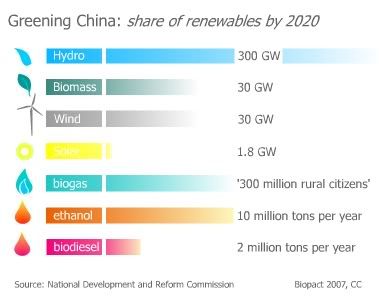 Almost 70 percent of China's energy use came from coal in 2006, with other forms of energy each accounting for a tiny proportion, official statistics show. Ma Kai, the minister of the National Development and Reform Commission (NDRC), announced last month that China would lift the proportion of renewable energy consumption to about 10 percent by 2010, and to 20 percent by 2020.

The country would focus on development of hydropower, biomass energy, wind power and solar power in future, according to a medium- and long-term plan for renewable energy published by the commission in September (illustration). This ambitious program would attract investments of up to $265 billion (previous post).

The Ministry of Finance (MOF) has worked out a complete set of financial policies to promote the production of non-food sources for biofuels, which are clean and have a limited negative impact on the environment.

Flexible subsidies will be offered to biofuel producers who lose money on crops when crude oil prices are low. The government would encourage enterprises to reserve funds to offset such risks, according to Zeng Xiao'an, deputy director of the MOF's Department of Economic Development.

The ministry would also subsidize demonstration projects producing ethanol from cellulose, sweet sorghum and cassava or making biodiesel from forest products. Projects that are up to industrial standards would receive rewards of up to 40 percent of the total investment.

References:
Xinhua: China resorts to biodiesel projects to solve energy shortage - January 16, 2008.

Biopact: China to boost forest-based bioenergy, helps win battle against desertification - July 17, 2007

Biopact: Greening the desert with biofuels: Inner Mongolia peasants show it's possible - August 14, 2007

Biopact: Scientists: careful planning unlocks many environmental benefits of biomass besides green energy - January 16, 2008

Biopact: China unveils $265 billion renewable energy plan, aims for 15% renewables by 2020 - September 06, 2007