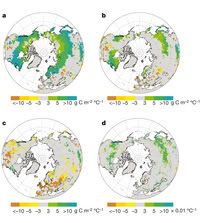 An international study investigating the carbon sink capacity of northern terrestrial ecosystems
discovered
that the duration of the net carbon uptake period (CUP) has on average decreased due to warmer autumn temperatures.
This seems counter-intuitive: warm autumns surely imply long growing seasons and a beneficial effect on terrestrial carbon sinks as trees and plants make more biomass. However, an explanation is provided by satellite observations and numerical modelling which shows that enhanced respiration caused by higher temperatures causes carbon losses that offset photosynthetic gains, limiting the potential of these ecosystems to act as carbon sinks. The findings were
published
as the lead article in the January 3 issue of
Nature
.
The carbon balance of terrestrial ecosystems is particularly sensitive to climatic changes in autumn and spring. Over the past two decades autumn temperatures in northern latitudes have risen by about 1.1 °C with spring temperatures up by 0.8 °C.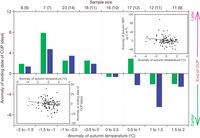 Many northern terrestrial ecosystems currently lose carbon dioxide (CO2) in response to this autumn warming, offsetting 90% of the increased carbon dioxide uptake during spring. Using computer modeling to integrate forest canopy measurements and remote satellite data, the researchers found that while warm spring temperatures accelerate growth more than soil decomposition and enhance carbon uptake, autumn warming greatly increases soil decomposition and significantly reduces carbon uptake (graph,
click to enlarge
).
Lead author of the study, Dr. Shilong Piao from the LSCE, UMR CEA-CNRS in France says that if warming in autumn occurs at a faster rate than in spring, the ability of northern ecosystems to sequester carbon will diminish in the future:
biofuels :: energy :: sustainability :: biomass :: bioenergy :: forests :: carbon sink :: carbon cycle :: climate change :: Northern hemisphere ::

Philippe Ciais also, a member of the research team and a scientist from the Global Carbon Project says the potentially rapid decline in the future ability of northern terrestrial ecosystems to remove atmospheric carbon dioxide would make stabilization of atmospheric CO2 concentrations much harder than currently predicted.


The study was supported by European Community-funded projects ENSEMBLES and CarboEurope-IP, and by the National Natural Science Foundation of China as well as by Fluxnet-Canada, which was supported by CFCAS, NSERC, BIOCAP, MSC and NRCan.

The ENSEMBLES project is supported by the European Commission's 6th Framework Programme as a 5 year Integrated Project from 2004-2009 under the Thematic Sub-Priority "Global Change and Ecosystems".

It aims to:

Develop an ensemble prediction system for climate change based on the principal state-of-the-art, high resolution, global and regional Earth System models developed in Europe, validated against quality controlled, high resolution gridded datasets for Europe, to produce for the first time, an objective probabilistic estimate of uncertainty in future climate at the seasonal to decadal and longer timescales
Quantify and reduce the uncertainty in the representation of physical, chemical, biological and human-related feedbacks in the Earth System (including water resource, land use, and air quality issues, and carbon cycle feedbacks)
Maximise the exploitation of the results by linking the outputs of the ensemble prediction system to a range of applications, including agriculture, health, food security, energy, water resources, insurance and weather risk management
CarboEurope-IP aims to understand and quantify the present terrestrial carbon balance of Europe and the associated uncertainty at local, regional and continental scale.
Innovation

The key innovation of the CarboEurope-IP is in its conception as to apply single comprehensive experimental strategy, and its integration into a comprehensive carbon data assimilation framework. The observational and modelling programme will run at unprecedented spatial and temporal resolution. This will allow for the first time a consistent match of bottom-up and top-down estimates of the regional variation in carbon sources and sinks.

Graph: A total of 108 site-years have been aggregated in this figure. The average (blue) and median (green) anomaly of ending date of net CUP is shown for different autumn temperature anomalies binned into 0.5 °C intervals. The top horizontal axis labels correspond to the number of site-years and sites (in parenthesis) in each temperature bin. The bottom left inset shows the relationships between ending date of CUP and temperature anomalies. There is a marginally negative correlation between autumn CUP ending date and temperature anomalies (y = -1.7x - 0.0087, P = 0.07). If we exclude the four site-years with the most extreme cold anomalies (DeltaT < -2 °C), the negative correlation between CUP ending date and temperature becomes highly significant (P = 0.03) and the slope is steeper (y = -2.4x + 0.3007), suggesting that below a certain threshold of cold anomaly there is no further decrease in respiration. The top right inset shows the relationships between autumn NEP and temperature anomalies. A positive NEP value indicates an increased carbon uptake. Autumn was defined as the 60-day interval around the average CUP ending date for each site. Eddy-covariance data show increased carbon losses under warmer conditions, with a temperature sensitivity of NEP of -3.2 g C m-2 °C-1 (y = -3.17x - 5 times 10-6, P = 0.04).

Credit

: Shilong Piao, et al.



Map

: (a) ORCHIDEE model-derived autumn GPP. (b), ORCHIDEE model-derived autumn NPP. (c), ORCHIDEE model-derived autumn NEP. (d), Sum of satellite-derived autumn normalized difference vegetation index (NDVI). The sensitivity is expressed as the linearly regressed slope of autumn carbon flux or of NDVI against autumn temperature for each pixel over the past two decades. A positive slope of NEP indicates that terrestrial carbon uptake is increasing with warmer temperatures, and vice versa. Areas with a low sensitivity or insignificant (P > 0.05) relationships between the variables are coloured in grey.

Credit

: Shilong Piao, et al.

Image: Tour-Bluets - Flux tower on a recently harvest boreal black spruce site with lowbush blueberry ground cover, Chibougamau, Quebec.

Credit

: Onil Bergeron.



References:


Shilong Piao, Philippe Ciais, Pierre Friedlingstein, Philippe Peylin, Markus Reichstein, Sebastiaan Luyssaert, Hank Margolis, Jingyun Fang, Alan Barr, Anping Chen, Achim Grelle, David Hollinger, Tuomas Laurila, Anders Lindroth, Andrew D. Richardson & Timo Vesala, "Net carbon dioxide losses of northern ecosystems in response to autumn warming",

Nature

, 451, 49-52 (3 January 2008) | doi:10.1038/nature06444

Eurekalert: Carbon sink capacity in northern forests reduced by global warming - January 2, 2008.

ENSEMBLES project website.

CarboEurope-IP project website.