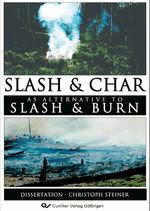 A key book on the ancient soil improvement technique known as 'terra preta' has just been published. Compiled by Dr Christoph Steiner, who did extensive field work into the technique in Brazil,
"Slash and Char as Alternative to Slash and Burn"
, yields a wealth of insights into the properties of these amazingly fertile 'dark earth soils', into the way they cycle nutrients, into their soil biology, chemical qualities and effects on plant growth. The work also suggests ways to replicate the technique today, with major potential benefits for mankind.
Terra preta soils are based on storing charcoal into the ground, which enhances the fertility, water retention qualities, and chemical and structural properties of the soil. New ways of producing char can be combined with the production of renewable carbon-
negative
bioenergy, through a process called pyrolysis (schematic,
click to enlarge
). Pyrolysis involves heating biomass in the absence of air or with very small, controlled amounts of oxygen. The process results in three main products: syngas, tar and char. Depending on the temperatures and amount of oxygen supplied to the system, the fractions of these products can be altered. The syngas can be used to generate electricity or biofuels, whereas the char fraction - called 'biochar' or 'agrichar' - becomes the soil amendment.
Energy and agricultural systems based on biochar could help tackle four of the world's most pressing issues all at once:
they could allow resource poor farmers in the tropics to improve agricultural yields considerably and thus fight poverty and food insecurity;
they can reduce global carbon emissions on a massive scale by creating a stable carbon sink: as plants take CO2 from the atmosphere, store it in their tissue and are then turned into biochar sequestered in soils, the carbon stays locked up for centuries, possibly millenia;
they allow for the production of renewable carbon-

negative

bioenergy, either in the form of electricity or liquid fuels, and can thus bring energy to millions of the world's rural households who currently lack access to modern energy;
they could become one of the keys to slowing tropical deforestation - itself a major source of greenhouse gas emissions - by prompting millions of shifting cultivators to change their current practise of 'slash and burn' agriculture to 'slash and char' instead. Shifting cultivation is caused by the rapid depletion of soils, forcing farmers to clear forest for new land every few years; in contrast, biochar amended soils would boost soil fertility, bring the farmers higher yields, thus limiting their need to take new land into cultivation.
The amazing potential of these synergies is being recognized by a rapidly growing group of scientists from across the world. They recently created an association called the
International Biochar Initiative
, aimed at disseminating the knowledge about this agroenergy system. They also strive towards recognition of the carbon sequestration technique by the United Nations Framework Convention on Climate Change (UNFCCC), which is being urged to take it up into the post-Kyoto protocol on climate change. If it did, poor farmers in the developing world would receive carbon credits for storing char into their infertile soils, while enjoying the multiple additional benefits of the system. However, this recognition will only occur with more research into biochar.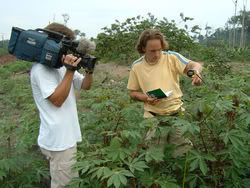 This is why Dr Steiner's book is so important: it is a key addition to the growing body of scientific knowledge on terra preta and char amended soils. Based on his PhD thesis, defended before the Faculty of Biology, Chemistry and Geosciences at the University of Bayreuth in Germany, it provides data from actual field trials at several sites in Brazil. Cropping experiments on poor, highly weathered soils there showed that, in combination with fertilizers, char can boost crop yields significantly. Besides discussing the complex agronomy of these results in depth, Steiner also explores indigenous knowledge systems surrounding terra preta, looks at the economics of the system and offers suggestions for integrated applications.
His conclusion hints at a possible future of addressing the intertwined issues of climate change, energy and agriculture in developing countries, through biochar:
Energy from crop residues could lower fossil energy consumption and CO2-emissions, and become a completely new income source for farmers and rural regions. The biochar byproduct of this process could serve to recycle nutrients, improve soils and sequester carbon. [...A] mixture of driving forces and technologies has the potential to use residual waste carbon-rich residues to reshape agriculture, balance carbon and address nutrient depletion.



The work of Dr Steiner and a growing group of terra preta experts is leading to a new vision based on coupling the production of biochar to bioenergy production and carbon markets. First of all, traditional charcoal production could be made more energy efficient and economic:
energy :: sustainability :: biomass :: bioenergy :: biofuels :: biochar :: agrichar :: terra preta :: deforestation :: food security :: energy security :: carbon cycle :: carbon sink :: carbon sequestration :: climate change :: UNFCCC ::

Instead of relying on wood, biochar would be made from the vast streams of residual biomass that are currently not used productively. These crop residues are often burned by farmers on their fields, which causes major air pollution (especially in places like Northeast China and India). The practise also results in the release of vast quantities of carbon emissions into the atmosphere. In the process, the energy contained in this abundant source of biomass, gets lost.

New biomass conversion techniques, such as slow pyrolysis, are excellent for using these residues efficiently for the production of clean energy and would thus tackle a major environmental problem. These systems allow for the

simultaneous

production of both a large fraction of char and energy from the combustible, hydrogen syngas. The syngas can be used to fuel generators or turbines for electricity, or can be converted into liquid fuels via the Fischer-Tropsch process. Ideally, small, village-scale pyrolysis and energy generation systems would be designed that allow farming communities to produce their own decentralised electricity as well as the new black gold that can be turned into a carbon sink that offers a boost to their crop yields.

Depending on how much char is returned to the soil, the fuels and energy from the system can effectively become carbon-

negative

. That is, their use implies one actively removes CO2 from the atmosphere. Other renewables like wind or solar power are 'carbon neutral' at best, in that they do not add carbon emissions but do not remove the climate destructive gas from the atmosphere either. In contrast, carbon-negative bioenergy goes beyond carbon neutrality, by yielding 'negative emissions'.

Carbon-

negative

bioenergy leads to quite counter-intuitive effects: the more you were to use of it, the more you would be solving the climate crisis. The more miles you drive a car running on carbon-negative biofuel or bio-electricity, the more you would be cleaning up the atmosphere...

On the basis of this exciting agro-energy system, an interesting future becomes imaginable: depending on prevailing market conditions - the price of carbon and the price of electricity or fuels -, farmers will decide dynamically how much of a given biomass stream they will return to soils in the form of biochar, and how much they will turn into energy products they can sell or use locally. For the first operation they receive carbon credits which can be sold, for the latter they receive the price of the particular energy product they chose to produce.

Dr Christoph Steiner is a leading consultant on biochar amended soils. He presented his insights at the Bali Climate Conference, where they received positive feedback. His work and services can be found at Biochar.org. Steiner featured in a BBC documentary about terra preta titled "The Secret of El Dorado" as well as in the film "Terra Preta - Das schwarze Gold des Amazonas", by Peter Adler.




Schematic

: biochar based carbon-negative bioenergy system:

CC, Biopact, 2008

.



Picture

: Dr Steiner, during the filming of "Terra Preta - Das schwarze Gold des Amazonas", analysing cassava plants that got a growth boost because of char amended soils.

Credit

: Christoph Steiner, Biochar.org.



References:


Steiner, Christoph: Slash and Char as Alternative to Slash and Burn. Soil charcoal amendments maintain soil fertility and establish a carbon sink, Cuvillier Verlag, Bayreuth, December 2007.

Christoph Steiner: Slash and Char as Alternative to Slash and Burn - English Summary [*.pdf], Dissertation, Faculty of Biology, Chemistry and Geosciences, University of Bayreuth, Germany, November 2007.

BBC: "The Secret of El Dorado" available at Google video.

Peter Adler: "Terra Preta - Das schwarze Gold des Amazonas".

International Biochar Initiative.