Aker Kvaerner
announces
it is transferring its 'Just Catch' amine absorption technology for post-combustion CO2 capture to the company
Aker Clean Carbon
, which will focus on developing CO2 capture projects. Aqueous amine solutions function as an absorbent that binds CO2 for removal from exhaust gasses. The company is also developing 'Just Catch Bio', a CO2 capture technology applicable to biomass. This technology is the first step towards the creation of radical
negative emissions
power plants. Such 'bioenergy with carbon storage' (BECS) plants are the most powerful tool in the climate fight. They not merely 'reduce' emissions to zero (which renewables like wind or solar almost achieve), they go
much further
and
actively remove historic CO2 from the atmosphere
.
Under the transferral, Aker Kvaerner will own 30% of the shares in Aker Clean carbon, while Aker ASA will own 70%. Aker Kvaerner will also be responsible for supplying engineering and construction for future CO2 capture facilities. Aker Clean Carbon, in an agreement with the Norwegian government, will complete its first plant at the 420 MW gas power plant at Kårstø on the West Coast of Norway.
The new NOK 725 million (€90/US$133 million) CO2 capture unit at Kårstø will be completed in 2009. The plant will have a capacity to remove 100,000 metric tons of CO2 annually from exhaust gases. Operating costs are estimated at NOK 150 million (€18.7/US$27.5 million) over a three-year period. In its first years in operation, until a public system for transportation and storage of CO2 is in place, Aker Clean Carbon will release the captured CO2 to the atmosphere.
The revolution: going carbon-

negative



Meanwhile, Aker Kvaerner has been developing its revolutionary version of the Just Catch technology that uses biomass to produce the energy needed for CO2 capture, instead of fossil energy (
previous post
). The scrubbing plant would normally use energy from the power station. But by scrubbing both the power station's flue gases and those from the bioenergy plant, the scrubber will also remove atmospheric CO2 — CO2 that the biomass drew from the atmosphere will be geosequestered, thus yielding
negative emissions.

This solution, known as
Just Catch Bio
(schematic,
click to enlarge
), is potentially capable of removing
116 per cent
of the CO2 emissions from a gas-fired power station. The technology will be tested by Aker Clean Carbon in what would be the world's first truly carbon-negative power plant (Just Catch Bio video
here
).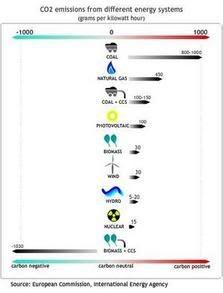 This is, however, only a first step towards full biomass-fired power stations coupled to CCS, which can remove large quantities of CO2 from the atmosphere. No other energy system is capable of this. All other renewables - wind, solar, hydro, geothermal - and even nuclear are all carbon-
neutral
at best, slightly carbon-positive in practise (see table). That is,they generate modest amounts of CO2 emissions during their lifecycle. Carbon-negative bioenergy on the contrary goes much further. It actively
cleans up the atmosphere.
Scientists from the Abrupt Climate Change Strategy group, who studied such carbon-negative bioenergy systems in-depth, have found that when we were to replace coal and gas with such systems on a global scale, we could return the atmosphere to its pre-industrial CO2 levels by mid-century. In other words, biomass coupled to CCS can
cool the planet
more than any other technology imaginable. It can do so without the risks attached to far-fetched geo-engineering options.
Carbon-negative bioenergy may appear to be counter-intuitive, because the more we were to use electricity and heat from such systems, the more CO2 we would be taking out of the atmosphere. Consuming more would help fight climate change. Likewise, an electric or hydrogen car that were to utilize this type of bio-electricity or biohydrogen would actively be cleaning up the atmosphere each time you were to drive it... (
welcome to the strange world of carbon negative bioenergy
). You would not merely be "reducing" CO2 emissions to 100, 80, 50 or 0 grams per kilometer. No, you would be going beyond that, and would be generating -30 or -50 grams per kilometer (yes, that is:
minus
). In short, each time you were to drive the car, you would be helping the fight against global warming. Clearly, the concept of carbon-
negative
energy is not yet known by a larger public, because it is relatively new and strange. Mainstream media are uncomfortable with it. But initiatives like Aker Kvaerner's will change that:
energy :: sustainability :: biomass :: bioenergy :: biofuels :: biohydrogen :: carbon capture and storage :: bio-energy with carbon storage :: negative emissions :: climate change :: global warming ::

Parallel to the construction of the first carbon capture plant, potentially with the Just Catch Bio system, Aker Clean Carbon will work closely with the SINTEF research center and the Norwegian Institute of Technology (NTNU) in Trondheim concerning their efforts to develop new and improved aqueous amine solutions. Aker Clean Carbon is participating actively in the development work, and will also contribute funding to this development project, which has a total budget framework of about NOK 250 million (US$46 million) over an eight-year period.

More effective amine scrubbing solutions can be a factor that helps cut investment and operating costs for CO2 capture facilities installed at industrial sites and electric power generation plants even further.

In recent years, Aker Kvaerner and Aker have worked intensively on developing new CO2 capture technology. The main purpose of the new Kårstø plant is the development of construction methods and effective execution models that make carbon sequestration so inexpensive that it becomes cheaper to clean emissions than to pollute.

Biopact has reported often on the radical concept of carbon-negative bioenergy and biofuels; on the development of carbon capture technologies needed to make these systems a reality; on the costs of BECS and the biomass fuel for such systems; on potential applications and risks. Some references are listed below.



References:


Aker Kvaerner: Expands CO2 capturing business - January 24, 2008.

Aker Clean Carbon: Invests close to a billion kroner in pioneering carbon capture facility [*.pdf] - January 24, 2008.

Aker Kvaerner: Just Catch CO2 Capture Technology [*.pdf]

Aker Clean Carbon.

Biopact: Carbon-negative bioenergy recognized as Norwegian CO2 actors join forces to develop carbon capture technologies - October 24, 2007



Scientific literature on negative emissions from biomass:


H. Audus and P. Freund, "Climate Change Mitigation by Biomass Gasificiation Combined with CO2 Capture and Storage", IEA Greenhouse Gas R&D Programme.

James S. Rhodesa and David W. Keithb, "Engineering economic analysis of biomass IGCC with carbon capture and storage",

Biomass and Bioenergy

, Volume 29, Issue 6, December 2005, Pages 440-450.

Noim Uddin and Leonardo Barreto, "Biomass-fired cogeneration systems with CO2 capture and storage",

Renewable Energy

, Volume 32, Issue 6, May 2007, Pages 1006-1019, doi:10.1016/j.renene.2006.04.009

Christian Azar, Kristian Lindgren, Eric Larson and Kenneth Möllersten, "Carbon Capture and Storage From Fossil Fuels and Biomass – Costs and Potential Role in Stabilizing the Atmosphere",

Climatic Change

, Volume 74, Numbers 1-3 / January, 2006, DOI 10.1007/s10584-005-3484-7



Further reading on negative emissions bioenergy and biofuels:


Peter Read and Jonathan Lermit, "Bio-Energy with Carbon Storage (BECS): a Sequential Decision Approach to the threat of Abrupt Climate Change",

Energy

, Volume 30, Issue 14, November 2005, Pages 2654-2671.

Stefan Grönkvist, Kenneth Möllersten, Kim Pingoud, "Equal Opportunity for Biomass in Greenhouse Gas Accounting of CO2 Capture and Storage: A Step Towards More Cost-Effective Climate Change Mitigation Regimes",

Mitigation and Adaptation Strategies for Global Change

, Volume 11, Numbers 5-6 / September, 2006, DOI 10.1007/s11027-006-9034-9

Biopact: Commission supports carbon capture & storage - negative emissions from bioenergy on the horizon - January 23, 2008

Biopact: The strange world of carbon-negative bioenergy: the more you drive your car, the more you tackle climate change - October 29, 2007

Biopact: "A closer look at the revolutionary coal+biomass-to-liquids with carbon storage project" - September 13, 2007

Biopact: New plastic-based, nano-engineered CO2 capturing membrane developed - September 19, 2007

Biopact: Plastic membrane to bring down cost of carbon capture - August 15, 2007

Biopact: Pre-combustion CO2 capture from biogas - the way forward? - March 31, 2007

Biopact: Towards carbon-negative biofuels: US DOE awards $66.7 million for large-scale CO2 capture and storage from ethanol plant - December 19, 2007

Biopact: EU launches DECARBit project to research advanced pre-combustion CO2 capture from power plants - November 21, 2007