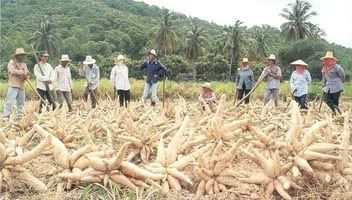 President Gloria Macapagal-Arroyo today
announced
the plan of Europe's largest ethanol producer, Abengoa Bioenergy, to invest $250 million to develop 50,000 hectares of cassava plantation in the Philippines for the production of feedstock for biofuel facilities in the country. Under a Memorandum of Understanding (MOU) signed with the Philippine Agricultural Development and Commercial Corporation (PADCC), Abengoa Bioenergy will also provide technical assistance in identifying varieties of cassava for trial cultivation, in developing high starch yielding types, in tropical agronomy, and in training farmers.
Abengoa Bionergy
, subsidiary of energy company Abengoa SA, operates bioethanol facilities not only in Europe but also in Brazil and the United States, where it is the fifth largest producer. It is a developer of next-generation biofuel technologies based on the enzymatic hydrolysis of biomass and operates one of the first such cellulosic ethanol refineries (plant in Salamanca: 5 million liters/year).
The planned distillery in the Philippines is expected to produce one million to 1.2 million tons of feedstock, and generate about 150 to 200 million liters of bioethanol annually, making it a large facility.
Cassava's efficiency
Abengoa Bioenergy's project will consist of establishing dedicated cassava plantations on around 50,000 hectares of land, and of training the farmers and outgrowers who will manage the fields.
Cassava is seen as a promising energy crop because of its high starch yield and its low input requirements; moreover, it can be grown on relatively degraded land. Scientists have found that ethanol made from the plant is highly efficient: it has a strong energy balance and reduces greenhouse gas emissions considerably (
previous post
).
According to the International Center for Tropical Agriculture (CIAT), which aims to alleviate rural poverty in the developing world, the new opportunities brought by the biofuels sector could help lift millions of small farmers across South East Asia out of poverty (
earlier post
). Cassava starch prices have been low for years and the plant is traditionally seen as 'the poor man's crop'. But according to the CIAT this situation may soon change because of biofuels:
energy :: sustainability ::biomass :: bioenergy :: biofuels :: ethanol :: cassava :: starch :: plant breeding :: efficiency :: energy balance :: poverty alleviation :: Philippines ::

CIAT is a member of the Consultative Group on International Agricultural Research (CGIAR), a 'Green Revolution' consortium of research organisations that fosters sustainable agricultural growth through high-quality science aimed at benefiting the poor through stronger food security, better human nutrition and health, higher incomes and improved management of natural resources.

The MOA on cassava between Abengoa Bioenergy and the DA, was signed by Undersecretary Bernadette Romulo Puyat and Javier Salgado Leirado, chairman of Abengoa, during a two-day state visit of President Arroyo to Spain. The agreement is valid for one year.

Puyat said that aside from providing the design engineering and the machinery required for the development of cassava plantations, Abengoa will also study the possibility of establishing bioethanol production plants in the Philippines.

Through the Abengoa-PADCC Working Committee, the PADCC will be tasked to assist the Spanish company in conducting capability enhancement training for farmers, particularly in the area of enterprise management, she said.

Puyat said that Abengoa will also lend its technical expertise in agriculture in developing high yielding varieties and increasing feedstock productivity.

Agriculture Secretary Arthur Yap said that Abengoa and PADCC, along with the DA Biofuel Feedstock Development Program, can further enter into partnerships focusing on energy crops development and cost-competitive biomass technology.

We hope that Abengoa will immediately move forward its initial understanding with PADCC into concrete timelines to cover the early completion of the feasibility study and the immediate implementation of the project, preferably within 2008.

- Arthur Yap, Agriculture Secretary of the Philippines

Last January, the president signed into law Republic Act (RA) 9367 or the Biofuels Law, which aims to ease the country's dependence on imported, dollar-draining and pollution-generating energy sources by making the blending of ethanol and biodiesel in petroleum products mandatory.

This proposed investment can boost our long term-goal in biofuel production and the development of alternative fuel sources in these days of rising fuel costs.

- Gloria Macapagal-Arroyo, President of the Philippines
The Philippines' attractiveness


The Philippines are ranked as a country with a large sustainable biofuel potential (see Biofuel Country Attractiveness indices for Q1 and Q2 of this year). This ranking is due to its abundance of land and a suitable agro-climatic environment for the production of high yielding energy crops; its central location in the fastest growing fuel market, East and South East Asia; and its clear policies and stable investment climate.

This has led to a number of large foreign investments from Chinese, Japanese, European and American companies, often in partnership with local companies. Projects involve the production of fuels from crops like sugarcane, new sweet sorghum hybrids, cassava, jatropha, and grass species dedicated to biomass production.

Earlier this month, Bionor Transformacio S.A., a leading European biodiesel firm based in Bilbao, also disclosed plans to invest $200 million in the Philippines to develop at least 100,000 hectares of jatropha plantations to be used as feedstock for biofuel facilities in the country (previous post).

Earlier, PNOC-Alternative Fuels Corp, the alternative fuels subsidiary of state-owned Philippine National Oil Co., signed a memorandum of understanding with UK-based Natural Resources Group Chemical Engineering under which the latter will pump $1.3 billion into the Philippines' biofuels sector.

The companies are looking at building a 3.5 million mt/year biodiesel and a 350,000 mt/year ethanol plant in the country and will also invest in jatropha plantations (earlier post). PNOC-AFC also signed an agreement with South Korea's Samsung in September 2006 to set up an integrated jatropha plantation and biofuels project.

US firm E-Cane Fuel Corp. announced it will invest €111/US$150 million to put up a fully integrated ethanol processing facility in Central Luzon, with sugarcane as the main feedstock (previous post).

Japan's Marubeni has also announced plans to set up five ethanol plants in the Philippines and local firm San Carlos Bioenergy is already building a 120,000 liters/day ethanol plant in the country.

The Philippine Department of Agriculture also sealed an agreement with India-based bioenergy company Praj Industries to help develop the country's nascent biofuels industry. Under a Memorandum of Understanding both parties will team up for feedstock development and setting up biofuel production plants (more here).

According to the Philippine Coconut Authority (PCA) Japanese firm Toyo Engineering Corp. recently announced it is about to complete a feasibility study on an integrated coco methyl-ester (CME) manufacturing plant that it plans to put up in the Philippines' northern region of Ilocos. It is further looking at 600,000 hectares of coconut plantation (earlier post).

Existing coco-biodiesel production capacity in the country is 140 million liters/year from two major companies alone - Chemrez and Senbel Fine Chemicals. At least 10 other smaller producers are said to have registered with the DOE for accreditation.

Finally, Brazil has agreed to intensify cooperation in energy security, particularly in the development and use of biofuels, with the Philippines. The countries agreed to boost cooperation in the development and use of ethanol, biodiesel and biomass energy (more here).


References:
Philippine Information Agency: PGMA welcomes proposed $250-million investment in biofuel facilities in RP - December 15, 2007.

Biopact: First comprehensive energy balance study reveals cassava is a highly efficient biofuel feedstock - April 18, 2007

Biopact: CIAT: cassava ethanol could benefit small farmers in South East Asia -
September 24, 2007

Biopact: Bionor to invest $200 million in jatropha plantations in the Philippines - December 3, 2007.


Biopact: CIAT: cassava ethanol could benefit small farmers in South East Asia - September 24, 2007

Biopact: First comprehensive energy balance study reveals cassava is a highly efficient biofuel feedstock - April 18, 2007

Biopact: Biofuels and renewables 'Country Attractiveness Indices' for Q1 2007 - May 24, 2007

Biopact: US tops Biofuels Country Attractiveness Indices for Q2 2007 - September 18, 2007

Biopact: Philippines in cooperation agreement with India's Praj Industries to develop biofuel sector - October 05, 2007

Biopact: Toyo Engineering eyes 600,000 hectares for coconut production in the Philippines - September 05, 2007

Biopact: Brazil and the Philippines to intensify cooperation on biofuels - August 31, 2007

Biopact: E-cane Fuel to invest US$150 million in ethanol plant in the Philippines - May 28, 2007

Biopact: Philippines in US$1.3 billion biofuel project with UK's NRG - May 23, 2007

Biopact: Philippine and Chinese company team up to build $ 30 million cassava ethanol plant in Sarangani - October 29, 2007


Article continues