Austrian energy company Salzburg AG has
opened
its first biomethane gas station for cars in Eugendorf. From December onwards, customers can fill up their natural gas vehicles with a climate-friendly blend of 20% CO2-neutral biogas and 80% natural gas at a price that beats all other transport fuels. The green fuel is made entirely from meadow grass, without the input of synthetic fertilizers or pesticides.
Salzburg AG built the first part of a new dedicated gas infrastructure - a 2 kilometer pipeline - which feeds the upgraded biogas into its existing local natural gas grid. In 2008, the company will supply this 'Bioerdgas' to 14 similar stations that currently offer natural gas in the city and federal state of Salzburg . The regional energy administration is the station's first customer and will run its fleet on the clean gas.
The biogas is obtained from fermenting smooth meadow-grass (
Poa pratensis
, known in the U.S. as Kentucky bluegrass), an important meadow species found extensively in Austria's grasslands, where it is used by grazing livestock like cattle and sheep. The grass is grown and harvested in a sustainable manner. This feedstock was chosen because the species grows well with few inputs and it allows the landscape to be conserved. No new energy crops need to planted.
Given that all the grass is converted into a useable fuel and organic fertilizer, one could consider biogas production a form of 'cellulosic biofuel': it doesn't require easily fermentable sugars or starches - as do first generation liquid biofuels which rely on grains and oilseeds. As the Austrian project shows, a transport biofuel can be obtained from a cellulosic biomass feedstock like pure grass. Yield estimates for the biogas from grass are as follows: one hectare can yield between 2,900–5,400 cubic meters of pure methane per year, enough to fuel a passenger car for 40,000 to 60,000 kilometers (one acre of crops can power a car for 10,000 to 15,000 miles).
After the feedstock is harvested and anaerobically digested, raw biogas is obtained which consists of CH4, a large fraction of CO2 and trace gases. This crude green gas is then upgraded (CO2 removed) in a separate facility managed by Salzburg AG and purified to meet natural gas standards.
Natural gas cars have the future: with low emissions and a high efficiency, natural gas powered vehicles are pollution free and economical. We have engaged ourselves for years in promoting pollution free transport and are proud to feed CO2-neutral biomethane into our natural gas net.

- August Hirschbichler, executive committee, Salzburg AG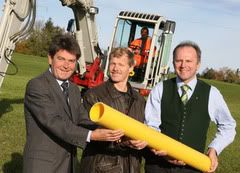 The first filling station offers a mixture of 80% natural gas and 20% biomethane - a combination locally called 'bio-NG'. The fuel is offered at the same price as fossil natural gas. The gas station will initially have a capacity to service about 20 cars a day.
Regional energy administrator Sepp Eisl, who is also a national energy advisor, says the next step is to increase the biomethane share to 80% of the blend.
In the future, we will pursue the goal of ensuring that 80% of all driven kilometers are based on biogas. This fuel production pathway is absolutely innovative and pollution free, for several reasons: the biogas is produced without any inputs of synthetic fertilizers or pesticides. Its is locally produced and does not require any transportation. Local jobs are created and secured, and regional value is created because the project contributes to landscape conservation.

- Sepp Eisl, energy advisor
Natural gas powered vehicles do not make the distinction between fossil and biogenic methane. For this reason, upgraded biogas can be blended into natural gas at different rates and ad hoc, depending on price evolutions. This will become an important advantage in the future:
energy :: sustainability :: biomass :: bioenergy :: biofuels :: biogas :: biomethane :: methane :: natural gas :: grass :: Austria ::

According to Salzburg AG, natural gas is a very efficient and clean fuel, and for consumers there is a clear cost-advantage: with a typical mid-sized vehicle, filling up your tank with 10 euros worth of 'bio-NG' you can drive about 240 kilometers; for the same amount of money, diesel will bring you 155 kilometers and a tank of gasoline only 118 kilometers.

Compared to gasoline and diesel, both greenhouse gas emissions and air pollutants are reduced substantially. Natural gas alone cuts emissions by over 50% compared to diesel and 35% compared to gasoline. The higher the biogas fraction, the higher the CO2 reduction. When the biomethane share of the blend reaches 80%, the gas becomes entirely green and carbon neutral, because harvesting the grass from which it is made allows an increase in soil organic carbon, thus taking CO2 out of the atmosphere.

The combustion of natural gas and biogenic methane takes place in a quasi-total soot and particle-free way. Harmful exhaust gases - CO and NOx - are kept to a minimum.

Salzburg AG also offers conversions of vehicles to natural gas, which costs around 500 euros for private customers and 750 euros for commercial fleets. With rising diesel and gas prices, these costs are recuperated quickly.

Salzburg AG is the biggest provider of energy and infrastructure throughout the federal state of Salzburg. With sales of 825,4 million euro in 2006 and about 2.000 employees, Salzburg AG is one of the leading and innovative energy suppliers in Austria. Key to success is its multiutility service: Energy, public transport and telecommunication are supplied by
one source.



Picture 1

: close-up of the meadow grass ('Wiesengras', 'Kentucy bluegrass',

Poa pratensis

) used for the production of biomethane.



Picture 2

: Salzburg AG executive committee chairman August Hirschbichler, Matthaeus Gollackner who manages the biogas plant, and national energy advisor Sepp Eisl holding a pipe segment.

Credit

: Salzburg AG.



Translated for Biopact by Jonas Van Den Berg & Laurens Rademakers





References:


Salzburg AG: Auto fahren mit Bioerdgas: umweltfreundlich und sparsam - November 22, 2007.

Salzburg AG: website dedicated to driving on natural gas and 'Bioerdgas'.

Biogas and methane yield data for temperate grass species can be found in the following dissertation:

Annimari Lehtomäki: Biogas production from energy crops and crop residues [*.pdf], Jyväskylä Studies in Biological and Environmental Sciences 163, PhD Dissertation, Faculty of Mathematics and Sciences, University of Jyväskylä, 2006.


Article continues