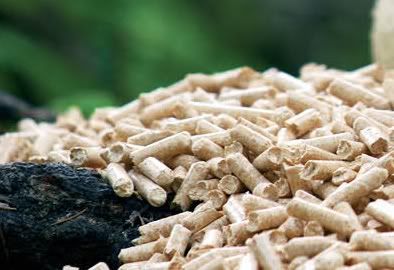 Biomass pellets are taking Austria by storm, as they are by far the cheapest energy source on the heating market and reduce CO2 emissions more efficiently than any other alternative. Credit: proPellets Austria.
As part of Austria's
Energy Efficiency Day
[*German], Austrians enjoy the opportunity to learn about renewables and climate change. One form of energy has taken absolute center stage because it represents a sustainable alternative to fossil fuels, allows large carbon reductions and has become the most competitive of all renewables: biomass pellets. In Austria, the biofuel used for heating is currently a whopping 46 per cent less costly than heating oil and 30% less costly than natural gas - which explains its
soaring popularity
. Moreover, a recent study comparing strategies with which households can reduce their carbon footprint, shows biomass is the least costly and most efficient way of all.
Austria's
demand
for biomass pellets, made from forestry residues and wood, stands at 400,000 tonnes so far this year. But production has risen to 750,000 tonnes in 2007. Next year, producers are expected to manufacture more than 1 million tonnes. This would meet rapidly rising demand, and leave room for exports. After a sharp increase at the beginning of the year, prices have stabilized since April and are currently almost half those of heating oil on an energy equivalent basis (graph,
click to enlarge
).
For the average Austrian household, this makes a very significant difference. The yearly heating bill (24,000 kWh per year) costs around €2000 when heating oil is used. Heating with natural gas will cost a family around €1800 per year. With biomass pellets the bill can be reduced to €1100. Heat obtained from pellets thus costs around 3,8 eurocent/kWh, against 6 eurocent/kWh for gas and 6,7 eurocent/kWh for heating oil.
No wonder last year in Austria three times more biomass systems were installed than heating oil systems. In 2006, some 21,300 small (100kW) pellet heating boilers were built, which have saved the country some 80 million liters of heating oil and 80 million cubic meters of natural gas. In the same year, some 777 medium scale (100-1000kW) systems were installed, a 19% increase compared to 2005.
According to Christian Rakos, director of proPellets Austria, the sector's umbrella organisation, the advantages of biomass pellets are obvious: they are carbon-neutral, can be used in modern boiler systems as a ready alternative for heating oil and gas, and their price is completely independent of fossil fuel prices, which guarantees stability, an important advantage for households.
Strongest weapon against emissions
The
Salzburger Institute for Urbanisation and Housing
(SIR) released a study for the Energy Efficiency Day which showed biomass pellets offer households the most efficient way of reducing their carbon footprint. By switching from a heating oil system to a pellet heating system, the average Austrian household can avoid up to 10,000 kilograms of CO2 emissions. This is more than the emission reduction potential of all other renewables and efficiency measures.
Using highly efficient insulation materials throughout the home, which would cost on average 4 times more than a biomass heating system, would only offer CO2 savings of around 3300kg.
Geothermal heating systems are an attractive alternative to heating oil, but they too perform weakly compared to biomass. This is due, the SIR says, to their reliance on relatively large amounts of electricity - which, in Austria's electricity mix, is obtained mostly from fossil sources:
energy :: sustainability :: renewables :: biomass :: bioenergy :: biofuels :: wood :: pellets :: heating oil :: natural gas :: geothermal :: climate change :: Austria ::

Moreover geothermal can only be used for floor and wall heating systems. But most houses in Austria use central heating systems that give off their heat via radiators. Geothermal systems can not deliver the high initial temperatures needed to operate radiators. Finally, geothermal heat pumps have the disadvantage of requiring very costly boreholes.

Other strategies with which households can reduce their carbon footprint include a switch of all lighting systems to efficient lamps. This has a potential for saving only around 100 to 300 kg of CO2 per year.

In short, biomass pellets for heating are unsurpassed in their capacity to reduce household emissions in a cost-effective manner.

Energy security
Biomass pellets were promoted at the Energy Efficiency Day for another reason. The latest study by the International Energy Agency (July) was highlighted, as it offered a grim outlook of both oil and gas price evolutions. Biomass already being much less costly than heating oil, its prospects become even brighter in light of this energy outlook. The study warns for a possible oil and gas crisis, because output in producing countries is growing much less than expected.

Biomass production is fully independent of oil and gas prices. Austria has the capacity to utilize its vast forestry resources in a sustainable manner and can meet increasing demand with ease. Imports of pellets can supply the country at a later time. In this sense, the biomass sector - which relies on fuels that can be traded physically - plays a key role in providing energy security not only to states, but to the average Austrian household.

Translated by Jonas Van Den Berg & Laurens Rademakers for Biopact.



Picture & graph credit

: proPellets Austria.



References:


Salzburger Nachrichten: Pellets erweisen sich als sehr kostengünstig und verlässlich - October 6, 2007.

Salzburger Nachrichten: Holzpellets sind aktuell um 46 Prozent günstiger als Heizöl - October 6, 2007.

Salzburger Nachrichten: Tag der Energie-Effizienz - October 6, 2007.

ProPellets Austria, the umbrella of the biomass pellet sector.

Salzburger Institut für Raumordnung & Wohnen - SIR.



Article continues