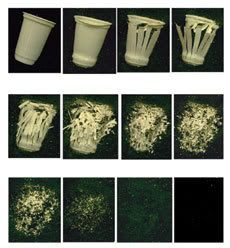 CSM
subsidiary
Purac
, market leader in lactic acid production,
announces
[*.pdf] it will extend its portfolio with Lactides, offering bioplastics producers the technical and economical solutions that have so far restrained them from entering the Poly-Lactic Acid (PLA) bioplastics market.
Packaging suppliers are constantly on the lookout for high-quality forms of biodegradable materials, as consumers and regulatory bodies are demanding environmentally-friendly packaging. Mandates from giant supermarkets, forcing suppliers to make the switch, are also coming into effect. But current PLA-based plastics are less robust than their petroleum-based counterparts. However, new technologies are gradually changing this situation: some have found ways to embed nanoparticles into the polymer to strengthen it (
previous post
), whereas others have succeeded in improving properties by compounding cellulose fibers into the PLA (more
here
).
Purac contributes to the need for stronger PLA plastics by expanding its product portfolio with patented D(-) technology. With compounded (D- and L+) PLA polymers it becomes possible to efficiently produce bioplastics that withstand temperatures of at least 175 °C, for diverse applications such as hot-fill bottles, microwaveable trays, temperature resistant fibres, electronics and automotive parts. The previous heat resistance record for PLA-plastics stood at 150 °C, achieved by a cellulose fiber-reinforced compound (
previous post
).
Poly-Lactic Acid is a raw material for bio-degradable plastics, an environmentally-friendly alternative to oil-based plastics. PLA is produced from lactic acid coming from starches and sugars from crops such as such as corn, sugar beet, cassava and sugar cane.
Market growth has been hampered by the availability of economically achievable production technology. By using Lactides as a monomer for PLA production, Purac bridges the technology gap that currently restricts the plastics industry to accelerate the PLA market growth. The Lactide technology will reduce costs and investments for the bio-plastics industry and significantly contribute to the growth of the PLA market. With the new D(-) technology bioplastics producers can now produce compounds for a wide variety of new high-end applications.

- Arno van de Ven, VP Chemicals and Pharma at Purac
Purac has filed several patents to protect its technologies. Together with leading plastics producers, the company is now investigating the necessary investments to be able to meet future demand. Industry experts project a steady market growth as of 2010 when products will be available in sizeable volumes:
energy :: sustainability :: petroleum :: bioplastic :: biodegradable :: biomass :: starch :: poly-lactic acid :: bioeconomy ::

According to research carried out by the UK Campden and Chorleywood Food Research Association Group, the current use of sustainable packaging is limited as its barrier properties are inferior to its petroleum polymer counterparts.

The report also claims that biodegradable and compostable packaging is only environmentally friendly when industrially composted, and in the UK, for example, there are few systems available.

Companies who have invested in PLA over the last 5 years include Amcor, Toray Industries, Bebo, and US-based Naturally Iowa, while retailers like Delhaize in Belgium and Auchan in France have been testing PLA for various food packaging.

Purac, a subsidiary of CSM, produces lactic acid, lactates, gluconates, lactitol, lactides and polylactides, for the meat, bakery, confectionery, dairy, cosmetics and pharma industries.



References:


Biopact: The bioeconomy at work: cellulose fibre-reinforced PLA bioplastic with improved heat resistance, rigidity and moldability - May 17, 2007

Biopact: Nanoparticle additive makes PLA based bioplastics stronger - July 23, 2007

Article continues