Quicknote bioenergy cooperation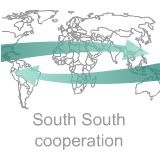 Despite Fidel Castro's criticism of ethanol made from corn (mainly aimed at the US), Cuba itself is investing heavily in producing the biofuel (
earlier post
). The island state sees it as a way to revive its once thriving sugarcane sector, and to boost its energy security.
The country has had a long history of growing and researching the crop as well as in studying ways to convert it into energy. But years of neglect and the collapse of the Soviet Union (which bought sugar in exchange for fuel), has brought the sector to a standstill. At its best, Cuba produced a massive 10 million tonnes of sugar per year, in 2006 output was less than 1.6 million tonnes. Biofuels offer a unique opportunity to breathe new life into the industry.
The Cuban government now says it is ready to transfer its sugarcane-based ethanol technology to Nigeria, in a South-South cooperation effort.
Elio Olivia, the Cuban Ambassador to Nigeria,
told reporters
that his country was not only prepared to share its expertise in the production of varieties of sugarcane, but also in the production of alternative sources of energy with Nigeria. Besides sugarcane ethanol, cassava-to-ethanol technologies would be shared as well.
Nigeria is the world's largest producer of the starch rich crop, and "will benefit from such an exercise at both the federal and state levels," Olivia thinks. The African country used to export cassava for use as animal feed to the EU. But a new policy there, which boosted subsidies for European grain farmers, caused the sector in Nigeria to collapse. Biofuels are seen as a new outlet for the abundant crop - as is stressed in Nigeria's Presidential Cassava Initiative.
Cuba and Nigeria are set to hold a session for the Nigeria-Cuba Joint Economic Commission, a bilateral economic cooperation promoting body attended by officials of both countries to discuss possible areas of partnership. The meeting is to be held in Nigeria's capital Abuja in November [entry ends here].
biomass :: bioenergy :: biofuels :: energy :: sustainability :: ethanol :: sugarcane :: cassava :: Nigeria :: Cuba ::
Article continues