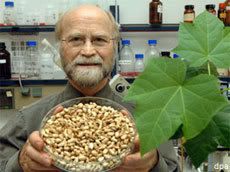 Auto giant DaimlerChrysler has been researching, planting and testing jatropha and a biodiesel derived from its oil for the past three years in Gujarat, in northwest India. The project has created a jatropha-euphoria in the poverty-stricken region, with the local farmers who participated seeing a great future in the energy crop. Other projects included growing the crop in the middle of the Egyptian desert, to prove that it thrives in the most extreme conditions. And in Madagascar, where up to 70% of people are unemployed in some regions, the crop has opened a new future for small farmers who can finally diversify their portfolio. For the first time in their lives, farmers across the developing world can grow a crop for which the disastrous phenomenon of overproduction no longer exists.
Germany's NTV conducted an
interview
[*German] with professor Klaus Becker, leader of the projects and director of Tropenzentrums (Tropical Agriculture) of the University of Hohenheim, revealing why the crop is attracting so much attention (e.g. oil giant BP and D1Oils recently announced a global
joint venture
to grow the plant on a million hectares). Topics include the future of petroleum and oil prices, the social and environmental sustainability of jatropha, its potential to meet the fuel needs of the rapidly growing number of cars on the planet, climate change and new uses for the plant's oil based on the latest research.
Professor Becker, you have been researching the jatropha plant for DaimlerChrysler since 2003. What is DaimlerChrysler's stake?
Klaus Becker: DaimlerChrysler is interested in the crop because it will give India a high quality biodiesel that can be used directly in existing cars. We will not be establishing plantations ourselves. Initially the project was part of a marketing effort in India, but the crop has grown so popular that this has become larger than we expected. When a major company invests in such a project, people take things seriously, which is what happened with jatropha:
bioenergy :: biofuels :: energy :: sustainability :: jatropha :: biodiesel :: poverty alleviation :: rural development :: Peak Oil :: Germany :: China :: India :: Africa ::



You were the first to research jatropha on a large scale?


We were the first in Europe. For over 15 years we have been working with a consulting firm in Nicaragua to study jatropha. The plant is 70 million years old. But nobody was interested in it. Without the DaimlerChrysler project the current jatropha-euphoria would not have emerged.



Is jatropha-oil already being used as biodiesel?


We have been trialing it for the past two and a half years. The DaimlerChrysler office in Pune coordinates the road tests. We have multiple test vehicles. This year we plan to burn 40,000 liters of jatropha biodiesel - B100, our fuel does not need to be mixed with petro-diesel. All our tests are based on 100 percent pure jatropha biodiesel.



In ordinary, non-adapted vehicles?


In fully normal Mercedes-CDIs, yes.



We hear so much about jatropha, it sounds like a wonder plant.


Well, it is a great crop.



Jatropha thrives on poor soils, but supposedly the crop even makes these soils more fertile so that other, less robust plants can be grown on it. Is that correct?


Yes it is. We have established jatropha on heavily degraded lands. After 10, 15 years we were able to win back this land, because jatropha had pushed back the effects of the erosion that had destroyed the soils. I offer money to anyone who can show me a negative aspect of cultivating jatropha.



It's a poisonous plant.


That is, the plant can protect itself against predators. Besides, many ornamental plants in Europe are more poisonous than jatropha. But jatropha is a useful crop, or better: it is becoming a useful crop and precisely because it can protect itself against grazing animals, it can be grown on poor lands. The crop doesn't need to be fenced off or protected, it is its own fence. The region in which we work - Gujarat in northwest India, Ghandi-land - is extremely poor, but rich in waste-lands.



An added advantage supposedly is the fact that the plant can not be harvested mechanically. This creates lots of jobs.


That's right. Especially the Indians think this is the most interesting aspect of the crop because it allows social and economic development in the rural areas. We are also working in Madagascar. There are regions there with unemployment rates of up to 70%. Currently there are no crops that can create a substantial number of jobs in the country - except energy crops. Most of the bioenergy crops we are accustomed to can be harvested mechanically. Jatropha on the contrary requires a large number of workers. The standard number we work with is 1.5 workers per hectare for the cultivation of the plants and for harvesting the oil seeds.



But does it make economic sense to growh jatropha if it is so labor intensive?


Yes it does, because energy prices will continue to rise. By 2030 the total number of cars on the planet's roads will have grown from 500 million today to 900 million. By then, countries like China will have overtaken the United States. Today there are 150 million cars on America's roads. In 2030 there will be 190 million in China.



But they can't all burn jatropha-oil, can they?


Quite frankly, the will burn whatever they can find. Anyone who produces any kind of energy will find a ready market for the coming 30 to 40 years, and will sell at the highest prices. For small farmers, this is a very important development: they now have a number of crops available for which the risk of overproduction does not exist - overproduction, the economic phenomenon that has been so disastrous to millions of poor farmers. With jatropha the farmers will, for the first time in their lives, find a stable market with few risks.



This brings us to climate change.


The way we produce biodiesel from jatropha in India and Africa has a strong CO2-balance. During the production of the crop we use relatively low amounts of fossil energy; much of the production consists of manual labor. This makes the balance much better than biodiesel made from, for example, rapeseed.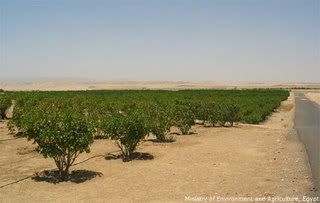 Have any large jatropha plantations been established?


Well, the crop can grow wherever temperatures are high enough. It is a tropical plant. But it uses much less water than other energy crops, because of its highly efficient strategy to use water. Together with the Ministry of Agriculture and the Environment in Egypt, we are doing trials in the middle of the desert. We irrigate it with waste water from the city.



Excuse me?


Nobody believes this, until they have seen it. We grow jatropha in the middle of the desert - the desert you see in post-cards - in the sand. The crop is irrigated with waste-water. And it thrives beautifully.



Jatropha-plants in the Egyptian desert - such a miracle crop must be attracting its fair share of snake oil vendors. There are a few websites playing with the crop, but they look amateurish.


Well, when it comes to jatropha, the internet is less than amateurish. 5% of what you find is credible. There are people who ask a dollar per seed, others offer 20,000 tons of oil per month. In reality, such amounts are not yet available on the market. My estimate is that 5 million hectares of the crop are being established on a world wide scale, scattered across a vast number of countries. Only Myanmar (Burma) has made a serious effort and established 800,000 hectares over the past year (earlier post). It takes between 4 and 5 years before the plants mature. Other plantations [using improved crops] will take 3 years to reach maturity. Only then will a market for jatropha oil emerge.



In online drug stores it costs €12 for 500 milliliters of jatropha oil.


Yes, jatropha oil is currently sold at that kind of quantities. In Mali, women sell jatropha based soap, very nice soap. In the past the famous

Savon de Marseille

was made from jatropha oil. The plant yields more than just oil, you see. We are investigating how we can turn jatropha press cakes (the residues that remain after the oil has been extracted) into animal fodder. We are researching how to remove the toxic substances from the meal. If we succeed, we can replace soybean meal, because the quality of jatropha-meal is better. Soja's raw protein content is around 45%; jatropha's is 60%. The only problem is the detoxification step that must be developed. But we are confident that we will pull it off. Even the toxic substance in jatropha, Phorbolester, is valuable. It is being used in cancer research. We want to develop a bio-pesticide from it - a natural product that can be used by organic farmers.



Where will the market for jatropha oil emerge first? In India?


The Indians need everything they produce. The Chinese too have large plans for jatropha; they are looking at establishing 13 million hectares of plantations by 2020.



When will we in Europe be utilizing jatropha-oil?


That's a matter of market policies and economics. Producers will sell to those who offer the best price. It's as simple as that.



But this depends on the evolution of the oil price, doesn't it?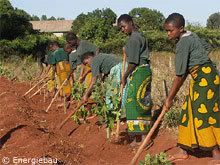 Well, we are certain that oil prices will only get higher. You can bet on it. For the first time, the Chinese have produced more cars than Germany, 7.2 million last year to be precise. We are talking about growth rates of 6 to 8% per year. And that's only the Chinese. The world only talks about China and India, but South-East Asia is overlooked. Take countries like Indonesia, Bangladesh, and even Brazil and Mexico. Or African countries like Nigeria. They are developing rapidly. In Europe, the positive correlation between the availability and use of energy and economic development [called the 'energy intensity' of an economy] is no longer that strong because we have the potential to save energy. But over there, in Africa and India, there is no savings potential because consumption is low. People there have nothing to save, they don't even have electricity!
The same is true for labor. Until the 1980s, the number of jobs and economic development was strongly correlated in Europe. Today share prices rise when companies cut jobs. In Africa and India the opposite is true - the situation there is the same as in Europe 30 years ago.



Does jatropha-oil offer the possibility to replace other petrochemical products?


Yes, very much so. From hydraulic oil to motor oil - for these purposes all plant oils are clearly better than mineral oils .



What about heating oil?


No problem. If you use jatropha biodiesel you don't need to build a protection wall around your tank. Contrary to petroleum based heating oil, biodiesel readily biodegrades in the soil. Biodiesel is ranked in class 1, petrodiesel in class 5 [German classes for fuel oil for home heating].



How to invest in jatropha?


Currently there are some serious investors active in Germany, Colombia, Indonesia and other countries. I'm not allowed to name names. But these investors will soon go public.



How many research projects you would qualify as 'serious' are currently underway?


Oil firm BP has been building on our research in India and has launched research activities there. [

Note: the interview was conducted before the announcement of BP's joint venture with D1Oils

]. Many universities now have jatropha research groups. At the Dutch University of Wageningen [Europe's leading agronomic university] there are 5 PhD theses being written as we speak. My estimate is that world-wide there are around 1,000 serious research groups working on jatropha. Over the coming years, the crop will reveal many of its secrets. Today, it remains a wild plant.

Translated and adapted by Jonas Van Den Berg and Laurens Rademakers.



References:


NTV: "Jatropha kann man nichts Schlechtes anhängen" - June 29, 2007.

DaimlerChrysler:Öl vom Ödland - Das Jatropha-Projekt in Indien - Jatropha project website.

Jua Katika Mbinga - Sonne über Mbinga [Sun over Mbinga], jatropha project in Tanzania funded by Germany's Energy Agency.


Article continues