New technology means coal can be both a clean and secure source of energy, according to a UK think-tank report. High in carbon emissions - a key factor causing climate change - coal has typically been seen as a dirty fuel. But the environmental damage can be reduced, says the report, and unlike wind and solar power it can also be stored and provided on demand.

CCS progress opens carbon negative energy future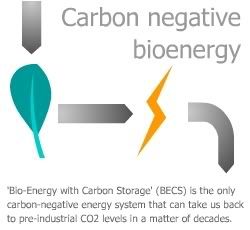 More importantly to us, the technologies for clean coal can be applied to biomass, resulting in so-called 'Bio-Energy with Carbon Storage' (BECS) systems. BECS is the only radical carbon
negative
energy concept that can provide a reliable supply of power and take our historic carbon emissions out of the atmosphere. As biomass grows, it becomes a carbon-neutral biofuel. But when the fuel is burned and its carbon emissions then captured and stored, the system's greenhouse gas balance becomes negative. All other energy systems, including renewables like solar and wind power are carbon
positive
and in the case of the latter must be backed up by other baseload sources.
Scientists have pointed out that if BECS - now recognized by the IPCC as an important technology to fight climate change - were to be implemented on a large scale (taking on aspects of a 'geo-engineering' effort by planting large energy forests across the globe), it
can take us back to pre-industrial CO2 levels in a few decades time
. The concept was designed as an answer to socalled 'abrupt climate change' scenarios. Meanwhile many scientists think we are already facing such a scenario.
We refer to the report on clean coal because it indicates carbon capture and storage (CCS) technologies are becoming technically and commercially feasible in the UK. Since biomass can be co-fired easily with coal, BECS may become a reality faster than expected. In fact, in the Netherlands, a first power plant co-firing coal and biomass, and storing the CO2 in depleted gas fields is already under construction. This will effectively become the first low carbon coal plant, and, depending on the amount of biomass that is co-combusted, may even become carbon negative (
previous post
). On a more general level, CCS still poses some risks (like CO2 leakage), which is why testing such technologies from the start with biomass is
the safest way forward
.
The reported titled
Clean Coal: A Clean, Secure and Affordable Alternative
[*.pdf] was produced by the Center for Policy Studies and comes in advance of the UK energy white paper, expected in May:
bioenergy :: biofuels :: energy :: sustainability :: climate change :: carbon dioxide :: coal :: CCS :: biomass :: Bio-Energy with Carbon Storage ::



Advantages of coal and biomass


The analysis first indicates that in the UK, more energy generation is urgently needed. The country has an installed electricity capacity of 77 gigawatts (GW) but it is expected that by 2016, it will face a shortfall of 32 GW as older coal, nuclear and oil plants go offline, while demand keeps increasing.

The author, Tony Lodge, argues that coal has many advantages over intermittent renewables like solar or wind power. The argumentation for coal is equally valid for biomass:

Coal has a number of advantages for electricity production. The raw material is in plentiful supply. It can be (and is) stockpiled at power stations and, in generating terms, it is a fairly flexible fuel, providing baseload but also some capability of being turned up and down to meet peaks in demand.
Like coal, biomass can also be transported safely and efficiently, and traded. Research by the IEA Bioenergy Task 40 has indicated that intercontinental trade and transport of biomass (densified into a liquid fuel or as pellets), that is, shipping it in tankers over long distances, is feasible and only slightly reduces the greenhouse gas balance of the fuel upon arrival in the importing port.

'Clean coal' is a generic term for a range of technologies aimed at reducing greenhouse gas emissions. They include flue gas desulphurisation, supercritical coal-firing and underground coal gasification, all discussed in the report. However, carbon capture and storage (CCS) is by far the most important of the new concepts and techniques, because they reduce carbon dioxide emissions radically.



CCS potential in the UK


The idea of carbon sequestration is simple and powerful: segregate the CO2 from the fossil fuel combustion products, and then deposit it in a place where it will remain.

The emission of CO2 from such a plant could be reduced to virtually zero [and to a negative number] if the clean coal [biomass] plant was designed to sequester carbon, the CO2 could be disposed of in, for example, the emptying oil fields of the North Sea which consequently can extend the lives of oil fields through pressure being applied on old and difficult to extract reserves, thereby prolonging production.

CCS is a three step process, which includes capturing the CO2 from power plants, transporting it, usually via pipelines, and finally storing it. The British Minister for Science told the House of Commons on 27 February 2007:

CCS could help reduce emissions from the new coal-fired power stations that are planned over the next decades, especially in India and China, that is why the proposal is so attractive... We have strongly encouraged the market to proceed with bringing the technology forward, and UK industry is well placed to undertake future CCS projects.
The British Geological Survey estimates that potential carbon dioxide storage capacity in the UK sector of the North Sea is 755 gigatonnes, which is a considerable amount, given that worldwide CO2 output is 8 gigatonnes annually. This means that almost a century's worth of the CO2 produced in the world could theoretically at least, be stored in the North Sea alone.



CCS Costs


The report sketches an overview of the costs of CCS, which are crucial to its long term viability. Snow relies on an analysis by PÖYRY Energy Consulting for the Department of Trade and Industry (Analysis of Carbon Capture and Storage Cost-Supply Curves for the UK [*.pdf]). It concluded that CCS costs in a coal-fired plant would be just above £20/tonne CO2 while for a gas fired plant, it is £30/tonne CO2. A key reason for this difference is that the volume of CO2 emitted from a coalfired plant is far greater than that from a gas fired plant, so the volume abated will also be far higher, therefore reducing the cost of abatement.

The PÖYRY report also sets out other ways the costs of CCS can fall:
Using CO2 for Enhanced Oil Recovery (EOR can generate revenue which offsets the other costs of CCS (before any taxation issues are considered).
The cost of storing CO2 in aquifers is close to £1/tonne.
The cost of storing CO2 in oil and gas fields plant ranges from £1/tonne to £20/ tonne. The low unit costs of using aquifers is due to them being in shallow water, minimising the platform costs, being in shallow rock formations thereby minimising drilling costs and their large reservoir nature, reducing the unit cost of storage.
Overall, the PÖYRY report states that there is clear potential for abatement of around prices below £30/tonne.
Current CCS projects in the UK


Across the world, CCS trials and concrete projects are underway (in France, the Netherlands, Germany and Australia). In the UK too, some projects are worth noting:



Centrica Teesside 800 MW IGCC


Centrica, owner of British Gas, and Progressive Energy Ltd announced in November 2006 plans to build an £1bn 800MW IGCC (Integrated Gas Combined Cycle) in Teesside, North East England. The plant would be equipped with carbon capture and storage.

Importantly, this plant will be located on the coast, therefore in close proximity to disused wells for CCS and therefore requiring less transportation infrastructure and build. Centrica stated that the station would be fuelled by coal from the UK and would generate enough electricity for one million homes. Provided the company gets Government approval and planning permission, construction would start in 2009, enabling the station to open in 2012 or 2013.

Scottish and Southern Energy Ferrybridge (Yorkshire) 500MW Supercritical Plant and CCS
Scottish and Southern Energy have teamed up with Doosan Babcock Energy, UK Coal and Siemens to look into the prospect of building a £350m 500MW clean coal plant at Ferrybridge power station with a supercritical plant and carbon capture and storage. This technology at Ferrybridge Power Station, in Yorkshire, would save around 500,000 tonnes of carbon dioxide a year, compared with the current plant. The plant would receive coal from the neighbouring Kellingley Colliery.

Powergen Kingsnorth (Kent) New power station featuring two 800MW Supercritical plants with potential CCS
Powergen, owned by E.ON of Germany, is planning to invest £1 billion in two supercritical plants expected at 800MW each. They will be located at the same site. This plant, according to E.ON will use a mix of British and imported coal. The power stations will be suitable for carbon capture and storage. If approved these would be the UK's first supercritical coal-fired units, and they would produce enough electricity to supply around 1.5 million homes. On December 11th 2006 E.ON submitted a Section 36 planning application to the Government.



Powergen Lincolnshire 450MW CCS


Powergen has also announced a feasibility study into building a clean coal power station at Killingholme on the Lincolnshire coast. This station will act as a test facility for carbon capture and storage.



Political support


According to the report, developing clean coal in the UK would not only be good for the domestic market. It would also be an effective way of setting an example for developing economies, including China and India, so they could "take advantage of their own coal reserves" in an environmentally acceptable way.

But in order to make best use of coal, there needs to be clear political support to encourage investors and systematic planning rules for coal sites, said the think-tank.

The government should also provide the same degree of subsidy as it does for renewable energy, it adds. It argued that ultimately, if coal were developed using new technologies, it could mean a more reliable energy source and cheaper electricity for the consumer. "Such a combination ought to be attractive to all policy-makers".



Disadvantages of wind and solar


Solar energy is quickly dismissed as a feasible option for large scale energy production in the UK, because it is far too costly, intermittent and not very efficient there. Wind receives large investments, but the think tank asks whether these funds wouldn't be better invested in clean coal. It does so because wind power has several major disadvantages.

Lodge quotes Michael Laughton, Professor of Electrical Engineering at Queen Mary University of London who has highlighted three key points on wind energy:

With or without wind generation in the electricity system, security of power supply is governed by the probability of the available plant being able to meet power demand at all times, especially at or near peak periods.
Wind generation on its own cannot provide a reliable supply of power. It must be backed up by other baseload sources.
By way of illustration if 25 GW of wind capacity were to be added to the electricity supply system only 5 GW of conventional plant capacity could be retired. This is because of existing security of supply standards (loss of load probability or LOLP) where in general the capacity credit is of the order of the square root of the GW of wind installed. With a 30% annual load factor this 25 GW of wind capacity would generate annually the same energy on average as 5 GW.

Wind power is also relatively expensive, according to Lodge, who provides the following table below (

click to enlarge

):


Conclusion
The think tank says barriers to clean coal technology being embraced and pursued are not technical. The technology exists and has existed for some time. If the British overnment wishes to genuinely embrace a competitive, market-orientated energy policy which reduces CO2 and maintains crucial baseload energy provision then it must support clean coal, alongside new nuclear stations.

Note that the Biopact neither backs clean coal as such, let alone nuclear power. We do think though, that progress in reliable carbon capture and storage technologies offers a unique opportunity to build genuinely carbon

negative

energy systems based on biomass. These systems can mitigate climate change like no other technology. Biomass can be grown sustainably in very large quantities, most notably in the subtropics, from where it can be exported efficiently to BECS-plants in the industrialised world. Such a 'pact' would provide opportunities for farmers in the South, and a radical way to reduce the past emissions from the highly developed countries.



More information:


DTI: Analysis of Carbon Capture and Storage Cost-Supply Curves for the UK [*.pdf] - Pöyry for the UK government's Department of Trade and Industry, January 2007.

Center for Policy Studies: Clean Coal: A Clean, Secure and Affordable Alternative [*.pdf], May, 2007.

Biopact: Pre-combustion CO2 capture from biogas - the way forward?, March 31, 2007.

Biopact: Abrupt Climate Change and geo-engineering the planet with carbon-negative bioenergy - December 21, 2006.

Biopact: UN expert group demands carbon capture - report, March 05, 2007.

Euractiv: 'Carbon-capture trials safest way forward' - April 3.

Article continues