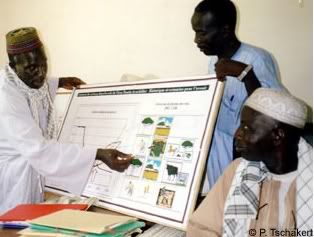 Last week, the signatories to the UN's Kyoto Protocol convened in Germany to discuss the future of instruments and targets aimed at reducing greenhouse gas emissions. Despite a
deadlock and pessimism
on the chances for a new, post-Kyoto agreement, those worried about climate change still hope a global system of carbon markets will be created. Such an instrument would allow those who are able to sequester carbon in forests, ecosystems and soils, to sell carbon credits to those who want to offset their emissions.
One of the most straightforward and immediate ways to reduce atmospheric carbon dioxide and slow global warming is by storing carbon in an inert form in agricultural soils. But before farmers can sell the carbon credits derived from this practise they need to be able to verify that changing soil management has increased the soil organic carbon (SOC) in their fields.
Accuracy key
Researchers at Montana and Colorado State Universities now have evidence that an existing soil model can be used to accurately estimate carbon levels in soil under certain climate and land conditions. By using this model, farmers and landowners will be able to verify soil carbon change for carbon trading. The scientists report their
findings
[*abstract] on the reliability of the "Century soil model" in the May-June 2007 issue of
Soil Science Society of America Journal
.
The findings have importance for the development of tools that can measure carbon storage as part of a system of carbon negative biofuel production (see below). The Century model estimates soil organic carbon content and soil organic carbon change using soil texture, weather, and farm management information, says Ross Bricklemyer, lead author of the study.
Working together with farmers from Montana, researchers compared Century model estimates of soil carbon storage to field SOC measurements. Scientists measured carbon storage and soil texture in 10 paired fields under no-till and conventional-till management. They estimated the increase in carbon stored under no-tillage adoption as the difference between carbon levels in no-till and till fields. They then compared the soil carbon values predicted by the Century model to measured SOC and SOC rate of change.
The Century model accurately predicted SOC content and rate of carbon change, however, differences between measured soil texture data and state and county soil texture maps greatly influenced carbon storage estimates:
bioenergy :: energy :: sustainability :: climate change :: carbon dioxide :: carbon market :: soil management :: soil organic carbon :: carbon storage :: biomass :: biochar :: pyrolysis :: biofuels ::

"The accuracy and scale of soil texture data highly influence the accuracy of Century model estimations of soil carbon," said Bricklemyer. "The model accurately estimated soil carbon content and the influence soil clay content had on the amount of carbon in the soil."

Although texture was important in determining SOC storage estimates, the effect of no-tillage management on the rate of carbon storage was not influenced by texture in this study. Some scientists have found that high clay content, or heavy soils, store carbon more rapidly under no-tillage management than soils with little clay content, others have found that clay content has no affect on carbon storage rates under no-tillage practice.

Bricklemyer says that because the effects of clay content on the rate of soil carbon under no-tillage change are not well understood by the research community, clay content information was not directly used by the Century model for carbon change calculations.

"This study also points out the importance of establishing benchmark monitoring sites, under actual farm conditions, where soil texture, soil carbon and other soil properties can be accurately measured and re-measured over time," said Bricklemyer. "Such a system, which currently doesn't exist in the U.S., would help us improve and validate estimates of carbon sequestration over time."



Carbon-negative biofuels


The Century soil model primarily looked at changes in soil organic carbon obtained from changing agricultural practises such as tilling versus no-tillage soil management. But there is a more radical way of using soils to store carbon and reduce greenhouse gas emissions by producing carbon negative biofuels.

The idea is to grow energy crops and to transform the biomass into two different products: liquid biofuels and charcoal. This can be done by a process called pyrolysis, which heats biomass in the absence of air, and which results in a syngas and biochar. The syngas can be transformed into liquid biofuels, whereas the char can be sequestered in soils.

This geosequestration technique not only stores carbon, but also increases the fertility of soils, on which new energy crops can then be grown. Such a fuel production system would result in carbon

negative

biofuels (earlier post). Under such a production scheme, farmers and biofuel producers would sacrifice part of the carbon from the crops that could be transformed into fuel by keeping it in a solid form (charcoal), but they would be able to sell the stored carbon on carbon markets.

This concept is receiving more and more attention from the scientific community as the technique may be more readily and widely applicapble than other carbon storage techniques (such as 'carbon capture and storage' from large power plants, where the carbon from coal, natural gas or biomass would be captured and stored in depleted oil and gas fields or in other sites such as saline aquifers).

Moreover, storing carbon as charcoal in soils is a relatively simple technique that could be adopted rapidly by farmers in the developing world. In the tropics and subtropics, soils are often of low fertility and suffer under aluminum toxicity. Adding biochar could help in solving these problems. In fact, the technique was already known by communities in West Africa and the Amazon (where it is known as 'terra preta' or 'dark earth') who used it thousands of years ago to boost the fertility of their agricultural soils. Contemporary archaeologists and agronomists were baffled when they discovered these sites (earlier post).

The fact that the Century model was used by the researchers from the Montana and Colorado State Universities is an encouraging sign, indicating that work is being done on a scientific approach to the technique of retaining, storing and calculating carbon in soils. The Century model is already being used in the developing world by agronomists to teach farmers there how adapt their farming techniques so that soil organic carbon and fertility is retained. The fact that its accuracy is confirmed and that it becomes a practical tool for actually measuring changes in soil organic carbon levels as a result of farming practises, is promising for farmers in the South.



Image

: the CENTURY model, which depicts four scenarios of possible future soil management, is being presented to members of the

Conseil Rural

in Fissel (Senegal) in order to promote discussion and evaluation of possible strategies to increase the amount of C in soil and biomass.

Courtesy

: P. Tschakert, Aridlands Newsletter.



More information:


Ross S. Bricklemyera, et al, Sensitivity of the Century Model to Scale-Related Soil Texture Variability,

Soil Science Society of America Journal

, 71, pp.784-792, published online 5 April 2007, DOI: 10.2136/sssaj2006.0168

Eurekalert: Before selling carbon credits, read this - May 18, 2007.

Biopact: Terra preta: how biofuels can become carbon-negative and save the planet - August 18, 2006

Biopact: Biochar soil sequestration and pyrolysis most climate-friendly way to use biomass for energy - April 26, 2007

Petra Tschakert, "Our carbon is gone; we have to bring it back!" Soil fertility management and social learning in Senegal's drylands, Aridlands Newsletter, No. 58, Winter 2005.

Article continues