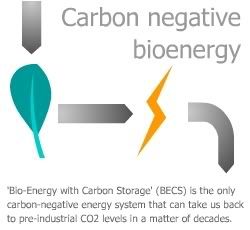 Coal company Powerfuel announced that it has
signed
a licence agreement with Shell which entitles it to use Shell's proprietary gasification technology in its proposed 900MW IGCC coal fired power station at Hatfield, South Yorkshire. The purpose of this approach is to enable carbon capture and storage (CCS) to take place at the lowest cost using pre-combustion capture techniques applied to gasified coal.
We report on this development, because it confirms our finding that of call carbon capture methods,
pre-combustion carbon capture from gas
is the most feasible and low-cost technology currently available. This technology can not only be applied to fossil fuels (gasified coal, natural gas) but just as well to gasified biomass or, even more interestingly, to biogas.
CCS applied to bioenergy results in a the world's only carbon negative energy system - so-called
'Bio-Energy with Carbon Storage'
(BECS). Scientists think that if BECS were to be applied on a massive scale, the concept can take us back to pre-industrial CO2 levels within a few decades only. BECS effectively negates our 'historic' CO2 emissions; no other energy concept is carbon negative - renewables like solar or wind are carbon-neutral at best, whereas CCS applied to fossil fuels is slightly carbon-positive. BECS however is radically carbon-negative. Moreover, the concept is also far safer and cost-effective than
risky and costly geo-engineering concepts
aimed at mitigating global warming (like seeding the oceans with iron to cause artificial algae blooms, pumping sulphur into the atmosphere to create a cooling blanket, or launching millions of mirrors into space to reflect sunlight).
Finally
of all CCS routes, those based on using carbon-neutral biomass are the safest
; there are still considerable risks involved in storing CO2 under ground, leakage being the most problematic one. Now if the CO2 that is sequestered were to come from carbon-neutral biomass and it were to leak, there would be no net increase in the amount of carbon in the atmosphere. If sequestered CO2 derived from fossil fuels would begin to leak, the contrary would be true.
In short, for all these reasons, developments in CCS technologies are of interest to bioenergy advocates who understand the major advantages of BECS. In an
earlier piece
, we looked at applying carbon capture options to biomass and concluded that pre-combustion capture of CO2 from biogas is probably the most feasible path. The agreement between Shell UK and Powerfuel Plc roughly confirms this finding:
bioenergy :: biofuels :: energy :: sustainability :: CCS :: carbon-negative :: bio-energy with carbon storage :: biomass :: biogas :: coal :: gasification ::

From the press release:

"Coal gasification [read 'biomass gasification'] is the cleanest method for converting coal's [biomass's] energy potential into electricity. The process takes coal and turns it into a hydrogen-rich synthesis gas, which, in this case, will facilitate the separation of the carbon dioxide pre-combustion in the turbine generators. It is this factor which offers a lower cost approach to carbon capture. The hydrogen rich stream could also potentially be used in clean transportation and in substitution of natural gas, as well as electricity production on site."

Other, more costly carbon capture techniques are either based on trapping CO2 after combusiton of the fuel, or during the combustion.

Richard Budge, Chief Executive of Powerfuel Plc, said "We are delighted to be working with Shell in our vision to be the first commercial-scale coal fired power generator with carbon capture in the world. Success in this project would be enormously significant for UK and EU energy policy as it offers the benefits of a local, inexpensive fuel, improved security of electricity supply and very low carbon emissions. This agreement maintains our leading position in the development of carbon capture from coal fired electricity generation in the UK."

Peter de Wit, Shell Gas & Power Executive Vice President, Global Businesses, said: "Shell is at the forefront of developments in clean coal and our leading-edge technology is clean, efficient and reliable. Today's agreement with Powerfuel is the second we have signed in Europe in less than a year and is the first in this region for a project incorporating carbon capture and storage from the outset. The deal signals a further expansion of our clean coal business outside of China, where we have sold 15 gasification licences over the past five years."

Powerfuel Plc has already received section 36 government consent for a part of this project. Engineering work will now proceed to the conclusion of a full FEED (front end engineering design) package, following which construction is expected to take 3 – 4 years. Discussions are continuing with third parties with a view to the construction of a pipeline to transport CO2 from Humberside, an area with very large carbon dioxide emitters, to secure storage sites in the North Sea.

Mr Budge further commented "We await the design and publication of the government's competition to support one or more CCS projects because we believe that our project represents the lowest cost approach to the important challenges that face the electricity industry in this country and overseas."


Article continues