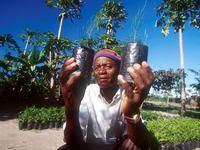 The biofuels debate is heating up in Europe. Questions about climate change, sustainability, biofuel technologies and bioenergy trade, energy efficiency and the potential to create a 'biopact' with the South have come to the fore in a lively discussion that brings governments, farmers, NGOs, scientists and biofuels advocates together.
We are pleased to announce that
EurActiv
, the leading independent media portal on EU affairs, has
published our view
on what Europe's bioenergy future might look like.
EurActiv tracks the energy debate in Europe in a very thorough manner and presents a wide variety of analyses from different actors. The multi-lingual portal's regularly updated dossiers on energy and climate change couple analyses of official EU policies to critical assessments by stakeholders. They are by far the best sources available. We especially recommend the following EurActiv dossiers to our readers:
Our letter came as a reaction to an
article
about the potential negative impacts of biofuels, such as rainforest depletion in Brazil and increased competition with wood and food production. Dr. Andrew Boswell of
Biofuelwatch
gave his organisation's
view
on the matter, to which we responded. Dr. Boswell's analysis correctly sketches the dangers of unplanned biofuel production in the South, but ignores the potential benefits of the development of a well-planned biofuels industry in the developing world. Both 'letters to the editor' offer a highly condensed outline of both our organisations' points of view. Our dialogue is far from over [entry ends here].
ethanol :: biodiesel :: biomass :: bioenergy :: biofuels :: energy :: sustainability :: deforestation :: poverty alleviation :: rural development :: developing world ::
Article continues