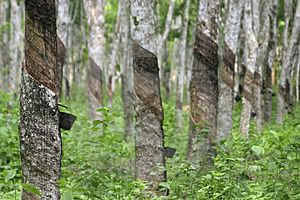 Because of high fossil fuel prices, the world is steadily shifting away from the petroleum era and into a new dawn, that of the bioeconomy. Most natural gas and petroleum-based products - from fuels and fertilizers to polymers and plastics - can nowadays be replaced by climate-neutral, plant-based alternatives, some of which are already cheaper than their fossil fuel rivals.
The most basic asset driving this emerging bioeconomy is one that had completely fallen off the radar during the petroleum era, namely land. Asian plantation companies can't find enough of it at home, a reality that is fundamentally changing the way these companies plan future expansion. In the process, countries which still have arable land in plenty - in Africa, South-East Asia and South America - are benefiting massively.
Strong demand, high prices, alternatives to oil
The rush to get trees that yield biofuel and bioproduct feedstocks into the ground as quick as possible began a few years ago but is accelerating now as commodity prices are at levels unseen in years or even decades in some cases. With oil prices hovering above US$50 a barrel, and the development of a global market for carbon, palm oil's potential as a biofuel or as a carbon sink has greatly expanded the scope for its use. Natural rubber supply, meanwhile, is expected to see a deficit in the next 6-10 years on record growth of the Indian and Chinese economies.
Demand for other commodities, such as sugar cane and corn which are linked to biofuels and bioplastics, has also risen with the run-up in oil prices. Palm oil prices are currently around MYR2,000 a metric ton, the highest level since 1998 when prices averaged MYR2,377. Natural rubber futures, meanwhile, rallied to a 26-year high in July during a supply crunch. While some of those gains have been surrendered since then, a widely expected supply deficit for the next 6-10 years will keep its prospects buoyant, analysts say.
To capitalize on these favorable trends, plantation companies need to find and develop land quickly, but this is becoming increasingly difficult at home. Land suitable to grow rubber and oil palm, for example, is either saturated, as in China, coveted by real estate developers, or fragmented into small holdings, as in Malaysia, making consolidation into economic holdings difficult.
That has forced investors to look at countries so far considered risky investment destinations. "The big problem is that the belt in which rubber grows is politically unstable," said industry veteran George Sulkowsky, managing director of Centrotrade, a rubber dealer with offices in Europe, the US and Southeast Asia.
Decades of isolation brought about by wars in Cambodia and Africa, autarchy in Myanmar and political upheavals in Indonesia and the Philippines have until recently kept most investors away from the plantation sector in these countries. But that has also left these countries with "a lot of land ripe for outside investors," said Steven Schipani, a consultant to the Asian Development Bank:
ethanol :: biodiesel :: biomass :: bioenergy :: energy :: sustainability :: biofuels :: bioplastics :: bioeconomy :: plantations :: land ::



Land rush


Hidde Smit, secretary general of the International Rubber Study Group, says "The Chinese, the Vietnamese, the Thais, the Malaysians are all interested in planting (rubber) in other countries, because land is not available in their own countries."

China's Hainan State Farms, for example, have established a rubber nursery in Myanmar as a first step and plans to develop 300,000 hectares of rubber plantations in Laos and Myanmar in less than ten years, with a total rubber output estimated around 500,000 tons.

In November, the state-owned Vietnam Rubber Group said it would lease 50,000 hectares of land in Cambodia to grow rubber, starting 2007. That area could be doubled in four years.

This follows upon another investment in Cambodia in April by Hainan State Farms, which leased 62,659 hectares of land, at a cost of CNY1 billion ($12 7 million), to grow rubber.

In the Philippines, two provincial governments from China plan to develop 200,000 hectares of land for rice and corn cultivation and another 40,000 hectares for a bio-fuel crop such as cassava or sugar cane. And in Indonesia, Malaysia's Sime Darby, now in the process of merging with two other state-owned palm oil giants, is working to double its land bank to 200,000 hectares by 2008.

"The biggest reason Malaysian companies come to Indonesia is land," said Witjaksana Darmosarokoro, director of the Indonesian Palm Oil Research Institute.

What began as a trickle is now a steady flow, expected to continue for years given the rising demand for these commodities.

While observers say it is difficult to foresee the scope and speed of this outward investment, none doubt the growth of foreign-owned plantations will boost output in general while shifting a significant proportion of production to lower-cost countries.



New investments to ease supply shortages


The explosion of new investments by Asian plantation companies in neighbouring countries could help ease future shortages of palm oil and rubber, and by doing so, keep prices at levels that don't force consumers such as tire makers and energy users to seek substitutes.

According to IRSG's Smit, the new investments in rubber plantations might increase output by 1 million tons in the next 10 years, from around 9 million tons expected to be produced this year.

Similarly, palm oil's use as a biofuel has begun putting a strain on edible oil supplies, and Indonesia's vast potential to expand production offers some relief, said Dorab E. Mistry, director of Godrej International Ltd., part of India's Godrej Group.

While oilseeds have to compete for land with other crops in most parts of the world, "the one area where production does not face such competition is Indonesia," said Mistry.



Risky business


But the prospect is not without risks. Overproduction is the greatest danger presented by this new expansion, analysts said.

Consider as well that these investments may be converting rainforest into monoculture plantations, or transforming farmers into laborers. There is also the issue of immigrant labor.

Following Chinese and Vietnamese investment to Laos, Cambodia and perhaps Myanmar will likely be immigrant farmers. NGOs in Laos say northern Laos is already under significant Chinese influence and that process will intensify once newly planted rubber trees are ready to be tapped in about six years from now.

"The government of Laos, lacking any sort of tools to analyze the rubber phenomena, has not even thought about this issue, said David Bluhm, an agro-forestry consultant, who co-authored a study on Laos' rubber industry for the German non-governmental organization GTZ. "(At) some point I think the government will have to ask itself some tough questions about rubber and social demographics."



More information:


DJ Newswire (via Egoli): Plantation Companies Rush Abroad To Secure Land - Jan. 8, 2007

Article continues