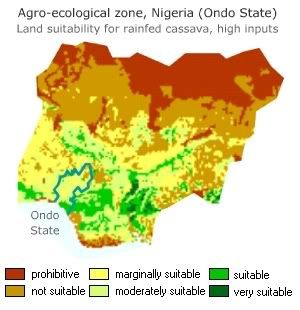 The government of Ondo State, in Nigeria, has
signed
a Memorandum of Under- standing with the Nigeria National Petroleum Corporation (NNPC) on the production of ethanol from cassava tubers. Pre-feasibility studies on the joint venture have already commenced on selected sites of the Okeluse forest reserve in the Ose council area of the state.
The state's Agriculture Commissioner, Mr. Ayo Ifayefunmi, said that the state was collaborating with the NNPC following the initiatives of the Federal Government on agriculture (the presidential initiative on cassava being one of those -
earlier post
, a new agricultural fund being another). According to the commissioner, the cassava ethanol project is meant to diversify the use of cassava, saying "it is to produce ethanol from cassava tubers and also to generate power which will be supplied to the national grid to serve neighbouring communities."
Cassava not only yields starchy tubers from which ethanol can be made, a considerable amount of lignocellusic biomass is harvested as well. This last type of solid biomass , in combination with cassava processing residues, can be used to generate power (with which to power the ethanol plants; excess production will be fed to the grid - the resource use is similar to the sugarcane ethanol industry in Brazil, where bagasse is used as a bioenergy feedstock for power generation).
The announcement comes at a time when the Federal Government is releasing a
50 billion naira agricultural credit fund
. To facilitate easy access of farmers to the loans, the Ondo State government has set up an implementation committee and a dedicated fund for its administration:
Ondo state makes available a total of 400 million naira (€2.4/US$3.1 million) under a 'Trust Model Fund'
individual farmers can access 250,000 naira (€1500/US$1950), in principle enough to establish 10 to 20 hectares of high yielding cassava

cooperatives/companies can avail themselves 10 million naira (€60,000/US$78,000)

the interest rate is eight percent repayable within a period of 18 months.

to further reduce bottlenecks inherent in the loan, the government has provided Irrevocable Standing Payment Order (ISPO), to the tune of 600 million naira (€3.6/US$4.7 million) to three banks in the state for easy access of the loan by farmers.
In a budget review, Ifayefunmi said that the government's budgets to the agricultural sector have witnessed an appreciable increase since the inception of the current administration in 2003:
ethanol :: biomass :: bioenergy :: biofuels :: energy :: sustainability :: cassava :: co-generation :: poverty alleviation :: rural development :: Nigeria ::

The comissioner added that out of the total 2.094 billion naira budget for the sector between June, 2003 to December, 2006, an actual 1.5 billion naira or 72 % of the budget was spent.

716 million naira went to the purchase of fertilizer and 34 million naira to the rehabilitation and construction of 18 farm service centres. The other budget allocations were not disclosed.

Ondo State has has a considerable cassava production potential. However, prices for the root crop have been persistently low, and Nigerian authorities have been looking at ways to use the crop for industrial purposes.





http://allafrica.com/stories/200701190468.html

Article continues