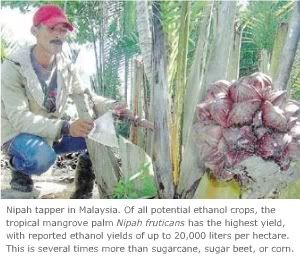 One of last year's most exotic stories came from Perak state, in Malaysia. There, a company is investing in a project to produce ethanol from the mysterious mangrove palm, also known as nipah (
Nypa fruticans
) (
earlier post
). Nipah palms are known for their extreme productivity: year round, they yield thousands of liters of sugar-rich sap, which is traditionally used to make alcohol and sweet liquors. Some researchers have found theoretical yields of 15,000 to 20,000 liters of ethanol per hectare of nipah stands.
Pioneer Bio Industries Corp Sdn Bhd, the company that invented a process to delay the spontaneous fermentation of tapped nipah sap, has now
announced
the scale of its investment. The company is committing not less than 1.4 billion ringgit (€304/US398 million) to set up the country's first refinery plant to produce nipah ethanol on a large scale.
the factory will be built in the 1,000ha area where some 6,000 wild nipah trees were found growing in abundance in Trong, about 12km from the city of Taiping
scheduled to be in operation by early next year
capacity to process some 1.8 billion litres (475.5 million gallons) of ethanol per year; this is roughly 21,700 barrels of oil equivalent per day
major portion of the ethanol will be exported while only a small percentage would be marketed locally

Chairman Md Badrul Shah Mohd Noor estimated that the company would be investing a total of 43.2 billion ringgit over the next three years for the ethanol production project in Perak. This includes the building of nine refinery plants at areas where the company has been given the right to tap nipah sap. The wild nipah areas would be turned into mini-estates:
ethanol :: biomass :: bioenergy :: biofuels :: energy :: sustainability :: Nypa fruticans :: nipah :: sugar :: Malaysia ::

Badrul adds that "ethanol is now much sought after in view of the increasing awareness among countries on the need to switch to biofuel to protect the environment. Besides, its usage could also help to save a country's non-renewable oil reserve."

Local demand for ethanol would mainly come from the medical-related industry. Pioneer Bio Industries is a subsidiary of Pioneer Vaccination Biotech Corp Sdn Bhd, which has been in the biotechnology business since 2003.


Tajol Rosli, state governor, said the state government would share profits from the ethanol production based on land ownership. "We are only giving the company the right to tap nipah sap while maintaining the titles of all the sites they are operating on. Based on our share of land equity in the project, we expect an annual income of at least 324 million ringgit (€70.5/US$92.2 million)." Besides royalties for the state, the project is expected to bring a considerable number of jobs (earlier post).

Pioneer Bio Industries has also been given the right to tap the sap from 14,000ha of nipah trees found in the state's coastal areas. Finally, the company is allowed to convert 1,000ha of coconut smallholdings in Bagan Datoh to plant nipah on a commercial scale.

Article continues