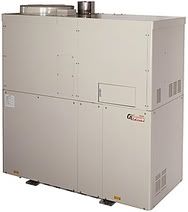 Japanese engine and agricultural machinery manufacturer Yanmar
announces
it is commercializing highly efficient biogas powered micro-cogeneration plants. The compact 25kWh combined heat and power (CHP) plants were developed over several years from systems that originally worked on liquefied petroleum gas (LPG). Through its fully owned subsidiary Yanmar Energy System, the company hopes to sell 1000 of the renewable energy units per year by 2012.
The compact biogas power plants target livestock production facilities, small household and municipal waste treatment facilities and the food processing industry in which large streams of waste biomass are available, suitable for the production of biogas. Biogas obtained via the anaerobic digestion of organic materials consists mainly of methane and CO2. The cogeneration plants work on raw, unprocessed biogas (60-70% CH4) to yield carbon neutral energy but are more efficient when upgraded biogas ('biomethane') is utilized.
After a testing and verification process, the company's internal project team found the system to be highly reliable and efficient, with the number of sales of test-units increasing fast enough during 2006-2007, leading to the decision to launch a full commercialisation effort. The cogeneration plants will likely be priced at 12 million yen (€73,000/US$ 105,800).
The units have the following
characteristics
[*Japanese] (schematic,
click to enlarge
):
a rated power output of 25kWh (three phase, 200V)
an overall efficiency of over 84% in CHP-mode; an electric efficiency of 33% when biogas with an 80-90% methane content is used and 32% when raw biogas (60-70% methane) is used; a thermal efficiency of respectively 52% and 53%
a low noise profile
continuous operational capacity of 6000 hours per year
On an annual basis, the micro-cogeneration plant can save up to 70 tonnes of CO2 compared to a similar output obtained from fossil fuel (LPG) powered units:
energy :: sustainability :: biomass :: bioenergy :: biofuels :: biogas :: biomethane :: waste :: anaerobic digestion :: cogeneration :: CHP :: Japan ::

The calculation of the CO2 savings is based on computation methods provided by the Ministry for Environmental, Economic and Industrial Affairs and based on a typical biogas production operation.

According to Yanmar Energy System, the 1000 biogas units it hopes to sell will avoid as much CO2 as is sequestered in 5 million cedar trees, thus contributing to mitigating climate change.

Combined, the plants will generate around 50,000MWh of electricity, enough to power 40,000 homes, and 230000 MW of heat, enough to take 53,000,000 hot baths. Kerosene boilers would require around 25 million liters of the fossil fuel to heat an equivalent amount of water.

According to the company, Japan's average carbon dioxide price between April 2006 and August 2007 was 1212 Yen per ton (max. 2500 Yen, min. 900 Yen). Taking an average value, the 1000 units Yanmar hopes to sell would thus yield around 85 million Yen worth of carbon credits.

An interesting market that will be explored besides the farm and food processing sector, is that of coupling geothermal energy to methane recovery. The micro-generation units can thus be utilized as renewable home energy systems scavenging off the waste product of another form of renewable energy.



References:


Yanmar: Biogas micro-cogeneration sales to start - December 19, 2007.

Yanmar Energy System: dedicated biogas micro-cogeneration website.

JCN Network: Yanmar Unit to Fully Launch Biogas Cogeneration System - December 19, 2007.