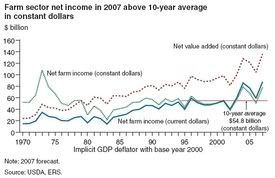 The United States Department of Agriculture's Economic Research Service (ERS) has released its annual
Agricultural Income and Finance Outlook
, showing that the biofuels revolution that has swept the US has led to net farm incomes reaching an all-time high. ERS is forecasting net farm income to reach $87.5 billion, up $28.5 billion from 2006 and exceeding the 2004 record.
This large boost is primarily the result of the increased demand for biofuels and agricultural exports, which has increased farm prices for corn, soybeans, milk, and other farm commodities.

- USDA, ERS
In general, 2007 is proving to be a very good year for most U.S. producers of agricultural commodities, both crops and livestock. The boost in 2007 U.S. farm income is primarily the result of high commodity prices. These are caused by the confluence of a set of factors:
record economic growth and higher incomes in developing countries with large population leading to global wheat consumption exceeding production in recent years

inadequate rainfall in competitor countries that produce similar commodities combined
rising use of some major crops in biofuel production has increased the demand for these commodities and contributes to upward pressure on feed grain prices; corn is the primarily beneficiary of the increased production of biofuels; soybeans are used in the production of biodiesel.
the depreciation of the US dollar by 25 percent or more against major foreign currencies since 2002, further increasing demand for U.S. exports and boosting farm-level prices
As a result, the combination of reduced supplies and is translating into rising demand for farm commodities, regardless of where they are produced.
The value of crop production is expected to increase by $30.5 billion in 2007, the largest annual increase since 1984. The value of livestock production is expected to increase almost $20 billion.
Direct government payments in 2007 are expected to decline by $3.7 billion from 2006. Farm production expenses are forecast to rise to a record-level $254.2 billion in 2007.
Fuel price increases in 2007 are expected to be lower than the previous 4 years of consecutive double-digit annual percentage increases.
Average net cash income for U.S. farm businesses is projected to be $66,100 in 2007. This represents a 21-percent increase from 2006 and would be 23 percent higher than its most recent 5-year average:
energy :: sustainability :: biomass :: bioenergy :: biofuels :: ethanol :: biodiesel :: agriculture :: drought :: commodities :: United States ::

Farm sector equity is expected to continue rising in 2007 as the anticipated increase in farm asset value exceeds the rise in the value of farm debt. U.S. farm sector net worth is expected to exceed $2.0 trillion in 2007, up from $1.8 trillion in 2006.

The average household income (from farm and off-farm sources) of principal U.S. farm operators is projected to be up 7.7 percent in 2007, to $83,622. About 13 percent of the average farm operator household income is expected to come from farm sources in 2007. Income from farm sources increased by more than 30 percent in 2006-07, in contrast to a more moderate 5-percent increase in off-farm income.

For every year since 1996, average income of farm households has exceeded average U.S. household income. In fact, just the off-farm income component of average farm operator household income has exceeded the average U.S. household income from all sources since 1998. For the 15 major agricultural States where data are available, the average income of farm operator households in 2006 exceeded the average income of all households in those States.

In addition, farm households have significantly more net worth than the average U.S. household. Trends in averages mask a great deal of diversity in the financial position of U.S. farm operator households. The size of the farm operation, the commodities being produced, and the importance of off-farm sources of income all influence the level of farm household income and net worth, and how much it is growing or declining.



References:


USDA Economic Research Service: Agricultural Income and Finance Outlook [*.pdf] - December 2007.