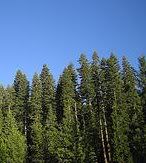 In this essay, Carol Kennedy, the forest soil scientist and watershed program manager for the Tahoe National Forest in California,
explains
why forest conservation can be enhanced by the use of forest biomass as a source of clean and renewable energy.
What would happen if the April showers that bring May flowers came in February instead? Do you think May's foliage might be affected?, she asks.
Most climate change models project significant changes in California's precipitation. We're in for longer summers and shorter winters. California, a state largely dependent on the Sierra Nevada snow pack for its drinking and irrigation water, can expect less snow.
The expected shift in precipitation has implications for everything from how farmers grow crops to aquatic species' survival, what Californians pay for drinking water, forest health and composition, firefighting costs and more. It also could mean more rolling blackouts.
With less snow melting, there may not be sufficient in-stream water to generate the hydroelectric power Californians rely on. Current predictions are that there won't be enough moisture to sustain our conifer-dominated forests. There will be dryer, stressed forests even more susceptible to insect infestation, disease and catastrophic wildfires than today's forests.
Imagine that — more than 8 million California acres stand at high or very high risk of wildfire, Californians spent more than $1 billion on firefighting between 2000 and 2006 and climate change figures to make the wildfire picture worse.
Fortunately, we can take steps to mitigate the impact of climate change on our forests and energy challenges.
It's no secret that many of California's forestlands are seriously overcrowded. On some public forestlands, more than 500 trees per acre stand where fewer than 80 per acre stood historically. The excess trees and shrubs, or biomass, often become fuel for devastating wildfires.
What if rather than watch all that biomass go up in smoke, we put it to good use making clean energy?
First, we could reduce greenhouse gas emissions from wildfires, which in itself would be significant. Wildfires in California release millions of tons of greenhouse gases every year. Removing biomass from the forest before it burns means fewer and less intense wildfires, which in turn means fewer greenhouse gases released to the atmosphere. It also could mean less loss of life and property:
energy :: sustainability :: biomass :: bioenergy :: biofuels :: forests :: conservation :: wildfires :: greenhouse gas emissions ::

We'd get clean energy from a renewable resource in return. Burning fossil fuels for energy creates significant greenhouse gas emissions; burning biomass for energy does not.

There's also a substitution benefit. By not burning fossil fuels to produce the energy instead being generated from biomass we can realize additional reductions in greenhouse gas emissions.

Furthermore, removing some biomass frees remaining trees from competition for water and nutrients so they grow faster and absorb carbon more efficiently. Plus, harvesting some trees to become wood products can keep much of the carbon they absorbed stored long-term in homes and furniture. Replanting begins the cycle again, with young, growing trees rapidly turning carbon dioxide into wood fibers.

Today, biomass contributes less than 2 percent of California's energy. That should change.

The obstacles that have prevented biomass from playing a bigger role in California's energy picture should not prove insurmountable. Biomass energy remains relatively expensive to produce, but its costs can't be viewed in a vacuum [note, generically speaking, biomass is the most competitive of all renewables - more here].

Utilizing biomass for energy, for instance, can save millions in firefighting costs.
Tapping biomass' potential will take innovative solutions and require private sector involvement. There isn't enough money in the federal budget to fund sufficient biomass removal without partnering with forest products companies. Adjusting the federal tax structure, which offers up to four times more production credits for wind and other renewable energy sources than biomass, should be on the table, too.

The Tahoe National Forest is taking a lead position in preparing for a warmer climate. We are working with the Placer County Water Agency to figure out how forest management and biomass energy might help offset its expected loss in hydroelectric power production due to a changing climate. In addition, the Tahoe is one of two national forests on the West Coast serving as case studies in climate change.

Now is the time to conserve our forests. If we want to sustain California's forests, we should manage our natural resources to make biomass energy a meaningful part of our efforts to address climate change.


The Tahoe National Forest straddles the crest of the Sierra Nevada mountains in northern California, and encompasses a vast territory, from the golden foothills on the western slope to the high peaks of the Sierra crest. Carol Kennedy is the Forest Soil Scientist and Watershed Program Manager on the Tahoe National Forest, where she has worked since 1989. She is the Tahoe National Forest's expert on climate effects on Sierra Nevada forests. Kennedy graduated from Cal Poly San Luis Obispo and has worked for the Bureau of Land Management, Soil Conservation Service and the Forest Service.



References:


Sierra Sun: Now is the time to conserve our forests - December 26, 2007.