The Iowa State University Extension's
annual survey on land prices
shows that because of a surging demand for corn and soybeans for a rapidly expanding biofuels industry farmland prices in Iowa keep breaking records. The average value of an acre of farmland in Iowa - the heart of America's 'Grain Belt' - increased by just over $700 during the past year, to an all-time high of $3,908 ($9,656 per hectare). The trend confirmed that of last year's survey, when cropland in Iowa rose to a record US$3,204 per acre (US$7917 per hectare) (
previous post
).
The land boom is being driven by the developing biofuel economy, according to Mike Duffy, ISU Extension farm economist who conducts the survey. Duffy said the 22 percent increase recorded this year is the greatest one-year increase since 1976, and marks a new record for the fifth year in a row. Since the year 2000, Iowa land values have increased an average of $2,051 per acre, more than a 100 percent increase over the 2000 average value of $1,857.
The increases in values were reported statewide, with the survey recording averages above $5,000 an acre in five counties, and between $4,000 and $5,000 an acre in 51 counties. Nineteen counties reported increases of more than 25 percent, and 59 counties had increases between 20 and 25 percent (map,
click to enlarge
).
Duffy noted that some of the smaller percentage increases occurred in the counties and crop reporting districts along Iowa's eastern and western borders. He said this reflects the impact of local demand for corn from ethanol plants. Counties along the border rivers previously received the best prices for crops due to low transportation costs to gulf port markets, but now those crops are being used locally by the ethanol plants, which is driving up prices in interior counties.
Duffy said he frequently is asked whether the land market will crash, and how high it might go before it tops out. He also is questioned about the impact of the weakening dollar, the new farm bill, and the current subprime mortgage crisis.
The world of agriculture as we know it here in Iowa has changed. Where the changes will settle out and when is not known. My general feeling is that the land market will remain strong for at least the next five years. We have seen a fundamental shift in demand for corn due to ethanol production. I don't think this demand will diminish in the near future.

- Mike Duffy, ISU Extension farm economist
Of the nine crop reporting districts in the state, northwest Iowa reported the highest average value at $4,699 per acre. The lowest average in the state was in south central Iowa at $2,325 per acre. North central Iowa was the leader in percentage increase at 25.3 percent, while east central Iowa had the lowest percentage increase at 14.7 percent:
energy :: sustainability :: biomass :: bioenergy :: biofuels :: ethanol :: biodiesel :: farmland :: Iowa :: United States ::

The highest county average in the state was Scott County at $5,699 per acre, while Decatur County was lowest at $1,828 per acre. Sioux County led the state with the largest dollar increase at $1,142 per acre, while Floyd County had the largest percentage increase at 30.3 percent.

Low grade land in the state averaged $2,655 per acre, an increase of $460 or 21 percent over the 2006 survey. Medium grade land averaged $3,666 per acre, a $655 increase or 21.8 percent. High grade land averaged $4,686 per acre, an increase of $851 or 22.2 percent.

Survey participants were asked to indicate positive and negative factors that affected land prices during 2007. Good grain prices was by far the most frequently mentioned positive factor, listed by 35 percent of the respondents. Another 10 percent mentioned low interest rates as a major factor.

Three negative factors impacting land values were listed by more than 10 percent of the respondents. They included high costs for the inputs needed to grow crops, listed by 25 percent; high land prices in general, listed by 12 percent; and a concern over how long the market would remain at high levels, listed by 11 percent.

Thirty-seven percent of the respondents to this year's survey reported more land sales in 2007 than in the previous year. That was the highest percentage since 1988. Buyers were existing farmers in 60 percent of the sales, and investors in 34 percent of the sales, essentially unchanged from the previous year, but down considerably from a decade ago when existing farmers represented nearly 75 percent of the buyers.

Data on farmland sales has been collected by Iowa State University annually since 1941. About 1,100 copies of the survey are mailed each year to licensed real estate brokers, ag lenders, and others knowledgeable of Iowa land values. Respondents are asked to report values as of Nov. 1. Average response is 500 to 600 completed surveys, with 499 usable surveys returned this year. Respondents provided 668 individual county estimates, including land values in nearby counties if they had knowledge of values in those counties.



Crossing the pond


Farmland will become a very valuable resource in the future global bio-economy. Industrial countries have already used up most of their suitable acreage and can expect a continuous rise in prices. Some have warned that new farmers will find it increasingly difficult to start a business because of this. However, in both Africa and Latin America, farmland is abundant and far less costly.

Some adventurous people will want to cross the Atlantic or the Mediterranean to start up in the bioenergy and agriculture sector in Africa. Tens of thousands of landless Chinese farmers are already doing this, encouraged by their government, with rising land prices in the People's Republic playing a key role (previous post).

The price of land is only one of many factors determining the viability of an agricultural enterprise. In increasingly science and tech driven agriculture its relative importance has declined over the decades. But the trend is now reversing. For farmers in emerging economies with scarce land resources (China, India) and whose farm practises are not comparable to the highly mechanised, intensive practises of their collegues in the West, venturing abroad might be an option.

So how much does farmland cost in African countries? Data are scarce and not kept up to date. But from what little data we have, the sheer difference in value can be sketched.

The World Bank Global Approach to Environmental Analyses (GAEA) made land price estimates back in 2000. The GAEA study attempts to build on earlier World Bank work that suggested that national land prices would be roughly equal to a multiple of per capita income. Estimates of land value calculated in this way were then adjusted to incorporate broader factors, such as proportions of pasture, cropland, forestland and arid land in the total land area, to arrive at indicative national land prices. In short, the land price data are very rough and only useful for broad comparative purposes.

The following tables were compiled from these data: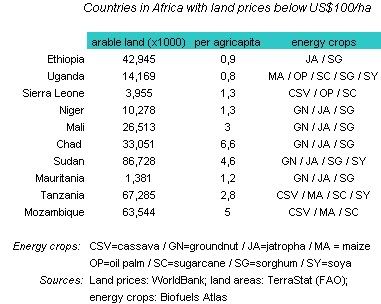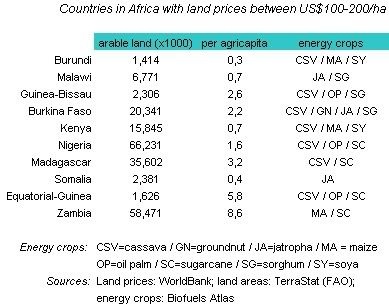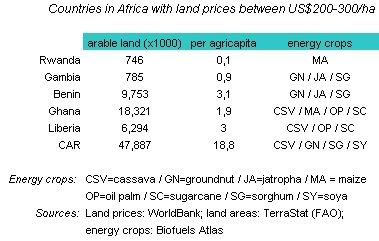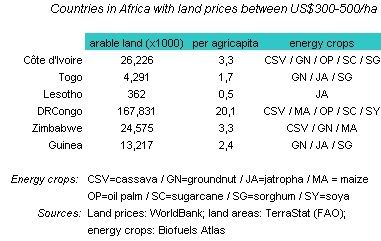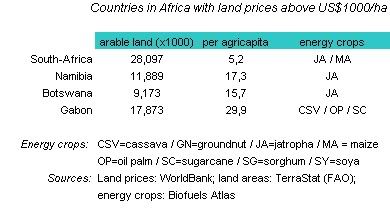 More on these data can be found here.



References:


Iowa State University Extension: 2007 Iowa Land Value Survey.

Iowa State University Extension: Average Value of Iowa Farmland Tops $3,900 an Acre in 2007 Survey - December 18, 2007.

Biopact: Ethanol boosts farmland prices in the US - December 22, 2006

Biopact: Landless Chinese farmers migrate to Africa in search of agricultural opportunities - December 02, 2007

Biopact: Land prices in Africa - September 15, 2006