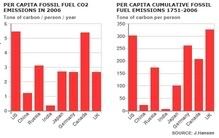 Germany and the United Kingdom are seen as leaders in the fight against climate change, with the one known for its heavy investments in renewables and the other for keeping the topic on the international agenda. Back from Bali, where delegates from over 180 countries found a compromise to work towards a post-Kyoto framework to cut greenhouse gas emissions, reality sets in: in both countries, plans are underway to build new coal-fired power plants. But resistance is growing rapidly, with a stark warning from renowned climate scientist Dr James Hansen urging both Chancellor Merkel and Britain's Brown to scrap the plans. Meanwhile in Germany, the Greens say biomass offers a realistic alternative to browncoal-fired power plants.
The UK is considering, for the first time since 1974, a new coal plant in Kent, while British Gas owner Centrica has revealed plans for a power station on Teesside, claiming it would be the UK's greenest fossil fuel station, using both clean-coal and carbon-capture technology at the same time. The plant would provide power to 1 million homes. Centrica said coal is needed to provide a 100% reliable power supply, because planned wind power only has about 30 to 35% reliability.
In Germany there are plans for new browncoal-fired power stations in Hamburg and in Egelner Mulde and Lützen (both in Saxony-Anhalt) by the lignite giant Mitteldeutschen Braunkohlengesellschaft (MIBRAG). The Greens are reacting angrily and have presented a comprenehsive alternative plan for the region in which energy efficiency and a switch to biomass are key. They call for a limit on the number of new wind turbines, because they rely on coal for baseloads and are facing growing resistance from local people. Instead, they want existing wind facilities to switch to 'repower' (new, more powerful, second generation turbines). Coupled with biomass which provides the base, the renewables can match coal.
Historic responsibility
Renowned climate scientist Dr James Hansen says both countries must resist the coal-fired power stations, basing his arguments on future as well as historic reasons. The leading Nasa researcher is writing to the leaders to explain why he believes their decisions to be crucial.
It appears that it is not recognised that we're going to have to phase out coal use except where we capture the carbon dioxide; or we're going to produce a different planet. It's going to include loss of all the Arctic sea ice, it's going to include large sea-level rise and large regional climate effects

. - Dr James Hansen
Hansen held his plea at the American Geophysical Union (AGU) Fall Meeting, the largest gathering of the year for Earth scientists.
The US space agency researcher - who was one of the first to raise the issue of global warming back in the 1980s - believes the decisions taken by Britain and Germany could prove to be the 'tipping point' that persuaded other nations to follow cleaner technologies. They have the power to get the ball rolling.
Asked why the decisions of these two countries were so important when China is already said to be building the equivalent of two new coal-fired power-stations a week, he argued that the European countries had a historic responsibility to lead the way.
In support of this, in the letter he is drafting to Gordon Brown and Angela Merkel, he cites figures for 'per capita cumulative emissions' (graph,
click to enlarge
). These are the total emissions of carbon dioxide from the late 18th Century onwards. On this basis, even though other nations put out more CO2 today, the UK can be viewed as the world's 'biggest emitter' with Germany following. This is explained by the fact that Britain led the industrial revolution, and Germany completed it:
energy :: sustainability :: renewables :: wind power :: biomass :: bioenergy :: carbon capture and storage :: coal :: climate change ::

Dr Hansen applauds both European countries' CO2 commitments and targets, and says their leadership on the issue of coal could seed the transition that is needed to solve the global warming problem.

But concerns over energy security have led to demands in both countries for coal power to be expanded; and although there is much talk about the greening of coal through the capture and burial of CO2 emissions, the technology is seen unproven.

As director of the Nasa Goddard Institute of Space Studies, James Hansen has been a vocal critic of the US government's stance on climate change, and once complained that he was being prevented from making public statements on the issue by political appointees within Nasa.

He came to the AGU meeting to discuss the current state of climate science with other researchers.

He said the present concentration of CO2 in the atmosphere (380 parts per million by volume, ppmv) had already committed the Earth to large climate impacts, such as the loss of summer sea-ice in the Arctic and sea level rise greater than one metre.



'Not irreversible'


But Dr Hansen stressed that the point of no return had not been reached - that irreversible change had not taken place. He said that to get the Arctic ice to recover would require a reduction in CO2 concentrations down to about 300 or 350 ppmv.

He believed this was possible, and called for greater energy efficiency and corrective pricing of carbon to allow cleaner technologies to compete and take over from fossil fuels.



Green instead of browncoal


It is these cleaner technologies which Die Grünen of Sachsen-Anhalt, the state where most new German coal plants will be built, are promoting aggressively. Presenting their latest Energy Policy Paper at the party congress in Naumburg yesterday, they demand a state-wide reduction of per capita carbon emissions from 11 tons now to 7 tons in 2020. A sense of urgency can be read in the document.

Country and municipalities must set the example and lower their energy consumption by 30 per cent over that time period. In their paper the Greens suggest among other things sending means for promotion of economy development only such enterprises which are to 20 per cent with the energy consumption under the current state of the art or its past consumption. For public real estate properties they demand a 'consistent use of energy-saving and efficiency measures'.

But the main topic of the paper is the threat of new lignite fired power plants to be build by MIBRAG, a giant industrial conglomerate that wants to utilize the region's vast browncoal reserves - the cheapest and most abundant primary energy source available.

The Greens calculate that the new plants are a losing proposition because they include carbon capture and storage (CCS) technologies which can just as well be applied to biomass, while the coal plants remain inefficient and provide a low number of jobs.

Their alternative to a planned 660 MW lignite fired power plant is based on the use of woody biomass, found abundantly in the state. Combined with repower wind, biomass can be used readily in large plants that provide a reliable baseload at competitive prices provided carbon emission prices trend slightly upwards. Moreover funds made available for CCS, should immediately be coupled to biomass, instead of coal plants.

An added advantage of renewables over coal is the large number of jobs the sector generates. The chairman of the Green Bundestag fraction, Fritz Kuhn, told the congress that renewables in Germany had developed into a 'job machine'. In Sachsen-Anhalt alone, already 230,000 jobs had been created in the sector.

This success is due in large part to the Greens, who earlier, when in power, got the nuclear phase out plans through and wrote the legislation in favor of the renewables that will close the energy supply gap to occur when the country shuts down its nuclear power plants.

But Kuhn accused to the new Federal Government (Christian Democrats & Social Democrats) of acting halfheartedly when it comes to climate policy. The parties in power, he says, are being reactionary in that they think a reduction of CO2 can go together with new so-called 'clean' coal-fired power plants. To the Greens, CCS, when applied to coal, is an industrial 'package of deception', untried and unproven.


Biopact would add that the main criticism against CCS - that potential leakage of CO2 could be catastrophic - is overcome when the technology is coupled to biomass. If ever CO2 were to leak from a geosequestration site that holds biogenic CO2 instead of fossil derived CO2, the net effect on the atmospheric concentration would be zero.

The great advantage of CCS coupled to biomass is that it results in negative emissions of up to -1000 grams of CO2 per kWh (compared to +800g/kWh for ordinary coal plants, +100g/kWh for coal coulped to CCS, and +30 to +100 for wind and solar).

Scientists have calculated that if carbon-negative bioenergy were to replace coal on a global scale, the system of

negative

emissions can reverse climate change and bring atmospheric CO2 levels back to pre-industrial levels by 2060.



References:


Linie Eins: Biomasse statt Braunkohle - December 15, 2007.

Bundnis90/Die Grünen - Sachsen-Anhalt: Landesparteitag am 15. Dezember 2007 - December 15, 2007.

BBC: Brown urged to resist coal rush - December 15, 2007.

BBC: Centrica mulls clean coal option - November 14, 2007.