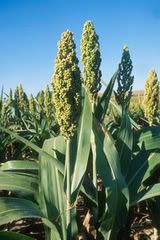 The Chinese Academy of Sciences (CAS) Institute of Botany and Singapore's Temasek Life Sciences Laboratory (TLL) have
agreed
to begin joint research into developing energy-rich plant hybrids for biofuels.
The CAS institute signed a pact with TLL, which is affiliated with the National University of Singapore and Nanyang Technological University, to set up a new Beijing-based Laboratory for sweet sorghum (
Sorghum bicolor
(L.) Moench).
Professor Zhong Kang, a deputy director of the CAS institute who will head the lab, says sweet sorghum would be an ideal fuel source because it requires low inputs of water and fertilizer for high biomass yields.
Using bio-engineering technologies that help improve the energy content in plants, the lab will focus on genetically modified sweet sorghum and yam (cassava), which are widely cultivated in northern China.
"Sweet sorghum, according to our latest research, is among the best from which people could extract juice to make ethanol", the new lab director said. The trend however is to derive bioenergy from cellulosic sources instead of direct starch and sugar sources.
Zhong said the facility would conduct interdisciplinary studies of photosynthesis, biochemistry, molecular biology and ecophysiology:
energy :: sustainability :: biomass :: bioenergy :: biofuels :: cellulose :: energy crops :: plant breeding :: biotechnology ::

The CAS Institute of Botany is China's leading organization for plant research, while the 5-year-old Temasek Life Sciences Laboratory does cutting-edge research in molecular biology and genetics utilizing a broad range of model organisms.

Sorghum species have received a lot of attention from the scientific community because they are seen as near-ideal crops for cellulosic biofuels and biogas (earlier post). So far, scientists have succeeded in designing more robust, drought-tolerant varieties (here), cultivars with a low lignin content (earlier post), hybrids with high sugar content for ethanol (more here), high-biomass yielding varieties (earlier post), and even sorghums resistant to aluminum toxicity - an achievement of major importance for the developing world (more here).



References:


Xinhua: China, Singapore will jointly develop energy-intensive plants for biofuel - December 11, 2007.

Biopact: Ceres and TAES team up to develop high-biomass sorghum for next-generation biofuels - October 01, 2007

Biopact: Scientists release new low-lignin sorghums: ideal for biofuel and feed - September 10, 2007

Biopact: Sun Grant Initiative funds 17 bioenergy research projects - August 20, 2007

Biopact: Major breakthrough: researchers engineer sorghum that beats aluminum toxicity - August 27, 2007

Biopact: U.S. scientists develop drought tolerant sorghum for biofuels - May 21, 2007

Biopact: Sweet super sorghum - yield data for the ICRISAT hybrid - February 21, 2007

Biopact: Mapping sorghum's genome to create robust biomass crops - June 24, 2007

Biopact: Germans research sorghum varieties for biogas production - April 12, 2007.