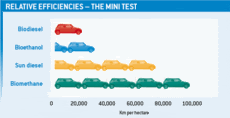 At the recent National Association of Agricultural Contractors (NAAC) Contractor 2007 Conference, in the UK, biofuels took center stage. Farmers were impressed by a presentation by Tim Evans, whose company –
Renewable Zukunft
- presented results from a 'Mini Test': a comparative trial of biofuels used in the Mini, to see how far each type of biofuel generated from 1 hectare of energy crops takes the car. Biomethane stood out as the clear winner.
Evans believes that the inevitable decline in fossil fuel availability and the concerns over energy security (90% of UK gasoline is imported) will see many types of renewable energy start to look a lot more viable. However he warned that farmers need to consider which areas of production they want to get involved with carefully.
UK farmers have a great opportunity to make themselves independent suppliers of energy. But they should avoid to fall back into the trap of becoming mere commodity producers, supplying a biofuel feedstock at whatever price the buyer offers. To do this Evans argues that farms need to keep control over the whole energy chain, right through from growing the raw material to pumping electricity into the National Grid.
He put forward a simple model as a measure of renewable fuel efficiency – the Mini Test, to show how far the little car will travel on a hectare's worth of fuel (graph,
click to enlarge
).
Biodiesel fares worst taking a Mini just over 20,000km (5030 miles/acre). Bioethanol manages just over 30,000km/ha (7540 miles/acre). Then there is a marked jump to synthetic biodiesel, a next-generation biofuel produced from gasified biomass and converted to liquid fuel via the Fisher-Tropsch Process: it carries the Mini over 70,000km (13,960 miles/acre).
But biomethane, which is upgraded biogas made from anaerobically fermented crops, slurry or organic waste, tops the chart at nearly 97,000km/ha (24,390 miles/acre) almost five times as much as biodiesel. Compared to second-generation biofuels, such as cellulosic ethanol or biomass-to-liquids, biogas is a mature technology.
The comparison is interesting and confirms results from some earlier well-to-wheel studies (e.g. the Renewable Energy Centre recently released its assessment of responses to the King Review of Low Carbon Cars' call for evidence and supports the Biomethane for Transport organisation which
found
that biogas is the cleanest and most efficient of all transport fuels). But merely pointing at the 'land use efficiency' of a fuel is not enough. The exercise needs to take into account many other questions, such as the lifecycle emissions, fuel production costs, scaling options, the need for adapted fuel distribution infrastructures and vehicle modifications:
energy :: sustainability :: biomass :: bioenergy :: biofuels :: biogas :: biomethane :: lifecycle efficiency :: UK ::

When these are taken into account, a different picture emerges, as was recently demonstrated in a comprehensive comprehensive EU WTW study on 70 different fuels and propulsion technologies, and in a smaller comparison of 7 biofuels made by Volvo (earlier post).

Notwithstanding these questions, Evans promotes the concept of on-farm biogas production for other reasons. He claims that by putting a 400 ha (1000acre) arable unit down to crops to feed a farm-scale biogas plant in 2006, farmers could have generated nearly £10,000 additional net profit by selling electricity.

And that figure could look a whole lot more rosy if government support is increased to raise renewable electricity values from £65/mW to over £100/mW, as is expected by 2009.

For an investment of at least £2million, a 1mW plant consuming 1000 acres worth of grass, maize and wholecrop silage, topped up with slurry and manure can generate a 20% return on capital, Evans claims.

Added to this is the nutritional benefit of the processed slurry as a fertiliser at the end of the production cycle.

Biogas is a rapidly growing sector in mainland Europe, with several countries (Sweden, Germany, Austria) utilizing the fuel for transport. When upgraded to natural gas quality, the fuel can be fed into the natural gas grid.

Some have found there to be a large potential for biogas in Europe, with the most optimistic estimates claiming the gas can replace all natural gas imports from Russia by 2020.



References:


Farmers Weekly: Biogas - the future for UK farms? - December15, 2007.

Biopact: Volvo releases comprehensive analysis of seven biofuels for use in carbon-neutral trucks - August 29, 2007

Biopact: Germany considers opening natural gas network to biogas - major boost to sector - August 11, 2007

Biopact: Study: Biogas can replace all EU imports of Russian gas by 2020 - February 10, 2007

Biopact: Study: EU biogas production grew 13.6% in 2006, holds large potential - July 24, 2007

Biopact: A quick look at natural gas and biogas hybrids - September 16, 2007

Biopact: Report: carbon-negative biomethane cleanest and most efficient biofuel for cars - August 29, 2007