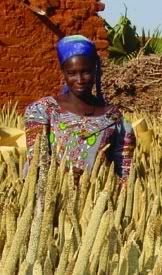 SciDev is running an interesting
series
on the potential benefits and risks of the biofuels revolution. In several opinion pieces, doomers, realists and utopians have their say. The essays are accompanied by a nuanced
editorial
that outlines some of the complexities of the emerging sector. The following feature was written by Kimani Chege and looks at the potential of (first generation) biofuels in Africa. The green fuels hold great promise for the continent, but local research isn't yet in place to reap the rewards or analyse the pitfalls, he suggests.
It is only ten o'clock in the morning and Kenyan taxi-van driver Richard Kamiri is already tired. Throughout the morning he has had to explain to his passengers the reason he has repeatedly hiked the fare. In just a week, crude oil prices have risen twice — with the people bearing the costs.
This scenario is increasingly common in energy-constrained Africa. Over-reliance on fossil fuels has long drained national budgets. Fuel prices are rising by the day and with little control over internationally determined prices, governments are seeking alternatives to meet the fuel needs of a rising urban population.
African governments are increasingly looking to biofuel as a viable way to do this.
Africa's 'oil fields'
According to Njeri Wamukonya, an energy expert with the UN Environment Programme, worldwide investment in bioenergy reached US$21 billion last year.
"Governments in developed and developing countries are putting in place bioenergy targets, with the main drivers being the energy security, climate change and development concerns," says Wamukonya. The European Union, for example, has announced that it targets its member states to generate at least ten per cent of their energy from biofuels by 2020.
This increased demand for biofuel provides a market opportunity for the South, with its available natural resources. For instance, Brazil was producing 33 per cent of the world's biofuel ethanol by the end of last year.
African countries are keen on transforming their expansive farmlands into the next 'oil fields'.
The choices of crop are diverse — from corn to rapeseed and jatropha. Liquid biofuels include biodiesel derived from plant oils and bioethanol made from sugarcane, maize and other starchy crops. Global production of biofuels consists primarily of ethanol.
According to Cornelis van der Waal, an industry analyst with Frost & Sullivan — a South Africa-based consultation company providing advice on development policies — Africa has great biofuel potential due to its vast arable land and workforce.
He says, "Africa is by no means a current participant in the biofuels race compared to the rest of the world, but could potentially become the most important contributor to alternative fuels."
"The question is not so much on whether Africa is ready for a biofuel revolution, but rather can Africa afford to miss the biofuels opportunity?":
energy :: sustainability :: ethanol :: biodiesel :: biobutanol :: biomass :: bioenergy :: biofuels :: Africa ::



Lagging behind in the biofuel race


A pan-African ministerial meeting held in March this year in Maputo, Mozambique marked a turning point. African ministers responsible for energy development in their countries announced a declaration committing to increased research in the development of renewable energy — notably biofuels. This has made many investors take a keen interest in the production of biofuels in Africa.

However, energy analysts say that investment in Africa has failed to take note of basic research needed. Despite well-established national agricultural research centres across Africa, there is little research to improve crops to yield more ethanol and biodiesel.

Van der Waal says that many African countries investigating biofuels, such as Kenya and Mozambique, do not currently have a large enough capacity for biofuels research.

He adds that biofuels research in Africa is inadequately funded, with most of it coming from governments and conducted in universities.

According to van der Waal, African countries should follow Brazil's lead, where both the government and the private sector conduct research, sustaining an ethanol industry for more than 20 years. He says one of the continent's strong points is its capacity to combine government and private research on biofuels, something it is not yet taking advantage of.

Current biofuels research also focuses too much on increased production efficiency rather than quality products, he says, adding that there are opportunities for many other biofuel products and applications besides ethanol and biodiesel. For instance, home-use fuel, such as paraffin, wood and coal, could be replaced by ethanol gel, made by mixing ethanol with a thickening agent and water. The gel fuel burns without smoke, and so does not cause respiratory problems associated with current fuels used in the home.



Catching up


Several African countries have biofuel research projects underway.

Nigeria, the world largest producer of cassava, is keen to use its major crop as an alternative to fossil fuel. The country currently uses a ten per cent blending standard of cassava ethanol with gasoline, though this is not compulsory.

Nigeria aims to produce cassava ethanol worth over US$150 million every year, once it establishes a suitable infrastructure. This includes construction of 15 ethanol plants with assistance from Brazil.

And in May, the government announced plans to establish a US$100 million 'biofuel town' near the capital, Lagos. This will create a 600 hectare settlement of 1,000 bioenergy experts — primarily from Nigeria, but also from other African countries and Brazil — who will work on novel technologies to improve bioenergy production.

Nigeria also aims to start importing Brazilian ethanol-powered vehicles by 2010.

This ambition is mirrored by Malawi. In October, the Ethanol Company of Malawi, a private fuel company, announced that it will import flex-fuel vehicles from Brazil to be used in a government-backed initiative to investigate the practicability of using ethanol-based fuels to power vehicles.

Malawi currently uses gasoline blended with ten per cent locally-made sugarcane ethanol. Through a public-private venture, the Malawi department of science and technology is implementing a research project to explore how local biofuels could alleviate the country's energy needs. The highlight of research so far is the testing of a Mitsubishi Pajero car modified to run on ethanol in place of petrol for a distance of 1,000 kilometres.

The Brazilian influence is also apparent in neighbouring Mozambique, which shares a connection with Brazil as another former Portuguese colony. The southern African country has developed an effective biofuel sector based on sorghum and sugarcane, and the government has set aside over US$700 million for biofuel research, production and promotion.

Energy experts say Mozambique has potential to be a 'biofuel superpower'. Van der Waal says the country has sufficient rainfall for extensive production of sugarcane, which is currently the most efficient crop for ethanol in terms of production cost, being much faster to process and producing more sugar (thanks to its water content) than maize or sorghum.

Scientists from the International Crops Research Institute for the Semi-Arid Tropics (ICRISAT) are developing sorghum varieties and hybrids that have higher amount of sugar-rich juice in their stalks for Mozambique.

ICRISAT is also working with a private Mozambican company, Rusni Distilleries Ltd, to establish a facility capable of producing 100,000 litres of sorghum ethanol a year. The venture has received a total investment of around US$30 million from Rusni, ICRISAT, and the Mozambique government, and, if successful, could boost the livelihood of 5,000 smallholder farmers through contract farming. ICRISAT and Rusni plan to collaborate with Petromoc, the national petroleum company of Mozambique to market the fuel.



Assessing the risk


Increased attention on biofuel research and development is, however, bringing a new debate to the continent. There is the worry that an increase in the use of food crops such as maize, cassava and sorghum is likely to increase the food price of most staple foods in Africa, notably corn.

"Price rise will depend on whether or not oil crops are planted on arable land that could otherwise be used for growing food crops, and whether water is diverted from food crops to irrigate the biofuel plantations," says Jeremy Wakeford, a senior lecturer in economics at the University of Cape Town in South Africa.

The debate of crops for food versus crops for biofuels remains one of the major problems yet to be resolved in the sector. And it may affect Africa even if the continent does not enter the biofuels market.

Njeri Wamukoya says increasing biofuel development is likely to affect food aid. The United States for example, provides food aid from its surplus crops. "[But] if the surplus is used for [US] biofuels, will the United States supplement [food aid] with cash, and will the cost of food go up as a result?"

Wakeford says producing food for the population should be given priority, and suggests that new developments from research programmes will keep the biofuel sector going.

There is a need to diversify the sources and methods used to generate biofuel products, according to Mpoko Bokanga, director general of the African Agricultural Technology Foundation, which promotes technology transfer in Africa.

Addressing an African conference on biofuels in Addis Ababa, Ethiopia, in August, Bokanga said one possibility is to move from ethanol to butanol fuel production.

Butanol fuel can be manufactured from corn and molasses, has a high energy content and can be shipped through existing fuel pipelines. It is also safer to use than ethanol and gasoline, as it is less likely to evaporate into the surrounding air (which creates a fire risk). However, there has been little to no effort to promote butanol fuel because of historically low production yields compared to ethanol.

Bokanga also called for the establishment of 'bioenergy scientific units' in African countries conducting biofuels research, with experts available to advise governments on improving production efficiency.

The triple challenge facing Africa is achieving food security, energy security and sustainable development. Biofuels provides an opportunity to harness Africa's vast biomass resources, but for that more research on better yielding crops, production methods, and use is needed. The journey has only just begun.

Reprinted with permission. Thanks to SciDev's David Dickson.



References:


SciDev: Biofuel: Africa's new oil? - December 5, 2007.

SciDev: Spotlight on Biofuels: The research challenge - Dossier, December 2007.