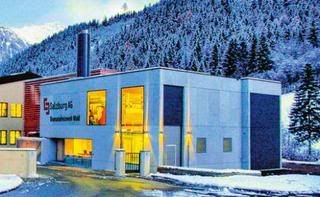 Austrian energy and infrastructure company Salzburg AG and the community of Pingzau have
opened
one of the country's most modern biomass district heating plants, located in the Hohe Tauern National Park, central Europe's largest protected nature reserve. The high peaks and glaciers of this magnificent Alpine region feel the impact of climate change more than any other place, which is why the community demanded a climate friendly energy solution. A highly efficient combined heat and power (CHP) plant was therefor selected to deliver electricity and heat to local residents, industry and institutions. It will utilize forestry residues from the region. Given that the Oberpingzau region is also tourism hotspot, the community decided to adopt an eco-friendly energy source that does not impact the landscape.
By drawing on renewable biomass, the plant reduces the region's carbon footprint. It also offers considerable cost-savings, given the high price of heating oil.
The district heating net, which will be expanded gradually, has the following characteristics:
investment: €1.89 (US$2.76) million
beginning of construction: 11 June 2007; end of construction: October 2007
raw materials: 4600 cubic meters of forestry residues per year
first district heating pipeline network: 2 kilometers long

direct clients: 60 institutions, businesses and residents for the first network
environmental impact: CO2 savings of 850 tonnes per annum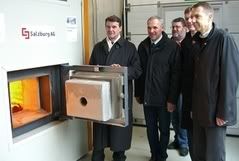 Local residents welcome the new network, which pumps hot water to them on demand, because heating their homes now becomes considerably less costly than doing it with heating oil. They no longer require the installation of personal heating systems, or have to go through the process of ordering, selecting and storing energy, but can take the service from the net with the touch of a button. The biomass plant reduces Pingzau's heating oil consumption by around 300,000 liters per year.
We are a tourism municipality at the heart of the Hohe Tauern National Park. To us, climate friendly and pollution free power production is a special request. With pride we can say now to have the most advanced and modern biomass plant in the Federal Republic.

- Balthasar Rainer, Pingzau Mayor

The local school, the tourism center, a new Spa resort and most small businesses inPingzau are connected to the net:
energy :: sustainability :: biomass :: bioenergy :: biofuels :: combined heat and power :: district heating :: forestry :: Alps :: climate change :: Austria ::

The CHP plant was designed to fit into the existing energy infrastructure, managed by Salzburg AG, which until now derived most of its energy from hydro-electricity. Combined, both renewable resources make the region almost entirely fossil free. According to Salzburg AG this project demonstrates that hydro and biomass power projects can contribute to strengthen energy security and autonomy in Austria, and that it does so in a competitive way.

Salzburg AG is an innovative and active player in the bioenergy sector. Recently it opened Austria's first biomethane gas stations, offering purified biogas made from grass (previous post).

The company is the biggest provider of energy and infrastructure throughout the federal state of Salzburg. With sales of €825,4 million in 2006 and about 2.000 employees, Salzburg AG is one of the leading and innovative energy suppliers in Austria. Key to success is its multiutility service: Energy, public transport and telecommunication are supplied by one source.

References:
Salzburg AG: Biomasse-Heizwerk Wald: Vorzeigeprojekt geht in Betrieb - November 27, 2007.

Salzburg AG opens biomethane gas stations in Austria: driving on pure grass - November 24, 2007