According to development economists and energy experts, bioenergy and biofuels offer major chances for rural development in the poor countries of the world. The new market may lift the bulk of the world's food insecure out of poverty, boost incomes, strengthen access to energy and reduce the impact of climate change. A large number of developing nations has an enormous potential for agricultural expansion - with huge countries like Congo, Zambia, Tanzania, Angola or Mozambique utilizing less than 10 per cent of their potentially arable land -, but currently this is not being exploited. The reasons for this lack of investment are diverse, but one of the most obvious is the absence of the critical infrastructures needed to get food and biofuels to market: roads, railroads, waterways, ports.
A new report by the University of Nottingham now
points at
this core issue and urges wealthy Commonwealth nations such as the UK, Australia and Canada to help poorer member states improve these vital infrastructure facilities - it is, the researchers say, one of thes single best ways to lift them out of poverty and to turn them from a status of food and fuel importers into one of food and fuel exporters.
The report,
Trading on Commonwealth Ties
[*.pdf], produced by the
Globalisation and Economic Policy Centre
(GEP), which is based at the University of Nottingham, argues that investment in ports, rail and road facilities would make a substantial impact on exports and the strength of the economy in poorer countries: the economic model shows that in a country like Uganda, a 10 per cent improvement in trade-related infrastructure would raise the volume of exports to other Commonwealth countries by about 62 per cent. These are very large effects.
Arguably improving infrastructure is the most significant thing the Commonwealth can do to increase exports and imports between the partner nations. If you look at the roads and rail networks in many African countries you can see where the real barriers to trade lie.

- professor Chris Milner, lead author, Globalisation and Economic Policy Centre
It is a true scandal that developing countries with a vast agricultural potential are food importers or rely on food aid, while in fact they should be major food and bioenergy exporters. The factors explaining this scandal, besides decrepit infrastructures, are multiple: unfair trade regimes with regions like the EU and the US subsidizing and protecting their farm sector, bad governance on the part of developing country governments (more
here
), the existence of a food aid industry and NGOs who thrive on it, lack of science and technology (S&T) capacity (
previous post
on the UNCTAD's call), and a general climate of political, financial and economic instability, to name but a few.
Researchers have found that if investments were made into modern agriculture and land in a single Commonwealth country like Zambia,
all
of Africa's food needs could be met. Projections about the sustainable biofuels and bioenergy potential have to be seen in this context: with basic investments in key infrastructures, agricultural science and modern inputs, Africa alone can produce more than 300 Exajoules worth of sustainable bioenergy for exports by 2050, after meeting
all
the food, feed, and fuel needs of its own growing populations (
previous post
and especially
here
). The entire world currently consumes around 200 Exajoules of oil.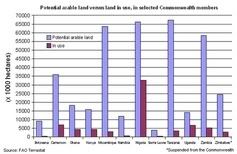 In short, the problem of underdevelopment, food and energy insecurity or lack of agricultural expansion has no ground in a lack of carrying capacity, but is a purely man-made, economic and infrastructural problem. This also means we can change the situation. Biopact thinks that Africa's comparative advantages (land, climate, labor) and its vast scope for agricultural growth will make it the continent of the future. It will take time to develop the region's potential, but those not afraid to venture into this 'problematic' region - like China - are exactly undertaking one of the critical issues needed to unlock it: investing in infrastructures. The EU too has seen the need and recently proposed the creation of a €5 billion
infrastructure fund for Africa
.
The GEP report now urges highly Commonwealth countries to do the same. It was commissioned by the Commonwealth Secretariat's Economic Affairs Division to suggest ways to boost trade between Commonwealth nations. The 53 countries that make up the Commonwealth represent nearly one-third of the world's population, a quarter of the world's governments and one-fifth of all global trade. A quick list of selected African member states and their potential arable land, shows what the future may hold in store for food and bioenergy production if it can be exploited through upgraded infrastructures (graph,
click to enlarge
):
energy :: sustainability :: biomass :: bioenergy :: biofuels :: agriculture :: infrastructure :: trade :: Africa :: Commonwealth ::

The GEP report values current annual intra-Commonwealth exports of goods at more than $US225 billion. It estimates that the UK exports $31.7bn (£15.5bn) of goods a year to Commonwealth countries.

Professor Milner, who is also the Head of the School of Economics at the University of Nottingham said the volume of trade taking place between Commonwealth nations shows that its value extends far beyond friendships and the Commonwealth Games. This trade is substantial. For a significant number of low-income and island economies, the Commonwealth is of considerable economic importance — for some countries, like Botswana, Namibia, Papua New Guinea and Samoa, around three-quarters of their international trade is with fellow Commonwealth nations.

The report further recommends that individual Commonwealth countries should negotiate favourable bi-lateral tariff deals between themselves, but warns against introducing a Commonwealth-wide free trade agreement in the near future.

Ransford Smith, the Commonwealth Deputy Secretary-General thinks this is a timely and significant study. While the Commonwealth comprises some of the major global trading partners from both developed and developing countries, a large number of countries from Africa, Caribbean and Pacific regions have lagged behind in trade growth and haven't benefited as might have been expected from the robust trends of recent years. The situation, he said, calls for measures to address this challenge. This study provides important information and perceptive analyses as well as practical recommendations, such as the call to invest massively in infrastructures.

The Globalisation and Economic Policy Centre – is the major centre in Europe studying the impacts of globalisation and economic policy. One of the biggest of its kind in the world, the centre has an impressive international reputation, with its academics advising the Treasury, the OECD, the World Bank and the WTO. GEP is based at the University of Nottingham, and is substantially funded by grants from the Leverhulme Trust. In 2008 a branch of GEP will open at the University of Nottingham's Malaysia campus.



References:


Globalisation and Economic Policy Centre: Trading on Commonwealth ties: Review of the structure of Commonwealth trade and the scope for developing linkages and trade in the Commonwealth [*.pdf] - media release, November 2007.

University of Nottingham: Wealthy Commonwealth countries urged to help improve vital infrastructure facilities in poorer member countries — November 22 2007

Biopact: UNCTAD: poorest countries need investments in science and technology - July 19, 2007

Biopact: EU proposes €uro 5 billion aid for African infrastructure - July 16, 2006

Biopact: Opinion: the leading cause of hunger? Bad regimes - October 25, 2007

Biopact: IEA report: bioenergy can meet 20 to 50% of world's future energy demand - September 12, 2007

Biopact: A look at Africa's biofuels potential - July 30, 2006