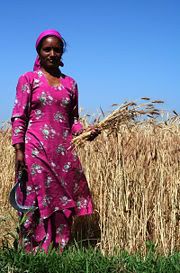 The US Department of Energy's
Energy Efficiency and Renewable Energy
(EERE) agency, is in talks with several Indian government departments for creating a biomass roadmap for India similar to the one being
planned
with China. Mark Ginsberg, Senior Executive Board Member for the EERE Board of Directors
announced
this on the sidelines of a conference on 'Efficient Use of Energy and Alternative Systems' in Mumbai.
The news comes as India's new President Pratibha Devisingh Patil
stressed
the country's need to boost energy security through renewables so as to ensure a continued economic growth rate of 10%. She said India today generates 11,000MW of renewable electricity, the bulk coming from wind power. Around 3.9 million family type biogas plants have been set up in rural areas, and a National Policy on Biofuels is under consideration. During the 11th plan, renewable power capacity addition will be to the tune of 14,000MW and will cover 10,000 villages.
The US Department of Energy wants to contribute to these ambitions by helping India making the switch to bioenergy, biofuels and bioproducts. EERE runs a
biomass programme
that works with industry, academia and their national laboratory partners for research in biomass feedstocks and conversion technologies.
EERE is now in preliminary discussions with India's Department of Planning, Ministry of New and Renewable Energy (MNRE) and the Department of agriculture for planning initiatives to make India counted among the emerging 'bioeconomies'.
By biomass economy, we mean an industry that produces renewable biofuels, bioproducts and biopower, enhances energy security, reduces [...] dependence on oil, provides environmental benefits including reduced greenhouse gas emissions, and creates economic opportunities across the nation.

- Mark Ginsberg, EERE Board of Directors
EERE has been involved with Indian institutions and bodies since a few years and has funded projects to the tune of US $6-7 million through the Asia Pacific Partnership (APP):
energy :: sustainability :: ethanol :: biodiesel :: biomass :: bioenergy :: biofuels :: biogas :: bioproducts :: India ::

It has been assessing wind, thermal and geo-thermal projects for the Maharashtra government and for MNRE. The department has been conducting the assessment through satellite mapping and on-site resources

Ginsberg added that the concept of zero-energy buildings, which does not consume any power should be looked upon by all developing countries. His views were echoed by BM Singh, executive director of India's Oil & Natural Gas Corporation who stressed that sustainable development will occur without compromising on the environment.

The conference, organised by the Centre for Environment Education (CEE), had speakers including Micheal Atchia, former director the UNEP, PN Roy Chowdhury, principal secretary of the Forests and Environment Department (government of Gujarat), and Rajendra Shende, head of the UNEP's OzonAction Programme.



References:


Press Information Bureau (India): We Must Recognize Critical Importance of Energy Security - President - November 22, 2007.

Rediff: US energy dept keen on bio-mass for India - November 22, 2007.

EERE: Assistant Secretary Karsner Visits China - November 20, 2007