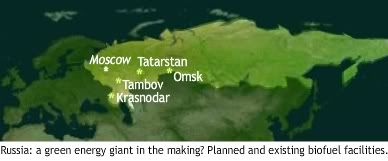 A large project to produce bioethanol from sugar beet processing waste is currently
under review
by the Tambov region's administration, in South-West Russia. The plan is to establish a production unit with an annual capacity of 250,000 tons per annum (317.5 million liters/83.9 million gallons). The output will be entirely destined for export to Europe, because high Russian taxes on alcohol and alcohol-containing liquids make the use of the fuel in a domestic context not cost-effective.
The Tambov oblast government is studying an initial investment of €200 million for the project, to be located in the capital city Tambov, around 450km South-East of Moscow. Residues from sugar beet processing will be the feedstock. Sugar beet pulp is an abundant waste stream, usually used as low value animal feed or disposed of at additional cost. In 2007, gross production of sugar beet in the Tambov region totaled 2.7 million tons.
On November 27, Russian president Vladimir Putin and Minister of Agriculture Alexey Gordeev told media that, even though Russia is an oil and gas giant, it will actively pursue opportunities to participate in the growing global bioenergy market. The Russian President has requested Gordeev to look into enhancing the business climate for expansion in bioethanol production in the country. Putin said Russia, being the world's largest country with enormous forest resources, has a very important, currently untapped potential for both solid and liquid biofuels.
He cited the Tambov project as a first example of the emergence of an export oriented bio-industry. Gordeev added that Russia has already launched a bioethanol plant in Omsk oblast, with another rapeseed crushing facility in Tatarstan now under construction. Gordeev referred to the fact the EU will need to cultivate biomass on one third of its farm land to meet the region's biofuel targets. Russia could help meet these by exporting fuels to the Union.
Putin reiterated his statement of last month, when he said he sees no objections to Russians "who work in the countryside to take some of the market share of our petroleum and gas producers", effectively encouraging those with plans in the bioenergy sector to go forward:
energy :: sustainability :: biomass :: bioenergy :: biofuels :: ethanol :: sugar beet :: waste :: forestry :: Russia ::

Recent projections by researchers working for the IEA's Bioenergy Task 40 show the Commonwealth of Independent States (former Soviet Union) together with the Baltics have a combined sustainable bioenergy capacity of maximum 199 Exajoules by 2050 (earlier post), or roughly 32.6 billion barrels of oil equivalent energy per year. This comes down to 89 million barrels per day, or roughly the same amount as the world's total current oil consumption.

Earlier this year, Russia's agriculture minister Alexej Gordejev estimated the country has 20 million hectares of low value land available immediately for bioenergy. A short term goal would be to produce a whopping 1 billion tons of biomass for exports, roughly the equivalent of 15 Ej of energy, or 2.4 billion barrels of oil equivalent per year (earlier post). That is around 6.7 million barrels of oil per day; Russia currently produces some 9.1 million bpd of fossil oil.

Russia has also been cooperating with Germany to study future biomass and bioenergy production opportunities. First results of these exchanges emerged, when two German companies, PPM Technologie Gruppe and Prokon pledged to spend about US$25 million and US$29 million, respectively, to build a 100,000-tonne (110,000-ton) biofuel plant and a 50,000-tonne (55,000-ton) rapeseed processing facility in Krasnodar, Russia.



References:


Siberian financial and economic information: Tambov Region Set to Export Biofuel - November 29, 2007.

Energy Current: Russia steps up biofuel chase - November 2007.

Biopact: Putin encourages farmers to produce biofuels: Russia as a green energy giant - October 21, 2007

Biopact: Green giant Russia to produce 1 billion tons of biomass for exports - February 03, 2007