The Intergovernmental Panel on Climate Change (IPCC) today released the
Summary for Policy Makers
of its long-awaited Synthesis Report. In it, the IPCC synthesises the conclusions contained in the three previous reports of the Fourth Assessment, namely those that deal with the
scientific evidence
for climate change, its
likely impacts
and possible
mitigation
and adaptation options.
The UN's climate panel states that climate change is 'unequivocal', man made and - this is new - may bring '
abrupt and irreversible
' impacts. This means that the window to mitigate and adapt is closing quickly. It also implies that strategies that were specifically designed to deal with the eventuality of 'abrupt climate change' will now have to be implemented.
These strategies draw on carbon-
negative
bioenergy and biofuels, specially designed for the worst case scenario of abrupt climate change. The IPCC therefor explicitly recognizes the concept of 'bio-energy with carbon storage' (also known as BECS, negative emissions energy or as 'biomass coupled to CCS') as well as techniques aimed at increasing soil carbon storage. Through biochar and
terra preta
systems, the latter objective can be coupled to the production of carbon-
negative
biofuels, which effectively store carbon in soils.
The IPCC says that without extra measures, carbon dioxide emissions will continue to rise; they are already growing faster than a decade ago, partly because of increasing use of coal. The IPCC's economic analyses say that trend can be reversed at reasonable cost.
In the section on mitigation, the scientists of the IPCC present key mitigation options per economic sector. The bioeconomy is called on to play a major role in all of the sectors contributing to global warming - from the use of energy crops to replace fossil fuels, over biofuels for transport, to biogas production from manure and to biomass coupled to carbon capture and storage. An overview: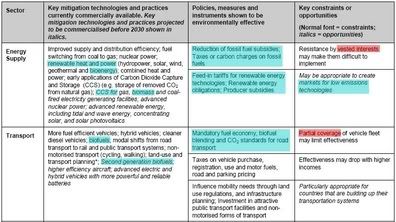 For the energy and transport sector, bioenergy and biofuels are set to play a key role. The IPCC suggests the use of renewable heat and power, from bioenergy, and combined heat and power (CHP) obtained from integrated biomass power plants as key options to replace fossil fuels and to make heating and power generation more efficient. In the transport sector, the use of liquid renewable fuels and second generation biofuels is encouraged. Likewise, hybrids and a gradual move to electric vehicles is proposed, which would blend in well with carbon-negative bioenergy.
Biofuel blending policies and CO2 standards for road transport are seen as policies that have shown to be environmentally effective. Likewise, a reduction of fossil fuel subsidies and taxes or carbon charges on fossil fuels are instruments that can contribute. For renewable power and heat, feed in tariffs, renewable energy obligations and producer subsidies have been shown to work to promote their uptake.
Most importantly, the IPCC scientists finally recognize carbon-
negative
energy, also known as 'biotic CCS', 'bio-energy with carbon storage' or 'negative emissions energy'. This most radical of emission reduction concepts is based on coupling bioenergy and biofuel systems to carbon capture and storage (CCS). Nuclear power, ordinary biofuels or renewables like wind and solar power are all 'carbon-
neutral
' at best, that is, they do not add new CO2 to the atmosphere. Carbon-
negative
bioenergy and biofuels go much further: they take historic emissions out of the atmosphere.
Scientists have been calling for equal opportunities for biotic CCS and negative emissions biofuels. See for example Stefan Grönkvist, Kenneth Möllersten and Kim Pingoud's article:
"Equal Opportunity for Biomass in Greenhouse Gas Accounting of CO2 Capture and Storage: A Step Towards More Cost-Effective Climate Change Mitigation Regimes"
published recently in
Mitigation and Adaptation Strategies for Global Change
. The IPCC scientists have finally taken their collegues' call to heart:
energy :: sustainability :: biomass :: bioenergy :: biofuels ::carbon capture and storage :: negative emissions :: bioeconomy :: climate change :: global warming :: IPCC ::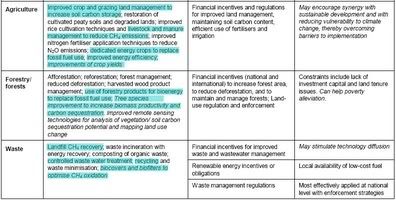 The agriculture, forestry and waste management sectors offer major opportunities for the bioeconomy to help cut back greenhouse gas emissions.

In agriculture, improved crop and grazing practises to enhance soil carbon storage are called on. One of the prime techniques to achieve this is to convert energy crops into biofuels while retaining part of their biomass in the form of biochar which is then sequestered in soils. This is an effective technique not only to add carbon to soils, but to strengthen their capacity to retain organic carbon.

Morever, these carbon-negative biofuels and their biochar component have shown to reduce fertilizer needs for crops, to result in more efficient utilization of fertilizers and to improve the efficiency of water use in agriculture. These two demands - improved efficiency in the use of fertilizers and water - are seen by the IPCC as important instruments to reduce the carbon footprint and inefficiency of agriculture.

Livestock and manure management to reduce methane (CH4) levels too forms an important mitigation strategy, which implies, amongst other things, applications for the production of biogas from manure.

Finally, the IPCC scientists also call for the production of dedicated energy crops to replace fossil fuel use. A lot of work from the scientific community is going into the development of next generation energy crops. And many energy plantations aimed at producing biomass as substitute for fossil fuels are being established.


In the forestry sector, the IPCC again sees the utilization of forestry resources for bioenergy as a key global warming mitigation strategy. It specifically points at the development of tree species with improved carbon storage capacity. The first of these special trees have meanwile been engineered - Eucalyptus (previous post), a prime tropical energy crop, and Dahurian Larch, found in Northeastern Asia and Siberia (more here). When such trees which take more carbon dioxide out of the atmosphere are coupled to carbon-negative bioenergy and biofuel production, a giant leap towards radically negative emissions energy and fuel systems can be obtained (and the era of fourth generation biofuels would be opened.)

Last but not least, the bioeconomy is set to play a key role in the waste management sector. Biogas from landfills is seen as a mitigation option, as is controlled waste water treatment, which allows the use of bioenergy production by means of Microbial Fuel Cells (MFCs) which purify water while generating energy from the waste it contains. Finally, the use of biocovers and biofilters is encouraged to optimise CH4 oxidation.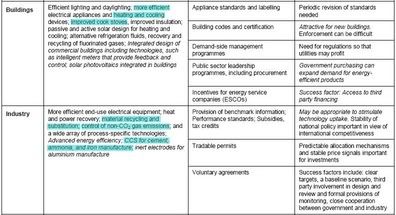 In the buildings sector, lots of improvements can be made by drawing on bioproducts and bioenergy. The IPCC calls for more efficient heating and cooling systems, which opens a specific role for bioenergy based polygeneration systems. Improved insulation of buildings can be achieved by, amongst other options, a greater reliance on wood in the construction of homes. An example of such a green wood-based building would be Britain's 'most efficient' and cleanest public building, the Dalby Forest visitor centre in North Yorkshire, which is entirely built from wood and heated by biomass (previous post).

Turning to the developing world, improved cooking stoves are seen as key to reduce the contribution of poor households to global warming. Biopact reports regularly on this subject: the replacement of open fires by efficient biogas cooking systems or improved stoves for the use of modern biofuels (such as ethanol gelfuels, biopropane, or biokerosene) could make a direct difference in improving the health of millions of women and children in poor rural households, as well as reducing the unsustainable use of forest and wood resources, and the emissions generated by these primitive forms of energy use.


In the industrial sector, two main suggestions imply a role for the bioeconomy. First and foremost the substitution of carbon-intensive materials by more renewable ones (e.g. biopolymers for the production of plastics, instead of petroleum).

Secondly, and this is a field of growing interest to the bioenergy community, the replacement of fossil fuels by biofuels in the large industrial sectors like the cement, and iron industry. Major initiatives are underway to utilize biomass instead of coal in these sectors, with the added advantage that if their CO2 emissions are captured and sequestered (CCS),

negative emissions

energy becomes possible once again. For examples of the substitution of coal by biomass in the cement industry, see here and here. For a large EU-funded research project into the use of biomass for the production of green iron and steel, named ULCOS (Ultra Low CO2 Steelmaking), see this previous post.


The IPCC thus sees an important role for the bioeconomy to contribute to a reduction of greenhouse gas emissions, in

all

economic sectors held responsible for climate change.

The panel's scientists say the reversal to a low carbon economy needs to come within a decade if the worst effects of global warming are to be avoided.

The findings will now feed into the Bali talks on the UN climate convention and the Kyoto Protocol which open on 3 December.




References:


Intergovernmental Panel on Climate Change: Summary for Policymakers of the AR4 Synthesis Report [*.pdf] - November 17, 2007.




The three previous Fourth Assessment Report publications by the IPCC's three working groups are discussed here:


Biopact: IPCC Fourth Assessment Report: climate change 'very likely' caused by humans - [Working Group I], February 02, 2007

Biopact: IPCC Fourth Assessment Report: current and future impacts of climate change on human and natural environments - [Working Group II], April 06, 2007

Biopact: IPCC Fourth Assessment Report: mitigation of climate change - [Working Group III], May 04, 2007




On carbon-negative biofuels and bioenergy, see:


The studies by the Abrupt Climate Change Strategy (ACCS) group.

Peter Read and Jonathan Lermit: "Bio-Energy with Carbon Storage (BECS): a Sequential Decision Approach to the threat of Abrupt Climate Change",

Energy

, Volume 30, Issue 14, November 2005, Pages 2654-2671.

Noim Uddin and Leonardo Barreto, "Biomass-fired cogeneration systems with CO2 capture and storage",

Renewable Energy

, Volume 32, Issue 6, May 2007, Pages 1006-1019, doi:10.1016/j.renene.2006.04.009

Stefan Grönkvist, Kenneth Möllersten, Kim Pingoud, "Equal Opportunity for Biomass in Greenhouse Gas Accounting of CO2 Capture and Storage: A Step Towards More Cost-Effective Climate Change Mitigation Regimes",

Mitigation and Adaptation Strategies for Global Change

, Volume 11, Numbers 5-6 / September, 2006, DOI 10.1007/s11027-006-9034-9

Christian Azar, Kristian Lindgren, Eric Larson and Kenneth Möllersten, "Carbon Capture and Storage From Fossil Fuels and Biomass – Costs and Potential Role in Stabilizing the Atmosphere",

Climatic Change

, Volume 74, Numbers 1-3 / January, 2006, DOI 10.1007/s10584-005-3484-7

David Tilman, Jason Hill, Clarence Lehman, "Carbon-Negative Biofuels from Low-Input High-Diversity Grassland Biomass",

Science

, 8 December 2006: Vol. 314. no. 5805, pp. 1598 - 1600, DOI: 10.1126/science.1133306

James S. Rhodesa and David W. Keithb, "Engineering economic analysis of biomass IGCC with carbon capture and storage",

Biomass and Bioenergy

, Volume 29, Issue 6, December 2005, Pages 440-450.

Further reading:
Biopact: IPCC to warn of 'abrupt' climate change: emergency case for carbon-negative biofuels kicks in - November 16, 2007

Biopact: Carbon-negative bioenergy is here: GreatPoint Energy to build biomass gasification pilot plant with carbon capture and storage - October 25, 2007

Biopact: A quick look at 'fourth generation' biofuels - October 08, 2007

Biopact: Green steel made from tropical biomass - European project - February 08, 2007