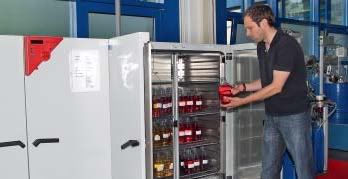 Households and institutions contribute in a major way to climate change, mainly because fossil energy is used for heating and cooling the buildings in which they live. There are many alternatives and small interventions that can make a big difference: better insulation, more efficient heating systems and a reliance on renewable heat and cooling sources. Home owners who utilize heating oil are opening the door to a bio-based alternative: heating oil made from energy plants. If coupled with solar-thermal systems, households can cut their carbon footprint in a major way. But improved efficiency and emissions cuts are no longer the sole worry. Not everyone can afford them. Energy poverty as a result of record-heating oil prices is becoming an equally serious problem. A bio-based alternative is set to be less expensive at current prices and could thus help combat energy poverty amongst low-income households.
Germany's
Instituts für wirtschaftliche Oelheizung
(IWO - Institute for Economic Heating with Oil) is now testing and developing heating oil blends with a biofuel, that can be readily used in existing installations. The low-sulphur 'bio-heating oil', it says, is going to deliver multiple advantages: a reduction of heating costs for households, a major reduction in carbon and sulphur emissions and benefits to farmers and producers.
Heating oil & energy poverty

The social aspects of this initiative should not be underestimated. Energy poverty is on the rise, both in Europe and in the U.S., and heating oil is rapidly becoming the key driver of this poverty. To give a feel of the problem: in a
recent call for more funding
, the National Energy Assistance Directors' Association (NEADA) says expenditures for home heating oil for U.S. households are projected to be almost 47.3% higher than last year's level. The average American family is projected to pay about $693 more for home heating oil than last year, for a total of $2,157. In 2005, they paid only $935 (table,
click to enlarge
).
NEADA coordinates America's program to help low-income families get through the winter, called LIHEAP. These low-income families spend on average 15% of their budgets on energy, with heating oil taking a major share. According to the association, 25 % of all American households now qualify for energy assistance. But funding cuts for LIHEAP mean only 4.5 million U.S. families will benefit from the program, down from 5.6 million last year. The aid itself will be $314, down from $454 last year. In short, now that heating oil reaches record highs, millions of American families will struggle to make it through the coming winter (the NEADA is really worried, check
this presentation
by its director). A similar picture and policy measures can be found in Europe.
According to the IWO, heating with bio-heating oil, if used as the sole fuel, is expected to be between 20 and 25 percent less expensive than heating with the fossil fuel and could thus contribute in a significant way to slowing the increase in energy poverty. (Note, in Austria, the other major alternative - heating with biomass pellets - is now even 46% less costly than heating oil and 30% less costly than gas, explaining the biofuel's soaring popularity -
earlier post
).
Carbon cuts
For the development, the IWO is partnering with manufacturers of tanks and truck tankers, additives and component manufacturers, who are set to benefit from the project. Their common goal: to develop pure biobased heating oils and formulated blends that can be mixed directly and swiftly into existing infrastructures without the need for technical adaptations. On November 1, a 'pre-norm' (DIN V 51603-6) for the bio-based oil was approved.
Since the beginning of 2006, the IWO has been testing different types of bio-heating oil in the Oel-Wärme-Institut (OWI) lab to understand their properties, but also in the field on a larger scale: in highschools, universities and research institutions. So far, the utilization of the biofuel has run smoothly in existing installations:
energy :: sustainability :: climate change :: biomass :: bioenergy :: biofuels :: heating oil :: energy poverty :: United States :: Germany ::

According to the IWO, bio-heating oil will have another major advantage: the reduction of carbon dioxide emissions. If all 6.3 million heating oil installations in Germany were to use a heating oil blend that contains a mere 5% biofuel, then this would be equal to cutting the emissions of 315,000 fossil fuel powered installations.

Experts at the IWO project a per capita decline in the utilization of heating oil over the longer term because heating systems are becoming more efficient and because bio-based heating oil is becoming directly competitive, without subsidies.



Greener still


In principle, buildings and households can now meet their heating requirements by relying entirely on renewable resources. The use of bio-heating oil in existing installations can be integrated smoothly with active solar-heating installations.

The latter no longer only deliver thermal energy to heat water, but are increasingly used to back-up direct heating requirements during mild weather months. And, interestingly, in Germany, solar-thermal installations are particularly liked by households that rely on heating oil. According to data from the Bundesindustrieverbandes Deutschland Haus-, Energie- und Umwelttechnik (BDH - Federal Industry Association for Building, Energy and Environmental Technology) as well as from the Bundesverbandes Solarwirtschaft (BSW - Federal Association of Solar Economics), in the last five months of the year, 27 per cent of all new solar-heating installations sold in Germany were coupled to heating systems based on heating oil.


In a recent development, the U.S. state of Massachussets became the first to introduce a mandate for blending biofuel into heating oil. The mandate foresees a 2% blend by 2010 and 5% in 2013 for all home heating oil used in the Commonwealth (previous post).

But there is another option. Heating with biomass pellets has become the thing to do in Austria. There, the biofuel is currently a whopping 46 per cent less costly than heating oil and 30% less costly than natural gas - which explains its soaring popularity. For the average Austrian household, this makes a very significant difference. The yearly heating bill (24,000 kWh per year) costs around €2000 when heating oil is used. Heating with natural gas will cost a family around €1800 per year. With biomass pellets the bill can be reduced to €1100. Heat obtained from pellets thus costs around 3,8 eurocent/kWh, against 6 eurocent/kWh for gas and 6,7 eurocent/kWh for heating oil.

No wonder last year in Austria three times more biomass systems were installed than heating oil systems. In 2006, some 21,300 small (100kW) pellet heating boilers were built, which have saved the country some 80 million liters of heating oil and 80 million cubic meters of natural gas. In the same year, some 777 medium scale (100-1000kW) systems were installed, a 19% increase compared to 2005.




Picture

: the IWO ran comprehensive tests with bio-heating oil, here in the Oel-Wärme-Institut (OWI), where the stability of the blend was tested.

Credit

: IWO.



References:


IWO: Vornorm für Bioheizöl: Entwurf ist veröffentlicht [*.pdf]- November 2007.

Ratgeberbox: Öl-Brennwerttechnik mit Solarthermie und Biobrennstoffe senken Heizölbedarf - November 2007.

NEADA: Record Heating Oil Prices Projected State Low Income Energy Officials Call for Increased Energy Assistance - November 5, 2007.

Biopact: Massachusetts leaders introduce biofuels bill: first to mandate home heating oil blend, first tax exemption for cellulosic ethanol - November 07, 2007

Biopact: Biomass pellets revolution in Austria: 46% less costly than heating oil; most efficient way for households to reduce carbon footprint - October 06, 2007