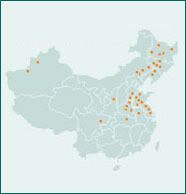 A biomass-fired power plant that burns plant and vegetable stalks to generate electricity went
into operation
today in northeast China's Heilongjiang Province. The power plant, with an installed capacity of 30MW, is expected to burn more than 200,000 tons of stalks annually and generate 175 million kwh of electricity, according to Wang Jun'an, executive general manager of the Guoneng Wangkui Bio Energy Company in Wangkui County, Heilongjiang Province. Carbon credits will be sold to Electricité de France (EDF), the European state-owned energy giant.
The plant is the first of its kind in northeast China. The
National Bio Energy Company
(NBE), Ltd, a subsidiary of the State Grid Corporation of China, has earmarked 553 million yuan ($74 million) for the project. NBE currently operates six working biomass plants throughout the People's Republic. But it aims to have around 30 such plants with a combined capacity of 2,050 megawatts under construction and in operation by 2010 (
previous post
and
here
; click map to visit an interactive presentation).
As reported earlier, the plant will sell certified emission reduction (CERs) credits to EDF under the Clean Development Mechanism (CDM). Last year, EDF Trading signed a letter of intent with China National Bio Energy Co Ltd to purchase carbon credits from three of its biomass power projects, equivalent to 1.5 million tons of CO2. NBE's two other projects under contract with EDF are located in East China's Shandong Province and Northeast China's Jilin provinces (
earlier post
).
The CDM, an arrangement under the Kyoto Protocol, allows industrialized countries with a greenhouse gas reduction commitment to invest in projects that reduce emissions in developing countries. It is considered an alternative to more expensive emission reductions in industrialized countries:
energy :: sustainability :: biomass :: bioenergy :: biofuels :: carbon dioxide :: emissions :: clean development mechanism :: China :: France ::

The National Bio Energy Company, which promotes China's renewable energy industry through biomass power generation, aims to generate 55 percent of the country's biomass power in 2010.

According to China's newest renewable energy development targets, biomass power will become the second largest sector after hydropower and grow almost three-fold to reach 5.5 GW in 2010 from 2 GW in 2005, and 15 times as much by 2020, to 30 GW (earlier post on China's new $265 billion Renewables Program).



References:


Xinhuanet: Biomass-fired power plant starts operation in NE China - November 5, 2007.

Biopact: A closer look at China's biomass power plants - April 19, 2007

Biopact: Expert: China's biomass power plants to be profitable in three years - October 30, 2007

Biopact: China unveils $265 billion renewable energy plan, aims for 15% renewables by 2020 - September 06, 2007

Biopact: French energy giant to buy carbon credits from Chinese biomass projects - October 26, 2006