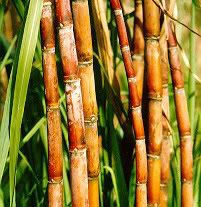 Brazil's universities and scientific organisations are world leaders in researching, developing and breeding sugarcane varieties. It was Brazil that first sequenced the energy crop's genome, and the country plants more of the genus than any other country. It also houses the world's largest library of genetic information on different sugarcane species. Now six new varieties have been
developed
[*Portuguese] by the
Centro de Tecnologia Canavieira
(CTC), which yield around 20% more biomass and contain higher levels of saccharose - the disaccharide that ends up as table sugar and ethanol. This results in increased profits per hectare of between 12.5 and 38 percent.
Breeding a sugarcane variety merely for increased biomass productivity does not suffice, says Marcos Casagrande, coordinator of plant breeding at the CTC. What use is a 20 percent increase in biomass when the variety has low levels of saccharose, cannot be harvested mechanically or is susceptible to diseases? To make a new variety worthwile for the production of sugar, bioenergy and ethanol, all of these factors must be targeted and combined in such a way that the new crop improves on all of them. A tall order indeed.
But the CTC delivered when it launched its third generation of sugarcane varieties for producers of different regions in the country's Center-South. The new varieties are called CTC10 through to CTC15, yielding more biomass with a higher saccharose yield.
The CTC's new varieties of the grassy crop are suitable for a specific region of the large country, known for its varied regional climatic conditions, its different soils and its different planting and harvesting seasons. The key to increased productivity is to develop varieties with the precise genetic material to match best with a specific region, and to plant them in the correct place. If this condition is not met, basic actions like correct fertilisation and cutting the cane at the optimal moment of maturation are in vain.
But what matters most, says Tadeu Andrade, director of Research & Development at the CTC, is the question as to whether a new variety will net more profits. And indeed, CTC 10 to CTC 15, bring in considerable more profits because the 'liquid margin' (margem líquida de contribuição) is much higher than current varieties.
According to Rubens Braga Júnio, statistician at the CTC, the 'liquid margin' represents the net profits generated by a given amount of sugar-rich juice harvested per hectare that can be processed into finished products like ethanol or sugar, after all costs for farm inputs (preparation, plantation, treatment, harvest and transport of the cane to the processing plant) and processing inputs have been subtracted. The liquid margin is averaged over a five-year period, the ideal life-cycle of sugarcane, which is a semi-perennial.
For CTC10 to CTC15 the liquid margin is between 12.5 to 37.85 percent higher than the conventional RB and SP varities that were developed by Brazilian universities and the Institute Agronômico de Campinas (IAC), which cover half of the sugarcane planted in the country:
energy :: sustainability :: biomass :: bioenergy :: biofuels :: ethanol :: sugar :: genetics :: plant breeding :: sugarcane :: Brazil ::

An example, CTC11 yields an average of 8.43 percent more biomass per hectare compared to existing varieties, but the liquid margin is R$539 (€210/$308) or 37.85 percent higher than the average. This is due because of a better performance on all parameters that count in sugar and ethanol production: higher saccharose content, better harvesteability and processing and improved tolerance to diseases, reducing the risk of losing harvests - a factor against which producers hedge, which costs money.

For the CTC, the success can be measured by the growing number of distributers and producers that join its program and offer its new varieties to planters. In 2004 the Center had 73 associates. Today the number has reached 163, which results in the CTC's sugarcane plants covering 54.4 percent of the total harvested in Brazil.


The Centro de Tecnologia Canavieira is the leading sugarcane research institute in Brazil, developing new varieties with improved processing efficiency and yield. It is further involved in phytosanitary research, biotechnology, agronomy, agricultural and industrial mechanisation as well as sugar, bioenergy and biofuel production itself.

The CTC is a non-profit whose aim is to disseminate knowledge, best practises and inputs to the sugarcane sector in Brazil.

References:
EthanolBrasil: Novas variedades de cana rendem 38% mais - November 8, 2007.