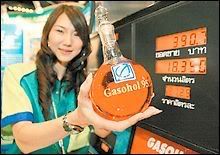 The consumption of alternative fuels in Thailand is growing rapidly as the government continues to keep contributions to the state Oil Fund lower for biofuels than for traditional fuels. Demand for B5 soared by growing over 1000%, E10 grew with 64% and natural gas for vehicles more than doubled. Thai ethanol producers who were seriously mired by overproduction at the beginning of the year (
previous post
) thus see their troubles coming to an end.
Average B5 diesel retail prices are now one baht per litre lower than petro-diesel (€0.021/liter or $0.121/gallon), and 'gasohol' (E10) is 4 baht (€0.086/liter or $0.485/gallon) cheaper than premium petrol and 3.30 baht (€0.071/liter or $0.4/gallon) cheaper than regular petrol.
According to Metta Bunturngsuk, director-general of the Department of Energy, B5 diesel (5% biodiesel) consumption jumped from 3.43 million litres in October last year to 65.13 million litres last month - a staggering increase, but not exceptional for a fuel that is just beginning to take off. Petro-diesel grew slightly by 2.2% to 1.49 billion litres from 1.43. billion a year earlier.
Ethanol is a more established fuel in Thailand. The total consumption of gasohol 95 and 91 - or 10% ethanol mixed with 90% gasoline - rose 63.7% to 179 million litres in October from 110 million litres during the same period last year.
Premium and regular gasoline consumption fell 11.4% to 441 million litres from 498 million litres last year, the second consecutive month it has fallen.
Consumption of natural gas for vehicles also jumped 110% in October to 29.6 million cubic feet per day (mmcfd) from 14 million mmcfd last year. Next year NGV consumption is likely to double from this year due to strong support from the Energy Ministry and PTT Plc, which is offering free NGV kits and is selling the fuel at petrol stations. However, Mettha Bunthuengsuk conceded that NGV is now unavailable for sale in some areas since there is a shortage of gas cylinders:
energy :: sustainability :: biomass :: bioenergy :: biofuels :: ethanol :: biodiesel :: natural gas :: Thailand ::

Thailand's state-owned energy giant PTT Plc had already shifted a purchase order for the cylinders to companies in Brazil from South Korean companies in order to address the shortage. It is expected the problem would be solved in a few months.

Liquid petroleum gas (LPG) consumption grew 15.6% from 9.2 million kilogrammes to 10.7 million kilogrammes as more motorists converted their engines to gas from petrol. But the figure will probably drop next year as the government says it will no longer subsidise LPG, which is also used as cooking gas.

Crude oil imports in October dropped 12.8% from 4.238 million barrels to 3.696 million barrels. The value of crude oil imports also dropped 0.3% from 62.56 billion baht last year to 62.35 billion this year.

Energy policy planners also announced that they intended to promote new names for what is currently described in Thailand as 'gasohol': gasoline E10/95, gasoline E10/91 and gasoline E20/95.

Diesel fuel will be completely replaced by B2 nationwide on April 1, 2008. The new names will be B2, B5 or whatever proportion of biofuel is mixed with regular fuel.



References:


Bangkok Post: Ethanol-based fuel sales jump in October - November 27, 2007.

Bangkok Post: Bio-fuel use soars in first 10 months - November 27, 2007.

Biopact: Thai ethanol producers stuck with surplus - April 09, 2007