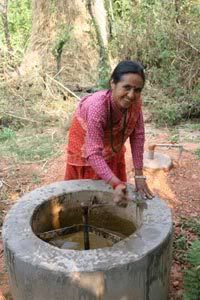 The World Bank has
agreed
to provide $5 million in assistance to co-finance the setting up of 37,000 biogas plants in rural areas of Nepal. The World Bank administered Global Partnership on Output Based Aid (
GPOBA
) has signed a grant agreement with the Nepalese government under the fourth phase of the
Biogas Support Program
(BSP-IV). The Project will be implemented by the Alternate Energy Promotion Center (AEPC). The grant is co-funded by the United Kingdom 's Department for International Development (DFID).
The project aims to replace traditional energy sources used by the rural population, such as fire wood and kerosene, with modern biogas plants. Biogas digesters use anaerobic decomposition of organic material to produce a methane-rich which can be used for cooking and light. GPOBA's grant will sponsor new biogas plants ranging in capacity from 4m3 to 10m3. Even the smallest plants with a 4m3 capacity produce enough gas to run a cooking stove for nearly 2.5 hours daily.
Switching to biogas has multiple social, economic and environmental advantages:
use of the biofuel reduces carbon emissions
it decreases the pressures leading to deforestation by relying on household and farm waste instead

decreases the frequency of respiratory infections that result from burning sooty fuels in poorly ventilated households - a killer in the kitchen claiming approximately 2 million lives each year (earlier post)
in the particular context of rural Nepal, the Community Development Carbon Fund estimates that families will save approximately three hours of labor per day from the switch from gathering fuel wood to biogas - quite an impressive change in the life of these people

considerable financial savings occur from not purchasing fuels like kerosene
biogas production yields an organic fertilizer; families save by not spending on synthetic fertilizer
Women and girls, who are traditionally responsible for running the household, colleting firewood and cooking, will be among the project's primary beneficiaries. Furthermore, access to biogas will enable families to use gas lanterns after sunset to provide light for children's studies or other household activities:
energy :: sustainability :: biomass :: bioenergy :: biofuels :: anaerobic digestion :: biogas :: deforestation :: World Bank :: Nepal ::

The Biogas Support Program was started in 1992 by the Netherlands Development Organisation (SNV) together with the Government of Nepal to promote environmentally friendly and affordable energy to remote rural areas. The project has also received substantial funding from KfW. Since 2006, the BSP-IV is benefiting from funding form the World Bank's Community Development Carbon Fund in exchange for reductions of emissions of greenhouse gases.

Since 1992 the Biogas Support Program has helped to install 150,000 biogas plants in rural Nepal. The local non-governmental organisation Biogas Sector Partnership – Nepal (BSP-N) is serving as project implementing agency.

The Global Partnership on Output-Based Aid (GPOBA) is a multi-donor trust fund established in 2003 to develop output based aid (OBA) approaches across a variety of sectors including infrastructure, health and education. OBA subsidies are performance based and are designed to create incentives for efficiency and the long term success of development projects. GPOBA's current donors are DFID, IFC, the Directorate-General for International Cooperation of the Dutch Ministry of Foreign Affairs (DGIS) and AusAid of Australia.