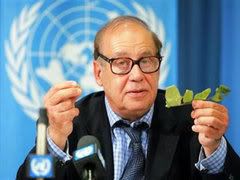 Tonight Jean Ziegler, the UN
special rapporteur on the right to food
, will present his annual report to the General Assembly in New York. In it, he will call for a 5-year moratorium on the production of liquid biofuels made from food crops such as corn, wheat, palm oil and rapeseed. A UN special rapporteur is an independent expert, who does not receive any financial compensation for his or her work.
Over the past month, Biopact has been corresponding with Mr Ziegler's staff to discuss some of the findings contained in the report, which is now publicly available,
here
[*.pdf; note: if the link doesn't work, check under 'annual reports' on
this page
and click the document with the code: A/62/289]. We agree with most of the rapporteur's heavy criticisms of first-generation biofuels, especially when it comes to fuels made from crops on which populations in the developing world depend (corn, wheat, palm oil).
But we do hope he also includes several of the theoretical points made throughout the last year by a myriad of organisations who see major chances for the poor to get out of poverty by participating in the biofuels market. These perspectives were not included in the report. We think they are important. Some leading organisations, including the UN's very own FAO, the UNCTAD, the UNIDO as well as the WorldWatch Institute, have said biofuels could help end global hunger(
previous post
,
here
and
here
). But this will require a major overhaul of trade rules, an active effort to engage small farmers and poor rural communities in the sector, and a rethink of the massive biofuel subsidies paid to wealthy farmers in the EU and the US (say the
IEA
, the
OECD
, the
Global Bioenergy Partnership
, alongside a host of other major think tanks and renowned
experts
).
Moreover, high oil prices can be truly
catastrophic
for poor countries, and are actually killing people: according to the UN's latest inter-agency report on biofuels, some of the least developed countries are already forced to spend
6 times
as much on imported oil than on health care, with obvious tragic consequences for those who need this most basic of services. Biofuels could make an end to this disaster.
Many poor countries have a
very large potential
to produce sustainable biofuels that do not impact food security negatively. On the contrary, in a free biofuels market, these countries would stand to benefit massively from their comparative advantages which would allow them to boost incomes with which to strengthen their food security (
earlier post
and
here
). But again, to make this happen, trade reform and an end to subsidies in the EU/US are a minimal requirement. The Biopact has also
called
for a more courageous EU foreign aid policy aimed at helping developing countries tap their large biofuels potential, via tech transfers, agricultural expertise and investments in infrastructure.
For the rest, we strongly agree with Mr Ziegler's entire argumentation:
as long as such trade and market related reform measures and tech transfer efforts are not in place
as long as social and environmental sustainability criteria for biofuels are not agreed on
as long as more efficient second-generation biofuel production processes that allow us to use any type of biomass instead of food crops are not available

then
the precautionary principle should come into effect. Hence, a temporary moratorium on first-generation biofuels made from food on which the poor depend is entirely legitimate.
Sadly, we feel the rapporteur's call will not have any major effect on the rush towards food-based biofuels. The subsidies and protectionist measures in the US and the EU are large and strong enough, and oil prices high enough, to make first-generation fuels commercially attractive and to continue the massive investments into the sector. Moral imperatives do not make much of an impression on those who profit from the current situation.
In any case, we will keep you posted on the rapporteur's presentation, which can be viewed live over at the
UN Webcast
[entry ends here].
energy :: sustainability :: biomass :: bioenergy :: biofuels :: ethanol :: biodiesel :: food security :: agriculture :: subsidies :: tariffs :: United Nations ::