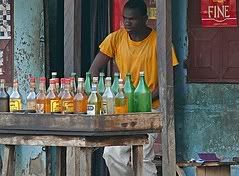 World oil prices
smashed
the psychological barrier of $85 per barrel today. The economy crippling catastrophe for poor oil importing developing countries thus persist. Biofuels - with all their drawbacks - or extremely expensive oil? The question is more relevant than ever; the call of African governments to switch to biofuels to prevent what they call a
'pan-African disaster'
in the making is more legitimate than ever.
Biopact therefor keeps urging the development, energy, economics and agricultural think tanks of this world to produce more robust analyses showing the effects of record oil prices on the economies and societies of the least developed countries (LDCs). There are few such assessments, and they depict a grim reality, but they are of a qualitative nature only (
earlier post
). Quantitative data will show whether biofuels can help the poorest societies survive the current oil shocks.
Each percentage-point increase in the price of oil can be felt immediately throughout all social and economic sectors of the poorest countries. These societies - of the 47 poorest nations, 38 are net importers of oil, and 25 are
fully
dependent on imports (more
here
) - are energy intensive and spend between 10 and 15% of their GDP on imported petroleum products. OECD countries spend only between 2 and 3% and have the financial and technical tools to protect themselves from oil shocks. LDCs don't. No wonder then that several African governments have started looking at biofuels as their own tool to hedge against the catastrophe. For them, the 'energy security' argument in favor of biofuels does clearly make sense (
earlier post
in which Senegal's president calls a switch to biofuels an urgent matter to save African economies).
Several developing countries have already called the effects of the current situation 'disastrous' and 'outrageous' as they wreck chances for development: record oil prices push up general inflation, destroy debt relief efforts and fuel unemployment. They especially weaken states' capacities to spend on public goods (education, health care, poverty alleviation - some are already spending twice to thrice as much on oil than on health care), and lead to higher food and fuel prices - two types of products on which the poor spend most of their budget. Moreover, they severely impact production processes for small and medium enterprises, and they dramatically diminish farmers' capacities to produce and market agricultural products. All these effects are known quite well and have been described in qualitative terms. But the need for strong quantitative analyses is now more urgent than ever. Such data will allow for a cost-benefit analysis and indicate whether a switch to less costly biofuels makes sense, under which kind of circumstances.
The disastrous record oil prices are the result of a supply threat caused by heightened tensions between Turkey and Kurdish rebels in the northern region of crude producer Iraq. The powerful OPEC oil exporters' cartel, meanwhile, froze its estimate for world crude demand growth in 2007 despite the record-breaking news. In afternoon trading here on Monday, New York's main futures contract, light sweet crude for delivery in November, spiked to an historic 85.30 dollars per barrel. The contract expires at the close:
energy :: sustainability :: biomass :: bioenergy :: biofuels :: petroleum :: oil :: petroleum :: energy security :: development :: geopolitics :: Africa ::

London's Brent North Sea crude for November delivery soared to a fresh all-time high of 81.94 dollars per barrel. "The tensions on the Turkish-Iraqi border have really pushed the price up," said Adrian Bingham-Walker at CMC Markets. "It's a new supply threat and prices have just kept on hitting new highs today. As it's hitting these highs, it's attracting more and more buyers."

Monday's record-breaking run - which beat the previous all-time highs set last month - also came amid concerns over stretched global energy supplies. Traders are fearful of soaring heating fuel demand in the northern hemisphere winter.

Later Monday, Brent crude stood at 81.58 dollars, marking a jump of 1.03 dollars from Friday's close. New York crude showed a hefty gain of 1.20 dollars at 84.89 dollars.

The Turkish government met Monday to prepare a motion seeking parliamentary approval for a military incursion into neighbouring Iraq to crack down on Kurdish rebel bases there. The motion will be sent to parliament "once it is signed by all the ministers," a government official told AFP.

The cabinet is expected to seek a one-year authorisation for a military operation in northern Iraq, where an estimated 3,500 rebels of the separatist Kurdistan Workers' Party (PKK) are based. The Turkish army said at the weekend that it had shelled Iraqi territory after PKK rebels attacked a military outpost with rockets and gunfire from across the border.

Oil market traders "are still worried about possible tension with Turkey and Iraq on the northern borders," explained Sucden analyst Robert Montefusco. "It's being discussed in Turkish parliament at the moment over whether it is legal for them to go and invade.

He added: "There's no lost production at the moment, so it's only perceived that we could lose some production if any of the pipelines are affected in that region from Iraq." "That is the main concern at the moment."

Elsewhere, the Organization of Petroleum Exporting Countries (OPEC) forecast that 2007 world oil demand growth would stand at 1.3 million barrels per day (bpd) or 1.5 percent The estimate, contained in OPEC's monthly report for October, was unchanged from the previous figure given in September.

The Vienna-based cartel added that demand for fuel and heating oil in the fourth quarter to December "is forecast to be strong." World oil demand growth during the period "is estimated to follow typically high seasonal consumption (patterns) due to the expected normal winter in the northern hemisphere," the report added. It put world oil demand growth at 1.8 million bpd for the last three months of 2007.



Image

: petrol street vendor in Togo. High oil prices kill chances for development.



References:


Biopact: High oil prices disastrous for developing countries - September 12, 2007

Biopact: India: 'outrageous' oil price damages economy, as $80pb could be new floor price - September 27, 2007

Biopact: Senegal's president explains the urgency of biofuels development in the South - November 02, 2006

Ralf Krüger: Impact of high oil prices on oil-importing countries in Africa [*.pdf], UNECA - Project LINK meeting, Fall 2006, Geneva.

African Development Bank Group: Can Struggling African Economies Survive Escalating Oil Prices?

African Development Bank Group: High Oil Prices and the African Economy [*.doc] - Concept paper prepared for the 2006 African Development Bank Annual Meetings Ouagadougou, Burkina Faso.