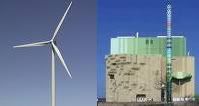 During a conference on the future of energy, French oil major Total
stated
[*French] it will not invest in wind power as the technology cannot deliver base-load power and is plagued by its intermittent nature which requires backup by other sources. Speaking in Paris, CEO Christophe de Margerie outlined the company's 'post-oil' priorities and said it will instead focus on the development of bioenergy and solar power.
Total wants to leave the wind energy sector to others and will not invest in the technology because it can only thrive when base-load power is supplied by other sources like coal and natural gas. In his presentation, de Margerie referred to the situation in Germany, world leader in the sector, where the bulk of 'intermittent' electricity generated from wind turbines is supplemented by electricity obtained from the combustion of coal. The sector's expansion fuels the utilization of more coal. Thus the base-load based on fossil fuels contributes to climate change and air pollution, which makes wind power in practise a 'dirty' energy source.
Biopact sees this as a flawed attempt to discredit wind power. The
'base-load fallacy'
[*.pdf], as the argumentation has been called, is quite old and has been debunked convincingly, many times. First of all, there are quite a few examples of large, distributed wind power systems which overcome the problem of base-load power and only need a small amount of back-up. Secondly, new energy storage technologies for both wind (advanced adiabatic compressed air energy storage;
energy islands
) and solar thermal are being developed and are expected to be commercially viable soon.
Finally, Total says one of its renewable energy priorities is bioenergy. It thus presents a strange contradiction, because if there is one type of renewable energy that resembles coal's capacity to provide robust base-load energy, it is biomass (either in solid, liquid or gaseous form). Wind power and bioenergy can be perfectly coupled in a synergetic, fully renewable energy concept, with biomass power stations providing the base and wind generating the supplemental energy:
energy :: sustainability :: fossil fuels :: renewables :: biomass :: biofuels :: bioenergy :: wind power :: France ::

Biomass can be stored, distributed and traded physically, so power plants can be located close enough to wind farms and provide decentralised, fully renewable energy without reliance on fossil fuels. Obviously, biomass can simply replace coal or can be co-fired with it - a practise that is becoming ever more common. Cost can no longer be an objection, because biomass has already become competitive with coal, which is fetching record prices (previous post). In a recent survey, Europe's leading energy analysts agree on strong prices for all fossil fuels used for baseload power generation over the longer term (more here).

At the conference, Total said it is only interested in biomass, both for the production of liquid and gaseous transport fuels as well as for the production of power, and in solar energy. Remarkably, solar energy currently has the same intermittency and base-load problems, so it remains a mystery as to why wind power is discarded by Total.

Energy majors play an important role in informing the public about the advantages and disadvantages of renewables. However, the era of clean and renewable energy also requires them to represent these facts in a responsible way. Renewables should not be pitted against each other in an antagonistic way; instead, they must be seen as part of a synergetic development in which the reduction of greenhouse gas emissions and air pollution, decentralisation, and energy security are key. Combined in integrated systems, renewables can perfectly take us beyond fossil fuels.



References:


Le Figaro: L'éolien pas pour Total - October 10, 2007.

Couleur France: Total refuse les éoliennes - October 10, 2007.

Mark Diesendorf, "The Base Load Fallacy", EnergyScience, Briefing Papers, n° 16.

Biopact: Centre for European Economic Research survey: experts see rising prices for all energy commodities over the next five years - October 06, 2007

Biopact: Coal prices hit records too - time for biomass? - October 03, 2007