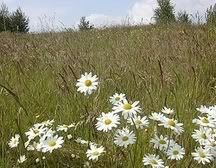 Nitrogen pollution from agriculture and fossil fuels is known to be seriously damaging grasslands in the UK. A new
study
coordinated by the European Science Foundation (ESF) is starting to show that the effect is Europe-wide, confirming that current policies to protect ecosystems may need a re-think. Interestingly, professor David Gowing, project leader, told Biopact that a potential solution is to maintain species richness by 'biomass stripping', which could be coupled to bioenergy production.
Key research
Gowing was one of Carly Stevens' PhD supervisors at The Open University in the UK. When Stevens finished her thesis in 2004, her findings were so significant they were published in
Science
(
abstract
). Not only that, they were selected as contributing to one of the top ten scientific breakthroughs of that year – quite something for a PhD student. Stevens had found the first evidence that nitrogen deposition from the atmosphere was depleting numbers of plant species in British grasslands. Gowing and Stevens say "there was experimental evidence that this could happen, but we were the first to show the effect is real and happening now".
Stevens studied acid grasslands – upland pastures with relatively infertile soils. She found that in places where more nitrogen is deposited, there are fewer plant species. The gradient was so pronounced that one species has been lost for each additional 2.5 kg of nitrogen per hectare deposited every year. Nitrogen from man-made sources, like intensive farming and cars, causes significant air pollution in the UK, and some is deposited from the air on to the land. Deposition is highest in densely-populated areas, and in Britain ranges from about 5 to 35 kg of nitrogen per hectare per year.
The approach to protecting wildlife from nitrogen pollution is to calculate critical load values for different ecosystems – how much nitrogen a system can accumulate every year before damage occurs. Infertile habitats, like heathlands and bogs, are the most vulnerable. But Stevens' research showed that species are being lost even where deposition is 'beneath' the critical load for grasslands.
The species aren't going extinct, but if this is happening everywhere, we are moving towards much more species-poor grasslands, and we have no idea what the knock-on effects of that will be.

- Dr Carly Stevens
Europe-wide effect
So last year, Stevens, her UK colleagues Gowing, Nancy Dise and Owen Mountford, and a team of experts from Germany, the Netherlands and France, embarked on a Europe wide project titled 'Biodiversity of European grasslands – the impact of atmospheric nitrogen deposition (BEGIN)', part of the ESF's
EuroDIVERSITY Programme
. The project's aim is to see if the effects are the same on a wider range of grasslands, across the entire Atlantic side of Europe. "The low countries and northern Germany are the epicentre of European nitrogen deposition," says Gowing.
70 new grasslands in at least nine countries have been added to the picture, including different types of grassland. So far, the first year's field results seem to adhere to the pattern, showing that species loss is directly related to long term deposition of nitrogen:
energy :: sustainability :: fossil fuels :: air pollution :: nitrogen :: biodiversity :: grasslands :: biomass :: bioenergy :: Europe ::
The loss in Great Britain is much larger than people had imagined. It's almost 25% of species at the average deposition rate. If this is occurring across Europe, it will be a very important find.

- Dr Nancy Dise, principal investigator
Wildflowers and other broad-leaved species, rather than grasses, are the hardest hit.

The team has started experiments to see if they can establish how extra nitrogen has these effects. They hope to predict what will happen in the future.

Nitrogen deposition in Europe probably peaked in the 1990s, and is coming down now in many places. But it may not be appropriate for policymakers to relax. Having been accumulating nitrogen for 40 years we might be near the edge of the cliff where communities will suddenly change. Perhaps we'll be able to say: you have another five years of accumulating at this rate, so now is the time to act.

- Professor David Gowing, project leader
What should be done?
Gowing and his team are hoping for a clear signal that we can maintain species richness under nitrogen deposition by biomass stripping. That means extra mowing and grazing. This could offer a management strategy for nature conservation.

Biopact asked Gowing how the technique of biomass stripping fits into such a strategy and whether there are any concrete uses for the harvested material.

Biomass stripping is an established technique in Ecological Restoration. It depletes the pool of soil nutrients and thereby lowers the productivity of a site, which is important if the target is to establish a species-rich plant community. In hay meadows, this involves removal of about 6 tonnes per hectare per year of dry matter. In England it is often difficult to sell the biomass, because there are too few cattle to eat it.

- Professor David Gowing
Gowing confirmed that the stripped biomass could be used for bioenergy production. But he pointed at several barriers:

Burning the harvested material for energy would be ideal. Currently it is considered too expensive to harvest, dry, transport and burn the material to produce electricity economically. But if the machinery and technology for handling the biomass were improved, then there would be a huge potential resource of biomass from nature reserves to supply power stations.

- Professor David Gowing
Decentralised and mobile bioconversion technologies might help tackle some of these barriers. Small, modular and mobile fast-pyrolysis plants that convert the biomass into bio-oil (earlier post) and mobile pellet plants (more here) are currently under development. The concept behind these technologies is simple: convert the bulky biomass into a higher density product close to the place where it is harvested and then transport it more efficiently to a central biofuel production facility or a power plant.

Biopact thinks that, instead of converting existing ecosystems into monocultures of energy crops, it might be more interesting to look into ways to couple bioenergy production to conservation strategies first. An example of such an approach is the Tallgrass Prairie Center's grassland restoration effort currently underway in the U.S. (previous post). A similar approach might be applied to managing Europe's nitrogen poisoned grasslands.


First results of the BEGIN project were presented at the first EuroDIVERSITY conference, held in Paris from 3-5 October 2007. BEGIN is funded under the European Science Foundation's (ESF) EuroDIVERSITY Programme, which fosters pan-European collaborative research on biodiversity.

The project involves scientists from the Open University, UK; the University of Bordeaux, France; Utrecht University, the Netherlands; the University of Bremen, Germany; Manchester Metropolitan University, UK and the Norwegian Institute for Nature Research, Norway. Associated projects are run by the Centre for Ecology and Hydrology, UK; the University of Lund, Sweden; Katholieke University, Leuven, Belgium; the University of Metz, France; the University of Sheffield, UK; The Institute of Ecosystem Studies, Millbrook, USA; Radboud University of Nijmegen, Netherlands; the University of Minnesota, USA and the University of Bergen, Norway.




Picture

: Ox-eye daisies and other wildflowers are dotted around the acidic grassland of Ifton Meadows, Shropshire, UK. Wildflowers and other broad-leaved species, rather than grasses, are hit hardest by nitrogen deposition.



References:


Stevens, C.J., Dise, N.B., Mountford, J.O. and Gowing, D.G., "Impact of nitrogen deposition on the species richness of grasslands"

Science

, 19 March 2004: Vol. 303. no. 5665, pp. 1876 - 1879 DOI: 10.1126/science.1094678

Stevens, C.J., Dise, N.B. Gowing, D.G. and Mountford, J.O. "Loss of forb diversity in relation to nitrogen deposition in the UK: regional trends and potential controls."

Global Change Biology

, Volume 12, Number 10, October 2006 , pp. 1823-1833(11)

Open University, Research group on Ecohydrology and Nutrient Cycling: profile of Carly Stevens describing her work on Ecosystem Properties of Acidic Grasslands; profile of prof David Gowing.

European Science Foundation: Nitrogen – the silent species eliminator - October 12, 2007.

European Science Foundation: Biodiversity of European Grasslands the Impact of Atmospheric Nitrogen Deposition (BEGIN).

Biopact: Mobile pyrolysis plant converts poultry litter into bio-oil - August 20, 2007

Biopact: The mobile pellet plant - April 29, 2007

Biopact: Dynamotive begins construction of modular fast-pyrolysis plant in Ontario - December 19, 2006

Biopact: Tallgrass Prairie Center to implement Tilman's mixed grass findings - September 02, 2007