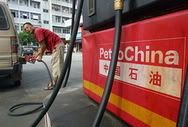 China is
rationing
diesel at pump stations in at least four booming coastal provinces in the widest-scale rationing seen since 2003, as red-hot global oil prices hit output at loss-making Chinese refiners. Truck drivers reported long queues at petrol stations along a national highway linking Fujian and Zhejiang provinces, with each truck getting 100 yuan ($13) worth of diesel, or around 20 litres, per visit at a state-run station and 40 litres at a private kiosk.
Many in southern China's Guangdong province, China's manufacturing and export hub, suspended business due to the dearth of fuel, industry officials said.
An alternative to rationing would be to increase the price of fuel to reflect record crude prices. But chinese refiners cannot pass the soaring crude costs on to consumers because Beijing fears stoking already high inflation. Instead it rigidly caps pump fuel rates to shield users from a 50 percent rally in global oil so far this year. China is thus massively subsidizing petroleum fuels.
At the same time, China's Ministry of Finance has
finalized
a subsidy plan for farmers and firms involved in planting feedstock for China's emerging alternative to oil: the domestic biofuel industry. The plan will be implemented early next year. The news was announced by Liu Yonglu, deputy director of the Ministry of Finance's Tax Department at the Next Biofuels Technologies forum.
The subsidies break down as follows:
feedstock producers who plant biofuel crops on land not intended for food will be subsidized RMB 200 (€18.5/$26.9) per mu (€280/$403.5 per hectare) a year
feedstock producers who grow crops in forested areas will receive RMB 180 (€18/$24) per mu (€250/$360 per hectare)
Major domestically-produced non-grain feedstock for fuel ethanol in China includes sweet sorghum, sweet potato and cassava, while jatropha is being planted as feedstock for biodiesel.
The subsidies would only go to producers that have guaranteed that end users of the crops are biodiesel and fuel ethanol producers. There is no restriction on the properties of the producers, which could also include foreign enterprises:
energy :: sustainability :: biomass :: bioenergy :: biofuels :: ethanol :: biodiesel :: energy crops :: subsidies :: China ::

The move is the latest gesture from the Chinese government in its efforts to promote the biofuel industry, which will help offset over-dependency on fossil fuels and associated environmental damage. However, after a larger-than-expected amount of corn, a common feedstock for fuel ethanol, was supplied to the profitable deep processing industrial sector last year, the government implemented policies that would encourage only projects that use non-grain products.

According to China's Renewable Energy Plan released last month, China aims to eventually replace 10 million tons of fossil fuel with biomass, and produce 10 million tons of non-grain ethanol fuel annually (previous post).

As the third-largest ethanol fuel producer and consumer after the United States and Brazil, China's annual ethanol fuel output is currently around 1.02 million tons, of which 800,000 tons are processed from corn. Only four enterprises in the country are approved by the government to use grains to process ethanol.

China will focus on the construction of several sweet sorghum-based ethanol projects in Shandong Province and other northeastern areas, as well as constructing a number of sweet potato-based projects in southern China by 2010.

The country plans to have biofuel account for 15 percent of the country's total transportation fuel consumption by 2020.



References:


Interfax: China to subsidize biofuel feedstock producers - October 25, 2007.

Reuters: China rations diesel as record oil hits supplies - October 26, 2007.

Biopact: China unveils $265 billion renewable energy plan, aims for 15% renewables by 2020 - September 06, 2007