The Dalby Forest visitor centre in North Yorkshire has been judged Britain's best public building of 2007 because of its uncompromising commitment to sustainability. So much so that at the end of its life it can be entirely recycled. The visitor centre - which cost £2.5 million and was officially opened in April, 2007 - has
won
the Prime Minister's
Better Public Building Award
. Commissioned from White Design by the Forestry Commission, it came top of a strong shortlist of 18 projects.
The centre is one of Yorkshire's most eco-friendly buildings. It's clad out of a renewable material - wood which is grown and milled in the forest - and has small solar panels and tiny wind turbines. Its toilets are flushed by rainwater. The reception desk incorporates recycled mobile phones, yoghurt pots and old boots. The roof cover is made from recycled tyres and inner tubes.
But it's what is behind the scenes which gives the centre its eco-edge and made it a winner: an advanced boiler which provides the hot water and general heating - the bulk of the building's energy needs - is run exclusively on renewable biomass.
That's still quite unusual in the United Kingdom - on the continent they've got a lot more wood chip boiler installations but it's becoming more and more common with the increase in the price of gas and electricity. As an alternative this is a good option.

- John Bates, from the Forestry Commission
These environmental considerations are what impressed the judges when they chose the visitor centre ahead of other projects such as the King's Cross St Pancras underground station in London, the National Cold War Exhibition at the RAF Museum in Shropshire, the Bridge Arts Centre in Glasgow or the Promenade of Light in London.
It's because the construction and use of public buildings contribute at least a third of all the UK's carbon emissions:
energy :: sustainability :: climate change :: bioenergy :: biofuels :: renewables :: biomass :: wood chips :: architecture ::

The UK's Commission for Architecture and the Built Environment (CABE), the government's advisory body on architecture, urban design and public space, sponsors the award.

Dalby Forest visitor centre is everything that we should expect from a new public building. It inspires those using and visiting it. It adds to the enjoyment of the places and spaces around us. It brings new business opportunities and it shows how great design lies at the heart of our response to climate change.

- John Sorrell, chairs of the Commission for Architecture and the Built Environment
The Culture Secretary James Purnell said the centre shows what excellent design can bring to local communities and the environment - and sets high standards for the future:

This is especially important now, at a time when design and construction industries must respond urgently to the threat of climate change.

This is all a far cry from 40 years ago as retired forester Gordon Simpson recalls. He was charged with laying the groundwork to open up Dalby Forest to visitors. But it was no easy task: "My biggest problem was converting the oldest foresters who had this attitude of 'Keep Out'. I had to try and convert them to letting people into the forest. I felt I built a good base to start with but it was very experimental at the time."

Now, Dalby Forest attracts about 300,000 visitors a year making it one of Yorkshire's most popular outdoor attractions - and the visitor centre has added to the draw. The week after the centre's opening was the busiest in the forest's 85-year history.

CABE is the UK government's advisor on architecture, urban design and public space. As a public body, it encourages policymakers to create places that work for people. It helps local planners apply national design policy and offer expert advice to developers and architects, shows public sector clients how to commission buildings that meet the needs of their users, and seeks to inspire the public to demand more from their buildings and spaces.

Good design has a role to play in transforming public services, especially important given the current scale of investment in public building.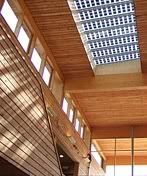 In 2000 the UK's Prime Minister asked ministers and departments across government to work towards achieving high-quality design in all new public buildings. Good design in the public sector enhances the environment and the community, revitalises cities and neighbourhoods, results in buildings that work well and retain a human dimension, and makes the delivery of services easier and more efficient. Design also reflects the ambitions and spirit of the people behind it.

Since the Better Public Building initiative was launched, there have been some outstanding new schools, libraries, museums, hospitals, public spaces and transport infrastructure. The government has its own design champion - who has taken on responsibility for raising standards across every government department - and by 2006 design champions had been appointed in 70 per cent of public bodies to provide leadership and motivation and ensure a strategy for delivering good design. Good design is achievable and affordable and is worth investing in. It is the key to maximum value for money during the whole life of a building.

Although good design is now embedded in the planning process, some new public building still fails to ensure efficient delivery of public services. In 2006 the government published a set of Common Minimum Standards for construction procurement. These are comprehensive, practical and achievable, as well as cost effective, and should be universally applied in all public building. In addition, CABE has set out 10 principles that clients should follow if they are to achieve the best in public building projects.

The speed and severity of climate change present a critical challenge. Every new public building should contribute towards mitigating climate change – both in its construction and its use. This need not, however, add to costs if environmental sustainability is fully integrated into the design process from the beginning.

Better public building, published in December 2006, provides the arguments and evidence that good design makes places work better. It offers practical advice for creating new public building that is value for money, sustainable and a source of civic pride. And it sets out the steps that public bodies need to follow if they are to ensure that all those who use public services benefit from good design.



References:


CABE: Yorkshire visitor centre named this year's best public building - October 11, 2007.

BHL: Biomass boiler makes Yorkshire building a winner - s.d. [October 15, 2007]

BBC: Best building in Britain - October 11, 2007.