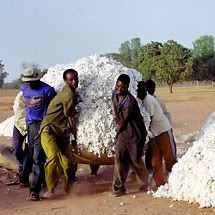 In a major decision that could benefit hundreds of thousands of small farmers in the Global South, the World Trade Organisation (WTO) today upheld its earlier ruling saying that US cotton subsidies are illegal. The US could face billions of dollars in trade sanctions for failing to scrap these payments made to American cotton growers. The WTO ruling is a victory for Brazil's cotton industry and for West African states which say the payments gravely harmed their producers.
Brazil hailed the ruling, saying US subsidies had hit world prices, hurting farmers in Brazil and small holders elsewhere, in particular in some of the poorest countries who launched the appeal for US subsidy cuts first: Benin, Burkina Faso, Chad and Mali. In some of these countries, cotton makes up 70% of all export earnings (a good story on how these subsidies destroy the livelihoods of small farmers in West Africa and the countries' economies at large, can be found
here
).
US subsidies for its 25,000 cotton farmers - $12.5 billion between 1999 and 2003 - have encouraged overproduction, resulting in the flooding of the world market by cotton sold at prices less than it costs to produce. This has depressed prices to levels at which competitors struggle to survive. With low labour costs and small manageable plots, more than a million cotton farmers in West and Central Africa are among the lowest-cost producers in the world. But even they can no longer cope.
The landmark ruling is relevant to the bioenergy community because Brazil recently launched a similar case against US biofuel subsidies (more
here
). Likewise, these payments run into the billions of dollars per year (
earlier post
; note the EU is going about in a
similar manner
). If these trade-distorting handouts, together with biofuel import tariffs, were to be abandoned, consumers would see the real price at the pump. US and EU biofuels would no longer be competitive and smaller producers in the developing world could begin to exploit their comparative advantages and start producing their far more efficient biofuel feedstocks. This could greatly help reduce poverty, put an end to the utilization of corn and wheat which are food crops on which poor countries depend, and even help in combating food insecurity amongst the vast rural populations of the South (
here
,
here
and
here
).
Brazil leads the
G20
, a group of developing countries who want to get rid of the immense agricultural subsidies and trade barriers imposed by the EU and the US. These barriers keep millions of small farmers in the South in poverty and in some cases are even to blame for massive dependency on foreign food imports - countries in Africa and elsewhere, who should be major food exporters, have been reduced to a status of perpetual dependency with crippled domestic farm sectors as a consequence.
Agricultural subsidies in the EU and the US are also the key stumbling block for progress in the Doha Round of trade negotiations. The announcement that Brazil was bringing the cotton case back before WTO arbitrators was made shortly after the July 2006 collapse of the talks, which aim to add billions of dollars to the world economy and help poorer countries develop their economies through new trade flows.
The ruling in the cotton case was released confidentially to US and Brazilian officials in Geneva today. The office of the US Trade Representative in Washington confirmed the news, saying the US was "very disappointed". US officials believe the payments comply with international trade rules. Washington is expected to make an appeal against the ruling:
energy :: sustainability :: biomass :: bioenergy :: biofuels :: agriculture :: world trade :: cotton :: US :: Brazil :: Africa :: G20 :: Doha :: WTO ::

Roberto Azevedo, the Brazilian foreign ministry's trade chief, said that the three-member WTO compliance panel had upheld the findings of its interim report released in July.

The Brazilian government claims the U.S. retained its place as the world's second-largest cotton grower by paying out $12.5 billion in government subsidies to American farmers between August 1999 and July 2003.

Critics of the subsidies say they drive down prices, making it impossible for small farms to compete in international markets, and more difficult for poorer countries to develop their economies by selling their agricultural produce abroad.

The WTO-proposed draft released in July calls on the US to make an 82 percent cut in trade-distorting handouts to American cotton farmers as part of a new global trade pact.

Washington has rejected the cuts, which were first proposed by the West African cotton-growing countries claiming to have been most harmed by the subsidies.

Brazil has reserved the right to impose annual sanctions of up to $4 billion on the United States but would probably seek less in retaliatory measures because the US has removed some of the offending subsidies.



Picture

: cotton farmers in Burkina Faso, where 350,000 small producers are competitive but have seen their livelihoods destroyed by trade-distorting subsidies.



References:


AP: WTO Rules Against US Cotton Subsidies - October 15, 2007.

AFP: US 'disappointed' as WTO rules against cotton subsidies - October 15, 2007.

BBC: African cotton farmers' despair: Burkina's white gold fails to deliver wealth - July 25, 2006.

UN: "Mounting opposition to Northern farm subsidies - African cotton farmers battling to survive", in: Africa Recovery, Vol.17, 1 (May 2003)

Biopact: Worldwatch Institute chief: biofuels could end global malnourishment - August 23, 2007

Biopact: Subsidies for uncompetitive U.S. biofuels cost taxpayers billions - report - October 26, 2006

Biopact: IISD report challenges EU biofuel subsidies, calls for end to tariff - October 04, 2007

Biopact: Brazil initiates WTO case against U.S. ethanol and farm subsidies - August 20, 2007

Biopact: IPC urges EU/US to open markets for more efficient biofuels from the developing world - boost to 'Biopact' - October 11, 2007

Biopact: FAO chief calls for a 'Biopact' between the North and the South - August 15, 2007