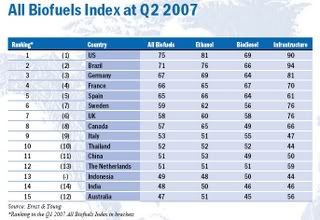 The US is the fastest expanding market in the world for biobased renewable fuels, according to Ernst & Young's second quarterly
'Biofuels Country Attractiveness Indices'
[*.pdf] (
earlier post
on Q1 rankings, and for definitions of the indices, which are made up of factors ranging from infrastructure to market regulations).
Some interesting changes can be observed compared to the previous rankings. Germany's lower biodiesel ranking is the most obvious one. The world's largest biodiesel market has seen a tax exemption on the fuel being removed, with the consequence that producers can no longer compete with much cheaper imports.
Brazil loses its top spot on the ethanol ranking because it is a victim of its own success: the country sees mounting pressure to stimulate further export potential, as the headroom in the domestic market is reaching its limits following record sugarcane harvest and production outputs resulting in plummeting ethanol prices (
previous post
). For this reason, Brazil's leaders have been touring the globe to promote Brazilian biofuels and to create export markets (more
here
,
here
and especially
here
).
A new entrant is The Netherlands, which wants to become a European trading hub for biofuels. Suitable infrastructures are expected to attract large investments there (see our extensive coverage of the
Bioport concept
). Likewise the Philippines are taken up in the Index, as it continues to receive interest from overseas investors who are starting biofuel projects with the aim to export (
earlier post
and
here
,
here
and
here
).
According to the Indices the attractiveness of the US for investment in biofuels was given a further boost last month by the US House of Representatives, which announced that it plans to provide billions of dollars of tax breaks and incentives for renewable energy (
earlier post
).
Overall ranking
Investment in the US biofuels industry shows no sign of abating. The increased investment in biofuels in the US is being driven by its attractive regulatory environment, support mechanisms, and project pipelines, which are unrivalled.
The US has a strong development pipeline in ethanol production and the world's largest project pipeline for biodiesel, which should produce 450 million gallons by 2008, compared to 136.5 million gallons in 2006. The sheer size of the pipeline provides investors with a greater choice in both operating assets and project development opportunities.
In addition, recently proposed legislation would require US refineries to blend a mandatory minimum of 1.25 billion gallons of biodiesel per year by 2012, and although not passed, it sends a very positive message to investors about future demand for biofuels in the US.
These factors have strengthened the US's position at the top of the All Biofuels Index (table 1,
click to enlarge
) and given the US a significant four-point lead over its closest rival Brazil.
Germany maintains its position, but is seeing significant difficulties in its biodiesel industry as producers are now running at 50% capacity. This is expected to worsen as higher local feedstock prices, rising fuel excise levies, and cheap imports are making it impossible for German producers to compete:
energy :: sustainability :: ethanol :: biodiesel :: biomass :: bioenergy :: biofuels :: investment :: infrastructure :: trade ::

Spain's score has risen closer to that of France and Germany as its newly instated mandatory blending targets of 1.9% biofuel content by 2008, 3.4% by 2009 and 5.83% by 2010 are expected to increase demand, prompting investment in new production capacity.

Behind them Sweden has moved into sixth place, principally due to the rapidly growing national demand for ethanol which is set to step up further as the next phase of the distribution obligation will take effect this year. The UK score remained steady with further ethanol production capacity expansion announced, but concerns over the lengthy pollution prevention and control permit procedures are expected to slow development.

China's overall score remains the same despite the drop in its ethanol score, caused by the fact that no more grain-based ethanol sites will be granted permits in response to continuing rises in food crop prices.

The Netherlands is a new entrant into the All Biofuels Index top 15 with its position as Europe's fuel hub expected to help it add over 1.2 million tons per annum (mtpa) of production capacity over the next two to three years. India drops one place as newly implemented support mechanisms are insufficient to stimulate significant growth in either biofuels technology.

Australia drops by five points over doubts surrounding the government's ability to enforce blending targets and the vulnerability of the agricultural sector to droughts. Actual biofuels production was 13 million liters per year in 2006 against a target of 82–124 million liters per year.



Ethanol



The US has moved ahead of Brazil to take the top spot in the Ethanol Index at Q2 2007. The US has a strong development pipeline and further support mechanisms currently being progressed are encouraging. Continuing high levels of transaction activity and investment in established production sites as well as cellulosic technology can be expected.

Brazil's score decreases by two points despite increased domestic blending targets from 23% to 25%; this will be insufficient to absorb the expected output increase of 13.5% this year compared to 2006. Brazil needs to compensate for this with more export agreements such as the one currently being negotiated with Japan for 3.5bLpa from 2011.

Germany's ethanol industry sees only moderate demand increases but planned expansion of the nationwide network for E85 sales is encouraging.

Spain has overtaken France and Canada to claim fourth spot in the Indices as a result of new mandatory blending targets expected to increase demand. The positive trend in the US market is expected to aid the Canadian industry although it still lags some way behind.

Sweden's score has risen by two points as the obligation on fuel stations resulted in almost double the level of sales of the fuel in the last year. This should increase further as the obligation will now extend to smaller retailers too. Sweden imports most of its ethanol from Brazil.

In the UK, despite recent announcements of new production capacity, the industry has raised concerns over the time taken for facilities to obtain environmental licenses.

China has dropped one point after an announcement by the government that only production facilities processing noncereal-based feedstock will be permitted, in order to relieve price pressures on food production. This is expected to limit new capacity until commercial scale cellulosic technology will become available.

With the introduction of mandatory blending targets and its favourable position as a fuel hub for Europe, The Netherlands will see a large number of new projects being constructed and moves into twelfth position.

Australia loses six points and falls four places, as the government is failing to enforce blending targets and concerns are raised over Australia's ability going forward to grow enough grain and sugar cane given the current extended drought conditions.

India loses two points as the 5% mandated ethanol blend has to be implemented only if economically viable. This is not envisaged to be the case in the immediate future and casts significant doubts over the likelihood of developing the 560 million liters per year production capacity required to meet the target.

Indonesia enters the Ethanol Index as foreign investment is expected to continue flowing into the market from its Asian neighbours taking advantage of the high-yielding feedstock and low production costs.



Biodiesel



The US moved up to first place in the Biodiesel Index seeing its score rise by one point. Increased incentives and rising blending targets have been reinforced by the recently proposed legislation that would require US refineries to blend a minimum of 1.25b gallons of biodiesel per year by 2012.

The US also has the largest project pipeline in the world and with the proposal starting at a mandated volume of 450m gallons in 2008, compared to production of 136.5m gallons in 2006, this should grow further.

France loses one point but remains in second place. The country has not increased the production quota exempt from excise duty, despite narrowing domestic headroom and falling demand in Germany, France's largest export market, which may cause the market to stall.

Brazil has moved up to third place in the ranking as a result of new project announcements and a number of direct supply agreements between producers and domestic industry players with high fuel consumption. With further positive uptake of biodiesel by different national industries (e.g., mining, public transport) expected, there is still headroom for increased capacity expansion.

Germany loses the top spot and falls to joint fourth, losing nine points. Despite having the largest production capacity globally and establishing an EU biofuels target of 10% for 2020 under its EU presidency, the annually increasing tax duty on biodiesel is placing unsustainable pressure on the industry. Resultant falling demand means prices have dropped by almost 5% in Q2 while feedstock prices rose by around 10% and are now higher than at the beginning of the year. Tightening margins are predicted to force production below 50% of capacity by the year-end as the market is severely tested in the run up to the next scheduled tax increase in January 2008.

Spain should see its biodiesel production increase to more than 400ktpa by 2008 (compared to 125ktpa in 2006) due to newly introduced mandated blending targets.

Thailand remains in ninth place as the government's 10% mandated blending target for 2011 encourages announcements of a number of further plant developments.

The Netherlands enters the Biodiesel Index as a result of a good project pipeline driven by its domestic blending regime and exploitation of key European logistical hubs Rotterdam, Eemshaven, and Terneuzen.

Indonesia sees continued foreign investment from its regional neighbors driving the industry and is in joint eleventh place.

China lacks any consistent regulatory approach to the biodiesel industry but persistent shortage of conventional diesel in the high-growth market still provides continued expansion potential.

The Philippines is a new entrant with a 1% blending target mandatory since May 2007 and foreign companies, particularly Japanese and Chinese, continuing to build capacity for export.

India dropped out of the top 15 biodiesel nations in Q2 2007 as an official price regime is not expected to cover production costs. The uncertainty over government intentions is causing small producers to negotiate individual supply contracts, thereby slowing down expansion.

Malaysia was removed from the top 15 as high prices for palm oil are likely to delay current production and further development of the industry.


UK pioneers carbon and sustainability reporting
The UK score in the All Biofuels Index remained steady at seventh position, but until the implementation of the Renewable Transport Fuels Obligation (RTFO) in 2008, current incentives, which provide tax breaks on capital expenditure and a GBP 0.20 reduction in fuel duty, are not sufficient to develop the UK biofuels market beyond niche supply.

With the recent launch of the Carbon & Sustainability (C&S) consultation on the RTFO, the UK government has taken a lead globally in pioneering a mechanism that from 2011 could differentiate incentives received by different biofuels. In the initial phase of the RTFO (2008 – 2011), only data will be collected and the incentives received shall remain unaffected.

The UK Government's objective with the consultation is laudable, as it's likely to bring greater rewards for biofuels suppliers who can improve the efficiency of their biofuels production, but this should not act as a barrier to rapid deployment of biofuels capacity.



Next-generation biofuels


According to the report, overall the biofuels industry faces many challenges from the rising demand for agricultural commodities. However, investment in second generation biofuels is the future. Second generation biofuels are derived from by-products that we cannot eat such as switchgrass, corn and wood chips, and are less exposed to the price fluctuations of the first generation biofuels, which are derived from food crops.




References:


Ernst & Young: Biofuels Country Attractiveness Indices, Q2, 2007 [*.pdf] - September 2007.

Biopact: Biofuels and renewables 'Country Attractiveness Indices' for Q1 2007 - May 24, 2007

Biopact: Ethanol prices in Brazil plummet, government considers increasing blend from 23 to 25% - May 30, 2007

Biopact: U.S. House passes Energy Bill: boost to biofuels, CCS and renewables - August 06, 2007

Biopact: How Brazil convinced the EU on biofuels - Lula's speech - July 06, 2007

Biopact: The Netherlands aims to become a 'bioport' for global biomass trading - report - February 12, 2007