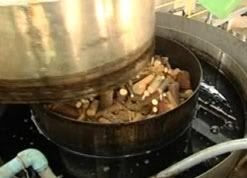 A bioenergy project in India's south-eastern state of Karnataka is bringing sustainable and carbon-neutral energy to rural villages in a decentralised way. Small gasifiers turn locally produced biomass into wood-gas used to power generators. The electricity is then used to power irrigation equipment, to pump up drinking water, and to light up the village.
The project also tackles one of the great problems of the developing world, namely indoor smoke pollution which results from cooking on open fires. According to the World Health Organisation, this
'killer in the kitchen'
claims the lives of some 2 million women and children each year. The utilization of producer gas for cooking is far less polluting.
The
Biomass Energy For Rural India
(BERI) initiative, a project of the state government and the United Nations Development Program's Global Environment Facility, has so far tested the small gasifiers in 28 villages in the Tumkur district. Because of its success, BERI is now looking to replicate the model across rural India.
The concept is to develop technology packages to produce energy on decentralised mode so that rural people can get energy easily and also to use biomass to produce green energy to reduce CO2 emissions at the global level which also has an impact on climate change issues. Another advantage is local benefit like people can use energy efficient systems and methods to see that the energy is used very efficiently.

- Dr M H Swaminath, Project Coordinator, BERI
Contrary to energy systems based on wind, solar or hydropower, the biomass project delivers affordable electricity and gas on a continuous and reliable basis. The project's success has prompted a similar initiative by the Indian Institute of Science and Cummins India, who aim to scale up production of small gasification plants to bring them to thousands of villages in India (
previous post
).
The BERI project relies on biomass gasification, a process that converts biomass to a combustible gas in a reactor, known as a gasifier, under controlled conditions (schematic,
click to enlarge
). The combustible gas, known as 'producer gas' or 'wood gas' has a composition of approximately 19 % CO, 10 % CO2, 50% N2, 18% H2 and 3 % CH4. This gas which has a calorific value of 4.5 - 5.0 MJ/cubic metre is then cooled and cleaned prior to combustion in internal combustion engines for power generation purposes. The project demonstrates the technical soundness of 40, 100, 200 and upto 500 KW of gas engine based biomass gasifier systems.
A wide range of locally available biomass feedstocks is being used: woody biomass from Eucalyptus, Casuarina, Acacias, Albizzias, Cassia siamea and many other tree species; agricultural residues such as coconut shells, mulberry stalks, briquetted biomass of saw dust, coffee husk, groundnut husk, rice husk and other residues:
energy :: sustainability :: biomass :: bioenergy :: biofuels :: gasification :: wood gas :: decentralisation :: India ::

Started in 2001, the project has brought light into hundreds of villager's lives. CNN-IBN's Priyanjana Dutta spoke with Laxmi, one of them. Laxmi's house like the whole village is now getting electricity through the biomass based gasifier systems, pumping drinking water, irrigating their lands and using it for cooking purposes. "Earlier we used to use wood that made the whole house smoky and the vessels black. After switching to this gas the vessels are cleaner, the house is not smoky and we are also living happily," says Laxmi.

But there are more benefits to the project. Laxmi and the other villagers are now involved in new activities like biomass production, the regeneration of existing plantations, harvesting and treating the biomass and supplying it to the different gasifiers. Right now the project is aimed at helping 4,000 families in this cluster of 28 villages. The larger goal is to promote this concept at the national level and then at the global level, says Dr Swaminath:

Climate change today is an inconvenient truth. But BERI thinks that using appropriate bioenergy technology will not only reduce green house gas emissions but also help meet rural energy requirements in a sustainable manner.

References:
IBN Live: Farmers use biomass, reduce carbon footprints - September 12, 2007.

The Biomass Energy for Rural India project website.

Biopact: Biomass gasification systems to power thousands of villages in rural India - September 10, 2006