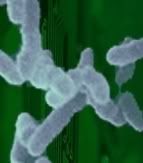 Amyris Biotechnologies, an innovator in the development of renewable hydrocarbon biofuels, today
announced
that it closed the first tranche of its $70 million Series B funding. Duff Ackerman & Goodrich Ventures (DAG Ventures) led the financing and was joined by existing Series A investors, including
Khosla Ventures
(heavily involved in a range of biofuels and bioeconomy projects), Kleiner Perkins Caufield & Byers, and TPG Ventures. The Series B funding will be used to further the development and scale up of its technology for the production of three transportation biofuels: biogasoline, biodiesel, and biojet, and to support business initiatives to enable Amyris to bring its biofuels to market as early as 2010.
Amyris, a synthetic biology company, uses engineered microbes and rapid enzymatic pathway construction techniques to build microorganisms capable of producing high-value compounds, from renewable biofuels to pharmaceuticals. Amyris' platform technology is based on a modular design of metabolic pathways. The emerging and potentially disruptive field of synthetic biology is seen by many as a science with major applications in next-generation bioenergy and biofuel production (more
here
,
here
,
here
and especially
here
). Some have already taken its principles out of the lab and used them to design new, third-generation biofuel crops (
earlier post
).
Amyris is designing better biofuels from designer bugs. This is a big deal because Amyris' cost competitive biofuels will work with existing engines without compromising performance and will have a lower carbon footprint. This financing will help Amyris scale with speed.

- John Doerr, partner at Kleiner Perkins Caufield & Byers
Amyris pioneers a
technology platform
that allows it to use a variety of environmentally-friendly renewable feedstocks including sugarcane, corn and cellulose, to produce high-value compounds. This technology has been proven in Amyris' earlier non-profit
project
, funded through a grant to the Institute for One World Health from the Bill and Melinda Gates Foundation, to reduce the production cost of artemisinin-based anti-malarial drugs.
Using the same synthetic biology technology platform, Amyris is now developing capabilities to produce a slate of high-performing hydrocarbon transportation biofuels that are environmentally friendly, cost-effective, and compatible with current engines and distribution infrastructure:
energy :: sustainability :: bioenergy :: biofuels :: biomass :: cellulose :: bioconversion :: microorganisms :: synthetic biology ::

"Amyris has not only a break-through technology but a clearly defined strategy to commercialize a promising slate of next-generation biofuels that could have a profound impact on the transportation market," said R. Thomas Goodrich at DAG Ventures. "We are investing with strong confidence in what Amyris is creating as well as the management and scientific team the company is putting in place to execute on its vision."

"No-compromise transportation fuels derived from renewable sources hold substantial promise for meeting the tremendous need for alternative energy sources in the future," said John Melo, CEO of Amyris. "We have already succeeded in creating these biofuels in our lab. We are delighted with the strong interest in our Series B funding which will enable us to continue the research and scale-up of our technology and to implement our business model as the first biofuels company to go from production to customer."

Amyris expects to close the second tranche of its Series B financing by the end of 2007.



Image

: the

Escherichia coli

bacterium, one of the many microorganisms used in synthetic biology experiments. Amyris recently reengineered a bacterium into a chemical factory that makes a proven anti-malarial drug.



References:


Vincent J J Martin, Douglas J Pitera, Sydnor T Withers, Jack D Newman & Jay D Keasling, "Engineering a mevalonate pathway in Escherichia coli for production of terpenoids",

Nature Biotechnology

21, 796 - 802 (2003), Published online: 1 June 2003; | doi:10.1038/nbt833

Biopact: Breakthrough in synthetic biology: scientists synthesize DNA-based memory in yeast cells, guided by mathematical model - September 17, 2007

Biopact: Scientists call for global push to advance synthetic biology - biofuels to benefit - June 25, 2007

Biopact: Scientists patent synthetic life - promise for 'endless' biofuels - June 09, 2007

Biopact: Scientists take major step towards 'synthetic life': first bacterial genome transplantation changing one species to another - June 29, 2007