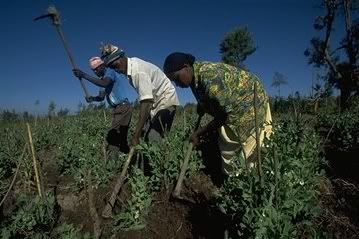 Senegal has been one of the leading forces in West-Africa calling for the development of a biofuels industry aimed at improving the energy security of the region and at boosting its agricultural sector.
Last year president Abdoulaye Wade initiated a 'Green OPEC' of sorts, the
PANPP
(Pays Africains Non-Producteurs de Pétrole), a coalition of African countries aiming to implement a biofuels strategy in order to overcome the catastrophic reliance on ever more expensive oil. He
explained
the urgency of the need for a switch to biofuels for non-oil producing African countries. Wade has also established a wider network of allies, amongst them
Brazil
and
India
, who are interested in prodiving technological, policy and financial support for the fledgling biofuels industry.
For Senegal, a long list of reasons makes biofuels a major opportunity. Some of the more important ones, as stressed by Wade in several opinion pieces:
its agricultural sector, which suffers under false competition from EU/US subsidised farming (e.g. the cotton scandal) can be revived through biofuel crop production

green fuels would strengthen energy security and reduce economic losses due to high import bills (poor countries in Africa spend up to between 10 and 15% of their GDP on oil imports; rising prices are truly disastrous for development - more here)
a biofuels industry can reduce the push and pull factors that lead to the highly problematic rural exodus and further to (illegal) emigration to Europe (more here about the 'Return to Agriculture' program); Spain, the main recipient of illegal immigrants from Senegal, recently started cooperating with the African country on a concrete project in this context (here)

biofuels can reduce poverty and food insecurity, as they promise to bring income and agricultural security to farmers (lack of income is the key driver of food insecurity; crop portfolio diversification strengthens the livelihoods of farmers); around 80% of Senegal's population is employed in agriculture (map)

Besides a strong set of policies and the need for access to biofuel technologies, attracting concrete investments is obviously the biggest requirement to kickstart a biofuel industry in the country. But Senegal has quite a few advantages making it an attractive destination for bioenergy investments: an abundance of natural resources (e.g. it only utilizes 18% of its potential arable land), relatively strong infrastructures, a large workforce, a stable investment climate and government, and a favorable geographical position (close to the EU and the US).
For these reasons, Texas-based consultancy
Energy Allied International
is helping Senegal draw up plans for a US$2 billion investment in a new oil refinery and biofuel power plant. Speaking to Reuters, CEO Mike Nassar said 'We are at a point where we have enough information right now to demonstrate that a new refinery in Senegal is viable, to produce 60,000 barrels a day of high-end quality products':
energy :: sustainability :: biomass :: bioenergy :: biofuels :: ethanol :: biodiesel :: poverty alleviation :: rural development :: energy security :: Senegal ::

Jet fuel, diesel, butane and gasoline could be sold locally in sub-Saharan Africa and be exported to Europe and the United States, Nassar said in an interview after meeting Senegalese President Abdoulaye Wade.

'The president wants to see more and more investments to Senegal. He believes in the refinery and biofuel,' Nassar said. Senegal has no crude oil production of its own, so the new refinery would import heavy crude from sub-Saharan Africa's top producers Nigeria and Angola, Nassar said.

Senegal's energy ministry announced plans last month for Iran's national oil company to sell Senegal one year's supply of Iranian crude on preferential terms, take a stake in Senegalese state oil refiner SAR and increase SAR's capacity to 3 million tonnes a year from 1.2 million tonnes.

Nassar said the project his consultancy was investigating would not conflict with the Iranian plans. 'This particular (Iranian) project is taking the old refinery and modernising it to be able to produce some different products,' he said. He said there would be limited overlap as the bulk of output from the new refinery would be for export, while SAR produces primarily for the local market.

Nassar said the total cost of the oil refinery and biofuels plant would be nearly $2 billion, but he did not say who would be funding it. Senegal produces ground nuts, sugar cane and jatropha, which have both been suggested as possible sources of biofuel.



Image

: Eighty percent of Senegal's population makes a living in agriculture; major crops grown are cotton and groundnuts. Both offer potential for biofuels and bioenergy.



References:


Reuters: US consultancy plans Senegal refinery, biofuel unit - September 25, 2007.

Biopact: Senegal's president explains the urgency of biofuels development in the South - November 02, 2006

Biopact: A closer look at Africa's 'Green Opec' - August 02, 2006

Biopact: Spain and Senegal to cooperate on biofuels as way to curb illegal migration - August 24, 2007

Biopact: Senegal in the spotlight: cooperation with Brazil, EU on bioenergy and migration - October 27, 2006

Biopact: Global South-South exchanges on biofuels growing rapidly - August 28, 2006

Biopact: Senegal and Brazil sign biofuel agreement to make Africa a major supplier - May 17, 2007